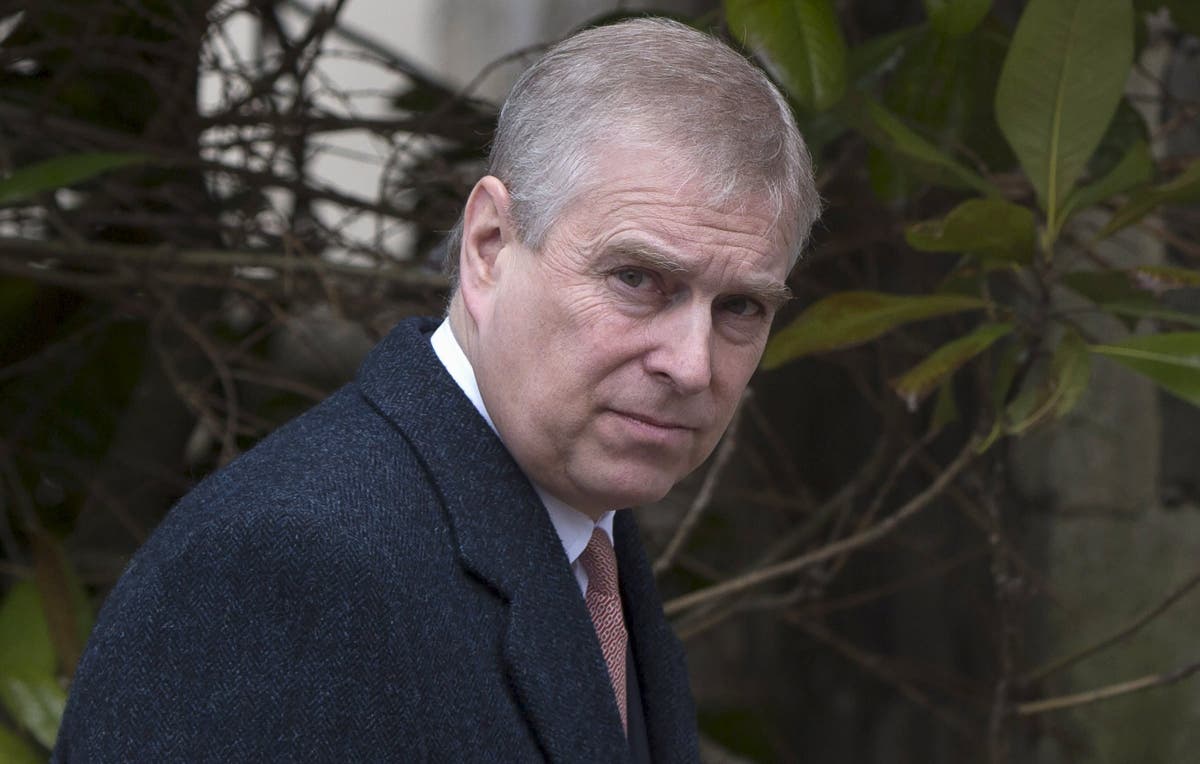 Prince Andrew and Virginia Giuffre reach out-of-court settlement in sexual abuse lawsuit
Prince Andrew faces paying a vast bill to Virginia Roberts Giuffre after reaching a settlement in her sexual abuse lawsuit against him.
While some reports suggested the total undisclosed sum owed to Ms Giuffre and a charity "in support of women's rights" could total up to £12m, experts remained uncertain, amid speculation the Queen could help with costs from her private funds.
As royal experts said it seemed "impossible" that Prince Andrew could ever return to royal duties and could "forever be tainted" by the scandal of the case, York Central MP Rachael Maskell called for him to renounce his ducal title and give up his association with the city out of respect.
Defence secretary Ben Wallace said any decision over the Duke of York's titles "rests obviously with the Palace in the future".
The lawsuit alleged that the duke sexually abused Ms Giuffre as a teenager on multiple occasions in London, Manhattan, and the US Virgin Islands in 2001 – allegations that he strongly denies – when she was a victim of sex trafficking by the late financier Jeffrey Epstein.
Key Points
Show latest update
1645014613
Keir Starmer declines to comment on York MP's calls for Andrew to lose ducal title
Asked to comment on remarks by Labour MP for York Central, Rachael Maskell, urging the Duke of York to support "withdrawal" of his ducal title, Sir Keir Starmer said: "I'm not going to comment on the details of it, but I think the focus has to be on the victims of sexual abuse in this case."
Following Prince Andrew's statement, Ms Maskell had said: "Although it is a relief that Prince Andrew has finally acknowledged and expressed regret for his close association with a convicted sex offender and sex trafficker Jeffrey Epstein, his long delay in doing so and initial response to the charges and Ms Guiffre have been source of deep hurt and embarrassment to many people across the city.
"Carrying a title does create an ambassadorial relationship with that place, and for somewhere with a global reputation, such as York, this is extremely important. It is to be welcomed that he has now pledged to support the fight against the evils of sex trafficking and its victims.
"To demonstrate his seriousness in this endeavour, and his respect for those affected by abuse and the people of our city, I would ask that his first act of contrition is to confirm his support for the withdrawal of his ducal title."
Andy Gregory16 February 2022 12:30
1645013450
Away from Prince Andrew for a moment, to the breaking news that the Metropolitan Police force has launched an investigation into cash-for-honours allegations linked to the Prince of Wales's charity.
My colleague Chiara Giordano has more details here:
Andy Gregory16 February 2022 12:10
1645012753
Settlement ends 'a sorry chapter', Labour leader says
Sir Keir Starmer has said the settlement between the Duke of York and Virginia Giuffre has ended "a sorry chapter" but that it is important not to lose sight of sexual abuse victims.
"I'm not going to comment on the details of the case that's now been settled," the Labour Party leader said.
"In any of these issues, whoever is involved, my starting point is always the same – which is to think about the victims of sexual abuse.
"Across the world there are many, many victims and we should always start from that perspective. Whatever the rights and wrongs of this settlement – and it does seem to end a sorry chapter – I think it's very important we don't lose sight, don't lose focus, on the victims of sexual abuse."
Andy Gregory16 February 2022 11:59
1645011782
The image which has plagued Britain's 9th in line to the throne
My colleague Andrew Buncombe reports that a day before news of the settlement agreement was announced, it was reported by the i newspaper that lawyers for Prince Andrew had requested Virginia Giuffre hand over the original copy of the 2001 image apparently showing the duke with his arm around her waist.
In what might have been another attempt to seek leverage, it was suggested the duke might seek to claim the photograph was fake.
Previously Ms Giuffre, who in 2016 launched a civil action against Ghislaine Maxwell, said the photograph had been returned to her by the FBI and that she had packed it up with her other belongings when she moved from her former home in Colorado to Australia with her husband.
She told one of Maxwell's lawyers: "I probably still have it. It's not in my possession right now. It's probably in some storage boxes."
You can read more here on the image which played a key role in the case:
Andy Gregory16 February 2022 11:43
1645009393
Lawyer for Epstein's accusers hails settlement as 'victory'
Lisa Bloom, a lawyer representing a number of Epstein's victims, has said she and her clients "salute Virginia's stunning courage", hailing the settlement as a "victory".
However, Lady Victoria Hervey, who socialised with Prince Andrew in the early 2000s, said she believes the "storyline was crumbling" in reference to Virginia Giuffre's allegations.
The socialite said: "I hope the royal family can now focus on the upcoming jubilee celebrations and Prince Andrew can put these false allegations behind him."
1645008538
Prince Andrew 'should confirm settlement not being paid with public money', lawyer says
The royal family must make clear that the Duke of York's settlement with Virginia Giuffre is not being paid with public money, a top lawyer has said.
Mark Stephens, media specialist at law firm Howard Kennedy, told BBC Breakfast: "The money is being used in three ways. The first part is to pay compensation to Virginia Giuffre. The second is to pay off her lawyers' expenses and such like.
"And the third is, of course, that she's leveraged his profile and there's a large sum going to her personal charity to fight for the victims of sex trafficking and sexual abuse.
"Now that is a publicly traded charity – as I suspect it will have to be to get the benefits of the tax advantages – so we will see how much is paid in that account. That, I think, will give the public a clue.
"But I suspect that long before that is in the public domain, Andrew is going to have to confirm that the public hasn't paid this, because that threatens to have wider implications for the royal family."
Andy Gregory16 February 2022 10:48
1645007139
Reports of £12m settlement sum 'could be inflated', royal commentator says
A royal commentator has suggested that reports claiming Prince Andrew faces paying £12m in his settlement with Virginia Giuffre "could be inflated".
"Previously the estimates were more like £5m, and it could be they're including the legal fees of Virginia's legal team, who might be working pro bono," David McClure told LBC.
"Secondly, we don't know for certain that the Queen will be picking up all of the bill. Obviously if it is very high – if it is over £5m – I don't think Andrew has the money of his own wealth to pay it. So, more than likely, the Queen would in those circumstances give him money."
He suggested that "there is a precedent for" the Queen "coming to the aid of one of her sons who are in financial difficulties", citing claims made by The Telegraph and in a 2007 biography that the Queen lent Prince Charles an unknown sum of money to pay for his divorce settlement with Princess Diana.
Andy Gregory16 February 2022 10:25
1645005550
Here's more of defence secretary Ben Wallace's reaction this morning to Prince Andrew's settlement with Virginia Giuffre.
'Victims did the right thing': Ben Wallace reacts to Prince Andrew's court settlement
Andy Gregory16 February 2022 09:59
1645004753
Opinion | Prince Andrew's post-settlement statement is very different to what he said before
Writing for Independent Voices, Kathleen N Walsh argues that Prince Andrew's new statement "appears at odds with the accusations his lawyers lobbied at Virginia Giuffre before the motion to dismiss was denied".
"Back then, they accused Giuffre of fabricating accusations for money. There was no sympathy for her position and no mention of other victims of sex trafficking or sexual abuse. 'Giuffre has initiated this baseless lawsuit against Prince Andrew to achieve another payday at his expense and at the expense of those closest to him,' the statement read. 'Epstein's abuse of Giuffre does not justify her public campaign against Prince Andrew.'
"Is this reversal what justice looks like? It feels awfully hollow if so."
Read her thinking in full here:
Andy Gregory16 February 2022 09:45
1645003100
Labour MP pours more cold water on Prince Andrew advocacy work suggestions
Yesterday, BBC royal correspondent Nicholas Witchell suggested the "only route back" to a public role for the duke could be to support sex trafficking victims, but questioned whether any charities or regiments "would want to be associated with him after all of this, for all that there's no admission of liability".
Labour MP Jess Phillips, who works with victims of sex trafficking, has also said that she cannot see how he would be welcome in such a role after the settlement with Virginia Giuffre.
In the statement on the settlement, Prince Andrew pledged "to demonstrate his regret for his association with Epstein by supporting the fight against the evils of sex trafficking, and by supporting its victims".
Andy Gregory16 February 2022 09:18
https://www.independent.co.uk/news/world/americas/prince-andrew-virginia-giuffre-trial-settlement-latest-b2016105.html