Industry News
IFSEC Global
Banham​, a family-owned security company with its head office in Earlsfield, London, has celebrated its landmark 95th anniversary.
The British firm was founded in 1926 by William F Banham after his wife, Ann-Marie, suffered a series of burglaries at her West London dress- making business.
When the insurers pronounced the store uninsurable unless the door was bolted from the inside, William devised the first-ever automatic door bolt, and Banham Patent Locks was born.
In 1936, William offered £25 to anyone who could break through a Banham door lock. Despite the stunt drawing quite the crowd in front of his premises in Oxford Street London, not a single person succeeded and William won his wager.
Nine and a half decades later, Banham is still family-run and owned by William and Ann-Marie's grandson, Executive Chairman, Charles Hallatt.
The Board today consists of third and fourth generation Banham family, and is a diverse mix, which is especially unusual in what still remains a male dominated industry. Their 400 person workforce comprises of numerous families who are proud to say they have worked for Banham, many for multiple decades.
Chairman Charles Hallatt says: "We are so proud of our family business and the fact that we have survived a world war, multiple recessions and a global pandemic, Banham has stood the test of time because of the strength that being a family business can bring. It's not just about having our family involved at the helm, it's also about all the other families working here.  We all have a strong passion and loyalty that unites us in any crisis but allows us still to drive growth and look to the future."
While the British brand continues to offer its iconic patented locks, it has expanded over the years into all areas of security including intruder and fire alarms, CCTV, safes, 24-hour monitoring and keyholding.
"Our ethos has always centred around letting our family look after your families – for both our colleagues and our customers" said Managing Director, Martin Herbert.
In 2014, the company launched the Banham Academy to deliver specialised training and career opportunities to young people aged between 16-24.
Lucie Banham, Director, explains: "Our vision for the  Banham Academy was to provide young people with the skills and training they needed to embark on careers as engineers. The UK has seen a dramatic decline in the uptake of engineers over the past decade and we have been committed to bridge that gap. The Academy has never been so important with these recent challenging years. It continues to provide new opportunities to today's youth, particularly to those from less advantaged backgrounds."
In early 2022 the Academy are holding a female only week long taster course on security systems, to start to address the gender gap in the sector. The current percentage of female technicians in the UK is only around 1% and Banham are committed to increase this number.
Lucie Banham concludes: "Banham believes in giving back to and working with the wider community, making sure helping people is always a priority. Reaching our 95th anniversary allows us to look back on all our achievements but more importantly to the future, to continue to support young people, via the Banham Academy, by helping them to learn new skills and gain valuable qualifications."
Keep up with the access control market
The physical access control market is moving fast. Find out where you stand with the latest edition of IFSEC Global's comprehensive State of Physical Access Control in EMEA Business report, covering all the latest developments within the market.
Get your copy for free today.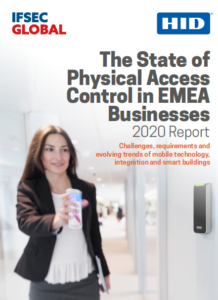 Banham Group celebrates 95 years in the security industry
 Banham​, a family-owned security company with its head office in Earlsfield, London, has celebrated its landmark 95th anniversary.
IFSEC Global
IFSEC Global | Security and Fire News and Resources
Related Topics
German food business utilises cloud-managed eCLIQ access control
Integrating wireless access control to 'enhance security with real-time'
IFSEC Global's most read in security: 2021 edition
https://www.ifsecglobal.com/access-control/banham-group-celebrates-95-years-in-the-security-industry/