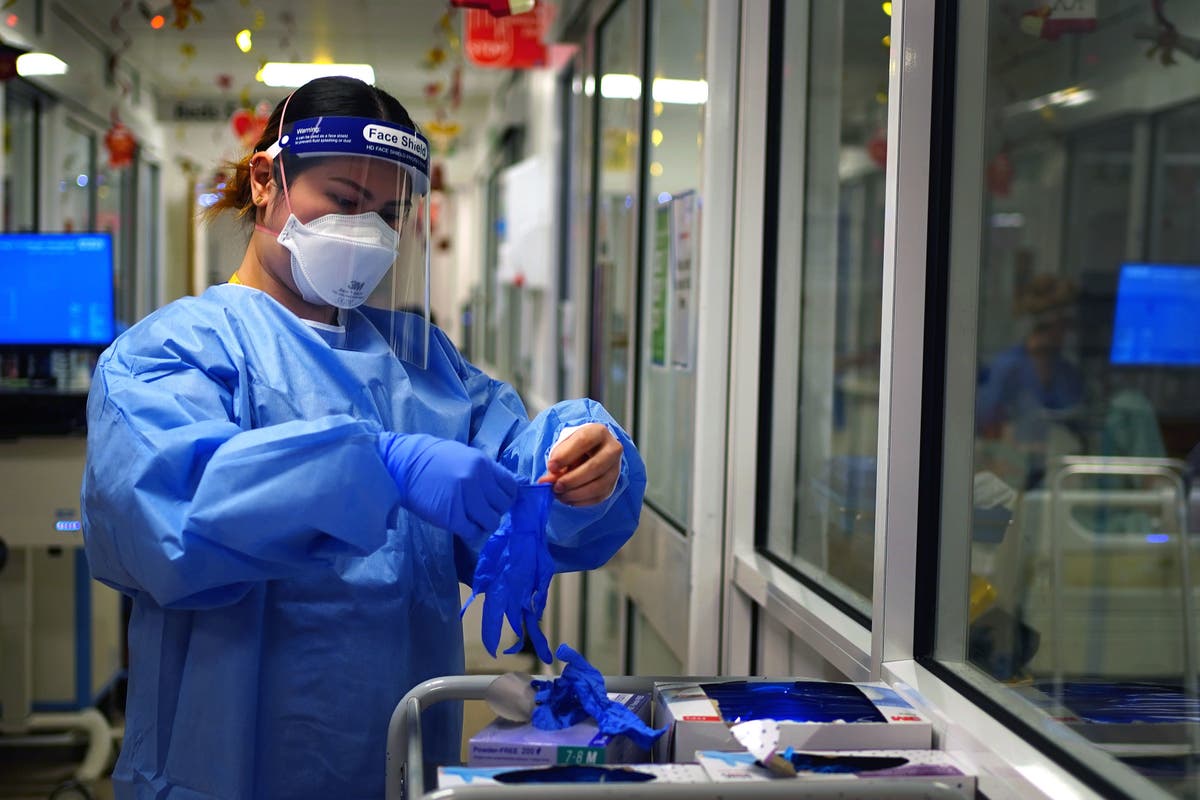 Covid Around The World: How Omicron Is Impacting The Holidays
Omicron is less likely than the Delta variant to lead to severe disease and hospitalisation, two new studies have suggested.
Research from Imperial College London found that people who test positive for Omicron are up to 20 per less likely to be admitted to hospital. They also have at least a 40 per cent lower chance of needing to stay for one night or longer.
However, Professor Neil Ferguson, an epidemiologist involved in the study, tempered the finding – which is yet to be peer-reviewed – by cautioning that Omicron's ability to evade the vaccine could "offset" the lower risk of hospitalisations.
Meanwhile, Chris Hopson, chief executive of NHS Providers, warned that we still don't have "conclusive" data on the impact of Omicron on hospitalisations, while Andrew Hayward, a leading epidemiologist, said the UK is "not out of the danger zone" yet.
Their comments come as the UK announced a record 106,122 daily coronavirus infections on Wednesday, increasing pressure on the government to impose further restrictions.
Key Points
Show latest update
1640253969
Nightclubs to close in Scotland
Nightclubs in Scotland will close for three weeks from 27 December unless they implement social distancing and table service, the country's deputy first minister.
John Swinney's announcement comes after Wales decided to close nightclubs after Christmas.
Both devolved governments have said they will introduce tougher measures after Christmas Day, but the UK government has – for the time being at least – decided not to follow suit.
Rory Sullivan23 December 2021 10:06
1640253393
We're not 'out of danger zone', warns leading epidemiologist
Although data shows that the Omicron variant generally causes milder illness than Delta, the UK is "not out of the danger zone", a leading epidemiologist has said.
Professor Andrew Hayward, who advises the government as part of Nervtag, said the findings from early studies were "undeniably good news" but added a note of caution.
"I think perhaps we can downgrade this from a hurricane to a very severe storm," he said.
Rory Sullivan23 December 2021 09:56
1640252198
South Korea records highest daily Covid death toll
South Korea said 109 people died from Covid-19 in the previous 24 hours, its highest number of fatalities in a single day.
This brings the country's total death toll to 5,015.
Officials have warned that the Omicron variant will soon become the dominant strain, with cases soaring and hospitalisations increasing.
A record 1,083 South Koreans with Covid-19 are currently in a critical condition, according to the government.
Amid fears about the new strain, private gatherings have been limited to four people and restaurants and cafes must shut at 9pm.
Rory Sullivan23 December 2021 09:36
1640251209
Labour demands more clarity from government over Covid response
Labour has demanded "more clarity" from the government over its plan to stem the spread of Omicron.
Shadow culture minister Lucy Powell said ministers should be more open about the data and should explain what action would be taken if certain thresholds were exceeded.
"Because at the moment, I think a lot of people just feel like they're really stabbing in the dark," she told Sky News.
"If you're running a nightclub, can you stock up for New Year? If (you've) got Christmas concerts on or you're operating a theatre, if you've got some travel plans, if you've got friends and families coming to stay after Christmas – what is it people can expect based on what information?"
Rory Sullivan23 December 2021 09:20
1640250317
Omicron not 'necessarily' milder in elderly people, says government scientific adviser
The finding from early studies that the Omicron variant is milder than Delta does not "necessarily" apply to elderly people, a government scientific adviser has said.
Professor Andrew Hayward, an epidemiologist and member of Nervtag, said that severity of disease appeared reduced in mainly young adults.
But he added: "I think what we can't necessarily extrapolate to is what level of reduction in severity we might see in elderly people, and we also know that in elderly people the risk of severe disease throughout the pandemic has always been massively high."
Prof Hayward also warned that the NHS was "immensely overstretched" and that pressure on health services would worsen.
Rory Sullivan23 December 2021 09:05
1640248913
Tony Blair admits it was 'undiplomatic' to call unvaccinated people 'idiots'
Tony Blair caused a stir yesterday by calling unvaccinated people "idiots".
He subsequently admitted that his choice of wording was "undiplomatic".
Tony Blair says calling unvaccinated people 'idiots' was 'undiplomatic'
Rory Sullivan23 December 2021 08:41
1640247950
Data on Omicron and hospitalisations not 'conclusive', warns NHS leader
Chris Hopson, chief executive of NHS Providers, has said we still don't have "conclusive" data on the impact of Omicron on hospitalisations. 
"We have some very early studies, but it's a bit like trying to predict the result of a football game when you're only a third of the way through," he told BBC Radio 4's Today programme.
He said that staff absences threatened the ability of the NHS to deal with the Omicron wave, adding that 12 per cent of London Ambulance Service staff are currently off sick.
Rory Sullivan23 December 2021 08:25
1640246782
'Paralysed' PM delays decision on further Covid measures
Boris Johnson will not make a decision on further coronavirus restrictions until after Christmas, leading some to blame cabinet infighting for the impasse.
This comes amid spiralling infection rates in the UK, which have soared after the arrival of the new Omicron variant.
"I think that the UK government is in a state of paralysis about all of this," Welsh minister Mark Drakeford said, as he announced that tougher measures would come into effect in Wales from Boxing Day.
Here's a report from our deputy political editor Rob Merrick:
Rory Sullivan23 December 2021 08:06
1640245756
UK, US and EU receive more vaccines in six weeks than Africa has this year
The UK, the US and the EU have received more Covid-19 jabs in the past six weeks than all the countries in Africa combined in 2021, according to the People's Vaccine Alliance (PVA).
The charities-led initiative said 513 million new doses reached the UK, US and EU between 11 November and 21 December, while only 500 million doses were available in Africa this year.
Anna Marriott , health policy manager at Oxfam and PVA, said the decision of wealthy countries to block a vaccine patent waiver is "prolonging the pandemic and all its suffering for every one of us".
"Rich countries are banking on boosters to keep them safe from Omicron and future variants of Covid-19. But boosters can never be more than a temporary and inadequate firewall," she said.
"Extinguishing the threat of variants and ending this pandemic requires vaccinating the world. And that means sharing vaccine recipes and letting developing countries manufacture jabs for themselves."
Rory Sullivan23 December 2021 07:49
1640244880
Omicron is milder than Delta, studies suggest
Two studies have suggested that Omicron causes less severe disease than the Delta variant.
Accordingly, those with the new variant are less likely to need hospitalisation.
But the Imperial College team warned that the NHS was still at risk because of Omicron's ability to evade vaccines.
Our health correspondent Samuel Lovett has more details:
Rory Sullivan23 December 2021 07:34
https://www.independent.co.uk/news/covid-omicron-cases-vaccines-christmas-latest-b1981186.html