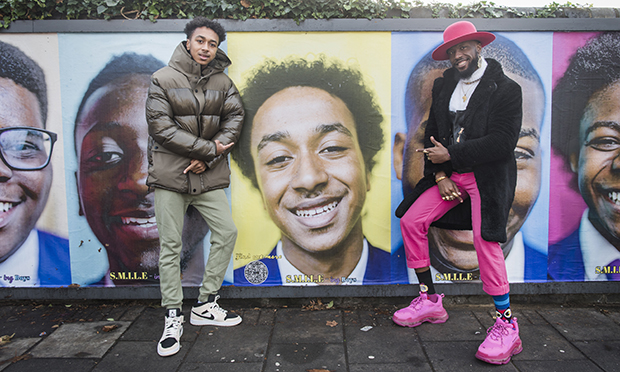 Artist Kaye Adekunle Rufai (right) photographed 18 boys as part of the eight-week project.
Photograph: Hackney Council
Images of smiling Black schoolboys have gone on display at Hackney Bridge today in a celebration of identity and wellbeing.
The art exhibition, collated as part of artist Kaye Adekunle Rufai's S.M.I.L.E-ing Boys project, is designed to portray Black boys in a way that challenges societal perceptions of them.
"The project was basically a direct response to the increase in violence affecting young people," Rufai told the Citizen. "I wanted to create something that centred around the mental wellbeing of Black boys as an indication of some of the symptoms of poor mental health, as we see with violence."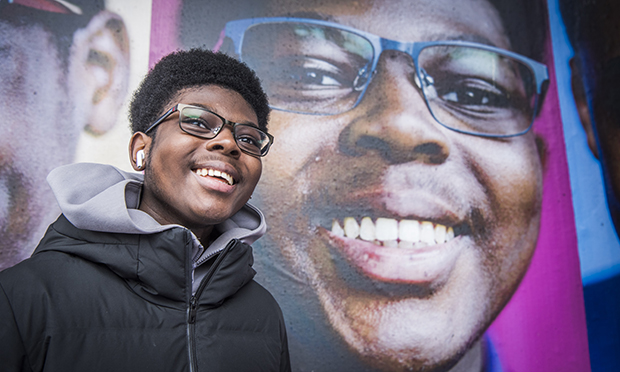 The exhibition is designed to challenge societal perceptions of young Black boys.
Photograph: Hackney Council
The portraits depict 18 schoolboys from the borough and mark the culmination of an eight-week programme led by Rufai.
As part of his research, the East London-born artist travelled to some of the happiest countries in the world, including Bhutan and Denmark, learning their principles of happiness and incorporating them into his creative arts workshops.
"Each workshop is a multimedia exploration," Rufai said, adding that the sessions use photography, poetry and film elements to explore mental health and build a cultural understanding of the boys' communities.
"At the end of the project I photographed these young boys to challenge their own stereotypes of themselves.
"It's just been an incredible experience watching them see themselves like they never would have imagined."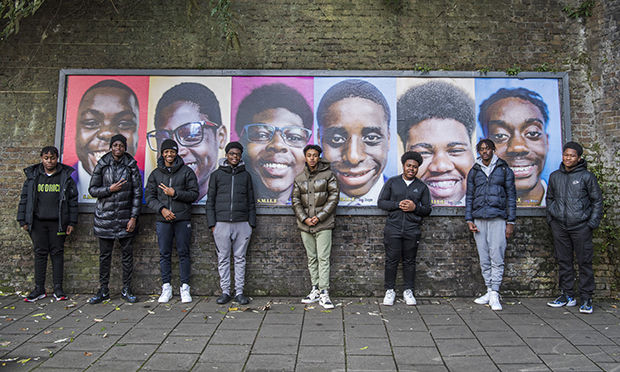 The portraits can be found in a few locations across the borough. Photograph: Hackney Council
Damien, one of the boys who participated in the project, described it as "eye-opening".
"It helped me learn more about myself and made me feel confident to feel, understand and share my emotions without suppressing them or feeling ashamed of them anymore," he said.
"It gave me so much confidence to speak up in public and to figure out how to express my true self."
The project was also designed to respond to increased criminalisation and policing of Black youth in London.
Rufai has now photographed over 300 Black boys from ten London boroughs, exhibiting their smiling faces at landmarks such as City Hall, Brixton Village and Battersea Arts Centre.
Corrina Antrobus, cultural development manager for Hackney Council, told the Citizen: "When I saw that [the S.M.I.L.E-ing Boys project] had been in other places in London, I knew that we had to bring it to Hackney as well.
"Kay has just really brought a ray of sunshine to the borough."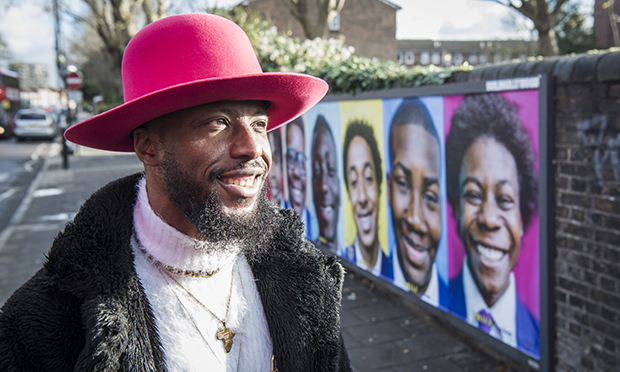 Rufai hopes the photographs will act as a call to action. Photograph: Hackney Council
With the exhibition, Rufai hopes to bring about a "collective call to action" and said those visiting should consider two things when engaging with the portraits: "The first to come and celebrate and, secondly, to walk away with a question as to what they can be doing differently to shift the narrative of this demographic from what it is currently to what these images present."
The S.M.I.L.E-ing Boys exhibition will be displayed alongside art installations from Hackney Carnival and brings the borough's Black History in the Making season to a close.
Cllr Carole Williams, lead member for Windrush, said: "Hackney's Black history season has given us the opportunity to not only reconnect with our past but also to build new legacies that will be remembered nationally for years to come.
"We have shone an illuminating light on many of our Black communities and the contributions they brought, and continue to bring, to Hackney."
The S.M.I.L.E-ing Boys exhibition is free to visit and will be running until 31 January at Hackney Bridge, Units 1-28, ECHO BUILDING, London E15 2SJ.
Maps showing the various locations of the portraits can be found at lovehackney.uk/smile.
Support us
The coronavirus outbreak meant that the Hackney Citizen was unable to print a monthly newspaper for three months.
We're grateful that we have since been able to resume printing. This would not have been possible without the generosity of our readers, whose donations kept the paper from disappearing completely at a distressing time for residents.
A huge thank you to everyone who gave their time and money to support us through the lockdown, and to those who continue to do so as we slowly recover from the dramatic fall in advertising revenues, on top of the existing challenges threatening the future of local journalism.
A one-off donation or a regular contribution from anyone who can afford it will help our small team keep the newspaper in print and the website running in the coming months and years.
Find out how you can donate.
Thank you for your support, and stay safe.
The Hackney Citizen team
https://www.hackneycitizen.co.uk/2021/12/17/photographs-smiling-black-schoolboys-display-hackney/