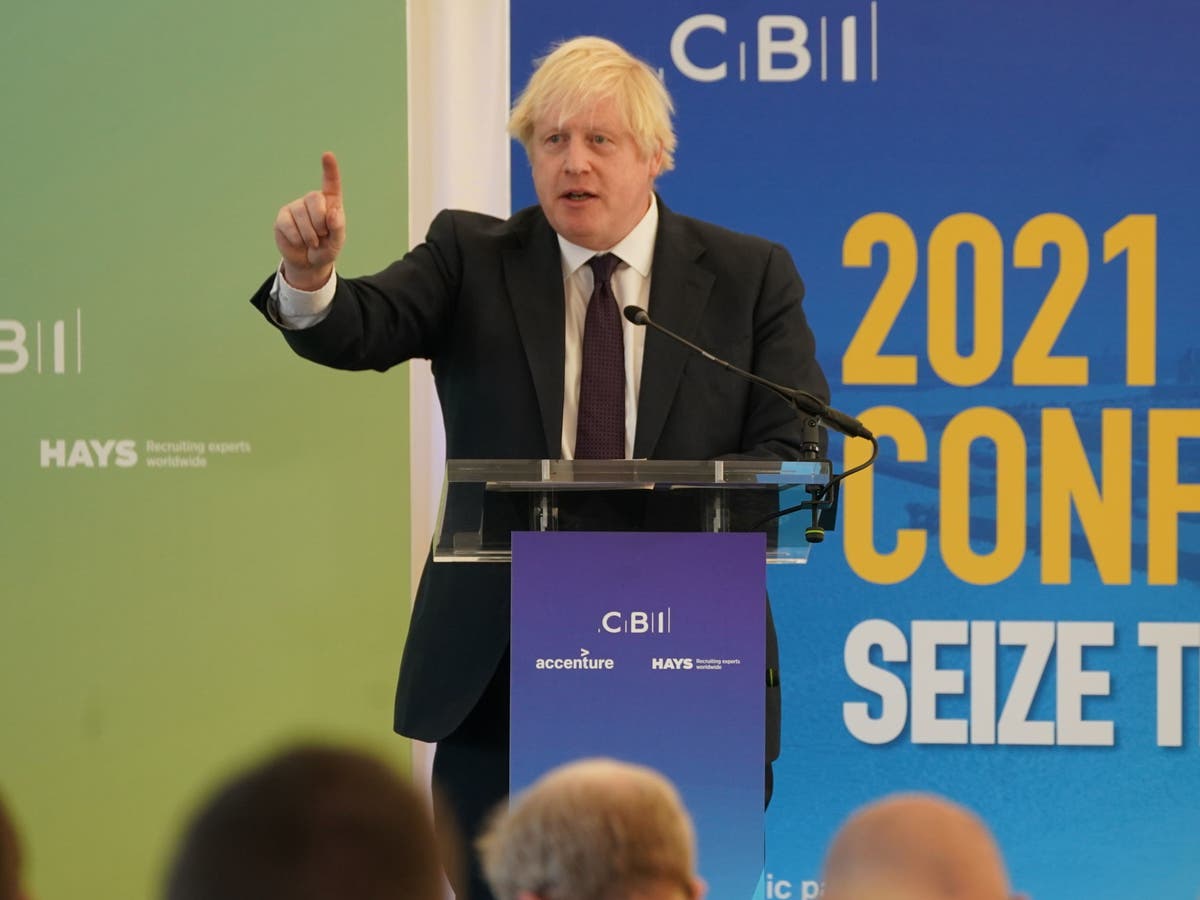 Shadow health secretary Jonathan Ashworth brands health and care bill 'care con'
Boris Johnson faces the threat of a Tory rebellion over his proposed changes to the health and care bill, with former chief whip Mark Harper among MPs urging him to withdraw the amendment tonight over fears it will disadvantage poorer pensioners and those with long-term conditions.
The prospect of an embarrassing parliamentary climbdown came as the prime minister defended a rambling speech he gave earlier on Monday to business leaders at the CBI, during which he lost his train of thought, made car engine noises and went off on a tangent about the Peppa Pig World theme park.
Asked by a reporter afterwards, "frankly, is everything okay?", the PM claimed spectators got the "majority of the points he was trying to make" and that his address had been received "well".
Critics suggested the speech will have done little to assuage Conservative concerns about Mr Johnson's leadership, following weeks of sleaze accusations and dodgy decisions – including the Owen Paterson controversy. The BBC's political editor Laura Kuenssberg quoted a senior Downing Street source as saying: "There is a lot of concern inside the building about the PM … It's just not working".
Follow our live coverage below
Key points
Show latest update
1637606723
UK must be able to 'trade freely within our own country', Frost says
David Frost has been addressing Centre for Policy Studies' Margaret Thatcher Conference.
According to The Telegraph's chief political correspondent, the UK's Brexit negotiator discussed his aims for negotiations over the Northern Ireland Protocol and how "merry England" may be the "free-est country in the world as regards Covid restrictions".
The speech comes less than a year after he negotiated the current Brexit trade deal, which included checks on goods moving from Great Britain to Northern Ireland.
Andy Gregory22 November 2021 18:45
1637605977
With a private funeral service for MP Sir David Amess having been held in Southend earlier today, the BBC has this moving clip of the choir at St Mary's Church.
Andy Gregory22 November 2021 18:32
1637605759
Boosters won't be required for travel to UK until 2022, Shapps says
Away from the Commons for a moment, the transport secretary has told reporters at Dubai's Expo 2020 event that booster jabs will not be required for travellers to the UK until 2022.
According to UAE paper The National, Mr Shapps also said that he did not "see any prospect" of any major travel rule changes that would affect expats visiting for Christmas 2021.
My colleague Lucy Thackray has the details:
Andy Gregory22 November 2021 18:29
1637603686
Labour MP calls on Priti Patel to amend bill over threat to RNLI
During a heated debate on the government's nationality and borders bill, Labour's Neil Coyle warned that, as the bill stands, it "will criminalise the work of the RNLI", and urged Priti Patel to meet with lifeboat staff.
"It's an outrageous situation," he said. "I've tabled an amendment to prevent prosecution for their courageous humanitarian work, so will the Home Secretary meet RNLI staff and volunteers and adopt my amendment to protect these frontline lifesavers who've sadly already been the target of abuse and attacks because of the government's irresponsible narrative and media headlines on this issue?"
The home secretary replied: "We have been very clear that we will be putting an amendment down at report stage on the specific point that he has made."
Andy Gregory22 November 2021 17:54
1637602816
Ex-chief whip calls on Boris Johnson to withdraw controversial social care plans
The Tory revolt over social care has escalated ahead of this evening's crunch Commons vote, with former chief whip Mark Harper going public with his concerns and urging Boris Johnson to withdraw the controversial plans.
Mr Harper, who stood against Mr Johnson for the Tory leadership in 2019, is reported to have railed against the plans in an emergency call with care minister Gillian Keegan on Friday afternoon.
The Independent's political editor Andrew Woodcock has the full details here:
Andy Gregory22 November 2021 17:40
1637600885
US may have to 'push a little bit' for UK and EU to secure Brexit compromise, senator says
Washington will likely have to "push a little bit" on both London and Brussels to secure a deal over the Northern Ireland Protocol, a senator on the US Foreign Relations Committee has said.
Meeting with political leaders in Stormont, Chris Murphy also said he would not support any bilateral trade agreement between the US and the UK while outstanding issues with the post-Brexit protocol still remained unresolved.
Warning that "this is a critical moment for Northern Ireland", he said: "To my mind, it would not be good for Northern Ireland if Article 16 was invoked, which could ultimately provoke a crisis, a trade war which would act to the detriment of the people here."
Mr Murphy added: "My visits here in Belfast and tomorrow in London are intended to demonstrate that there are Republicans and Democrats in the Congress that want to make sure that negotiations over the protocol are conducted in a way that does not compromise the Belfast/Good Friday Agreement.
"I think that something can be worked out by the end of this year, but it will likely involve the United States pushing a little bit, both on London and on Brussels."
Andy Gregory22 November 2021 17:08
1637599947
EU countries holding immigration talks with UK 'out of frustration', Priti Patel says
Individual EU countries are negotiating about immigration deals with the UK "out of their own frustration" with the bloc's leaders, Priti Patel has claimed.
Speaking in the Commons, the home secretary described immigration as an "EU competency issue right now".
"We are discussing in a way in which this would not actually keep the Commission happy, but with France, Belgium, the Netherlands, Austria, Germany, Italy and Greece and, as of today, Poland, and there are other countries as well where we are having active discussions, and I think it is really important.
"They are having discussions with us out of their own frustration for lack of progress in terms of tackling wider long-term and long-scale issues around illegal migration, as well as returns and admissions. They are topics that are very much concerning all governments right now."
When the UK was in the EU, it signed the Dublin Agreement, which allows member countries to return asylum-seekers to the first safe country they reach.
Andy Gregory22 November 2021 16:52
1637599418
Former lord advocate of Scotland to lead Sarah Everard inquiry
Priti Patel has announced that Dame Elish Angiolini QC, a former lord advocate of Scotland, will lead an independent inquiry into Sarah Everard's murder, which will be given greater powers if she feels unable to fulfill her remit.
The first part of the inquiry will establish a comprehensive account of killer Wayne Couzens's conduct throughout his career in policing, including looking for whether any red flags were missed and whether allegations made against him were properly handled.
It will draw on ongoing investigations by the Independent Office for Police Conduct (IOPC) and Her Majesty's Inspectorate of Constabulary and Fire & Rescue Services (HMICFRS).
The second part of the inquiry will look at specific issues raised by part one, which will report to the home secretary as soon as possible.
Andy Gregory22 November 2021 16:43
1637597653
Rumours of 'concern' over PM's leadership: 'It's not working'
Laura Kuenssberg, the BBC's political editor, reports the following:
Sam Hancock22 November 2021 16:14
1637597589
Fund London's trains if you want to boost British trade, govt told
The government has been told to stop neglecting London's trains if the UK wants to boost its status as a global trading hub.
London's transport network needs to be "properly funded" if the City is to boost the government's global trade agenda, said Catherine McGuinness, chair of the City of London Cooperation.
The city, as the country's most important services' hub, needs infrastructure that is "not in decline, managed or otherwise" she added, speaking at a trade conference organised by the Centre for Policy Studies at London's Guildhall on Monday.
Our economics editor Anna Isaac reports:
Sam Hancock22 November 2021 16:13
https://www.independent.co.uk/news/uk/politics/boris-johnson-news-live-update-today-b1961951.html