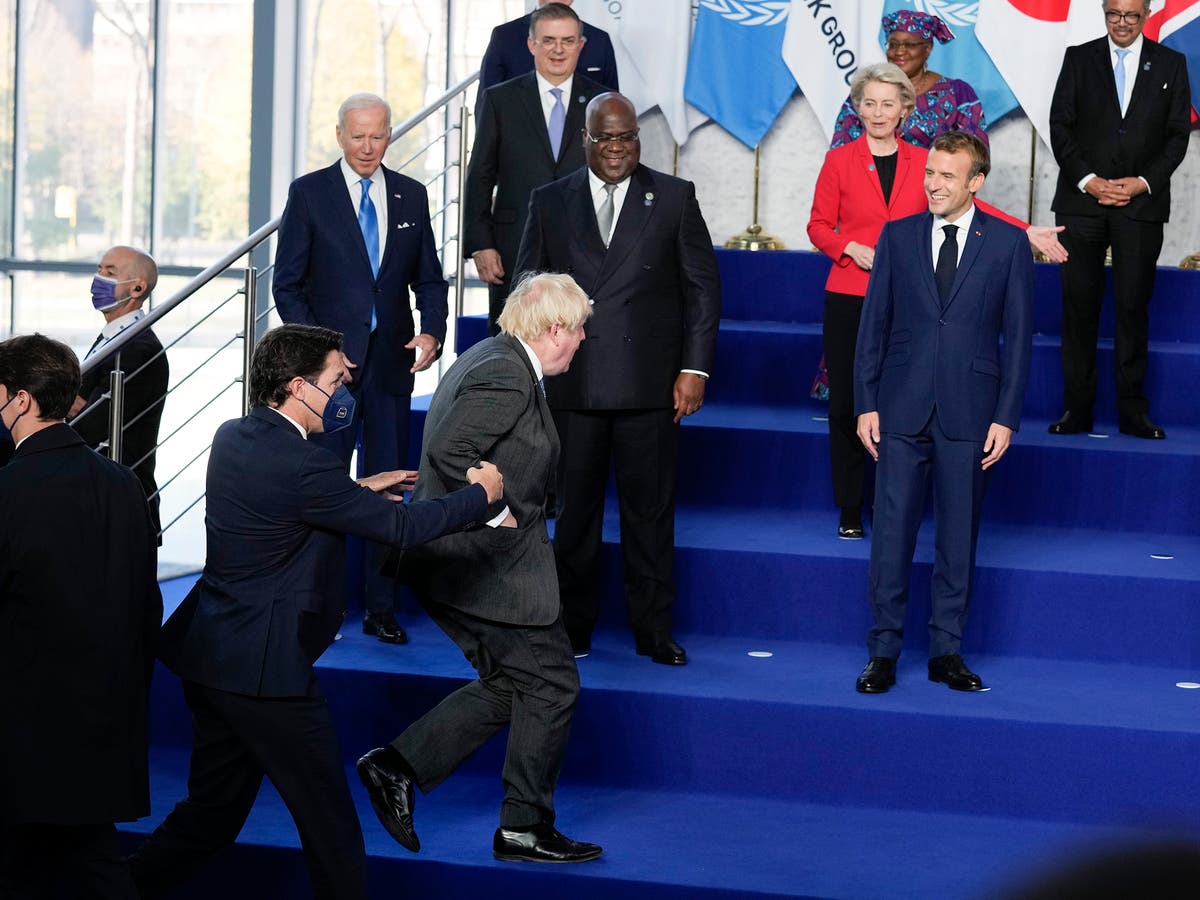 France-UK fishing row: Further escalation beckons despite Macron-Johnson meeting in Rome
The government of Jersey has issued nearly 50 additional licences to French boats to fish in its waters, in an apparent effort to stave off threats of sanctions from Paris.
It comes after Britain earlier threatened to sue France within 48 hours over fishing rights, with Lizz Truss, the foreign secretary, saying London "will not roll over" in the ongoing war of words with Paris.
The 49 temporary permits issued by Jersey today come on top of 66 permanent licences awarded last week, bringing to 162 the total number of French vessels allowed to fish in the area post-Brexit. However, it is unclear whether the move will be enough to stop the imposition of measures threatened by Paris, such as blocking British boats from French ports.
Elsewhere, a bus was hijacked earlier by armed, masked men and set alight in a predominantly unionist area of Newtownards in Northern Ireland. DUP leader Sir Jeffrey Donaldson responded by saying he will not be distracted by "thugs and hoods" in his efforts to get the Northern Ireland Protocol removed.
Follow our live coverage below
Key Points
Show latest update
1635787514
DUP says 'thugs' won't impact his Protocol efforts after bus hijacked
Sir Jeffrey Donaldson, the DUP leader, said he will not be distracted by "thugs and hoods" in his efforts to get the Northern Ireland Protocol removed.
Addressing reporters at Stormont, Sir Jeffrey blamed "paramilitary elements" for Monday morning's hijacking of a bus in Newtownards.
Asked for his response to the suggestion the attackers were marking the deadline that he had previously set to see changes delivered to the Protocol, Sir Jeffrey said: "There's absolutely no justification whatsoever and I'm not going to seek in any way to explain why people go out onto the streets and do what they did this morning."
He said the attack may have been designed to damage the political campaign against Brexit's Irish Sea border.
However, Sir Jeffrey said of the attack: "I am very clear, I will not be distracted by thugs and hoods."
Sam Hancock1 November 2021 17:25
1635786314
Watch: Truss denies UK dropped climate pledges from Australia trade deal
'Fake news': Truss denies UK dropped climate pledges from Australia trade deal
Sam Hancock1 November 2021 17:05
1635785270
PM rejects calls to toughen up rules on ministers' conduct
Boris Johnson has rejected calls to give more powers and independence to his ethics advisor.
The Committee on Standards in Public Life published its review of ethics in politics on Monday, and its main recommendation was to strengthen the powers of the prime minister's independent advisor on ministers' interests.
There was a desperate need to reform and strengthen the rules which govern how politicians act, Lord Evans, the chair of the Committee and former head of MI5, wrote in the report.
Tim Wyatt has the full report:
Sam Hancock1 November 2021 16:47
1635784575
'Robust' measures in place in case French threats go ahead – No 10
Another update in the UK's fishing row with France now. Downing Street has said "robust" measures are in place should the French decide to carry out their threats over the fishing dispute.
"As you would expect, we have robust contingency plans in place. I'm not going to get into the detail of them here," a No 10 spokesman told reporters.
"It is the French that made these threats and we are continuing to call for them to step back from those threats."
He also said it remained "entirely up to France" whether they decided to carry out their threats in the row over post-Brexit fishing rights.
"We continue to hope that they step away from the threats they have made," the spokesman said, adding meetings were continuing with the French and with authorities in Jersey and Guernsey on the issuing of individual licences.
Sam Hancock1 November 2021 16:36
1635783776
Sunak challenged over 'tax cut' claims
Our politics reporter Adam Forrest has the following:
Labour MP Siobhain McDonagh has challenged Rishi over his claim that reducing the taper rate to Universal Credit amounts a "tax cut" for low-income families.
She told the chancellor: "It's not a tax cut – it's a benefit change … It really isn't a tax cut. You're just desperate to find a tax cut."
McDonagh also asked the chancellor if he agreed the government resembles Edward Heath's "low growth" and "high tax" Tory government rather than the Margaret Thatcher administration he hopes to emulate.
Sunak said the economy would grow at a relatively high rate after the pandemic, and claimed he took a step towards cutting taxes in his Budget.
Sam Hancock1 November 2021 16:22
1635783134
PM to fly from Glasgow to London despite warning at Cop26
Boris Johnson will fly back to London from the Cop26 summit, despite pleading with fellow leaders to act now to save the planet.
The prime minister cannot take the train from Glasgow tomorrow because it would take too long, his spokesman claimed.
He defended the decision on the grounds that his plane uses "sustainable" fuel – and said the emissions produced will be offset, reports our deputy political editor Rob Merrick.
Sam Hancock1 November 2021 16:12
1635782490
Peer urges EU to stand up against 'blackmail' from France
More on the fishing rights row now. The EU is facing calls to "stand up for democracy" and against "blackmail" from France over the fishing dispute with the UK.
Conservative former minister Lord Forsyth of Drumlean, speaking during an urgent question in the Lords, said he congratulated Boris Johnson on his "robust stance in the interests of British fishermen".
He added: "As for those in this House who seem to think the fault lies on our side, might he just reflect on the remarks by the French prime minister that somehow Brussels should punish us for following the democratic wishes of the British people, and will he urge the European Union to stand up for democracy and stand up against this kind of blackmail?"
Environment minister Lord Benyon replied: "I think and hope on all sides of the House we've been disappointed by some of the rhetoric that has been coming our way. I'm pleased the prime minister has had a thorough and open conversation with President Macron in Rome and those will no doubt continue in Glasgow."
Earlier, Lord Benyon claimed the UK is "not in the business of escalating this dispute, we are in the business of resolving it".
Sam Hancock1 November 2021 16:01
1635781755
Visit our Cop26 blog for the latest updates
If you want to keep up to date with the latest Cop26 news, head to our live climate blog.
Day One has, so far, seen everything from a speech by Boris Johnson, a commitment by China to accelerate development in green renewable energy, and even US president Joe Biden appearing to fall asleep during proceedings.
Joe Biden appears to fall asleep during Cop26 speeches
Sam Hancock1 November 2021 15:49
1635780958
Watch: PM says future generations will not 'forgive us' for climate failures
Future generations will not 'forgive us' for climate failures, says Boris Johnson
Sam Hancock1 November 2021 15:35
1635779748
The threats between the UK and France over the Brexit fishing row are nothing but irresponsible
At a time when global cooperation is needed more than ever, the war of words over something so trivial seems like poor judgement, writes John Rentoul.
Read John's full piece here:
Matt Mathers1 November 2021 15:15
https://www.independent.co.uk/news/uk/politics/brexit-news-latest-france-fishing-row-b1948944.html