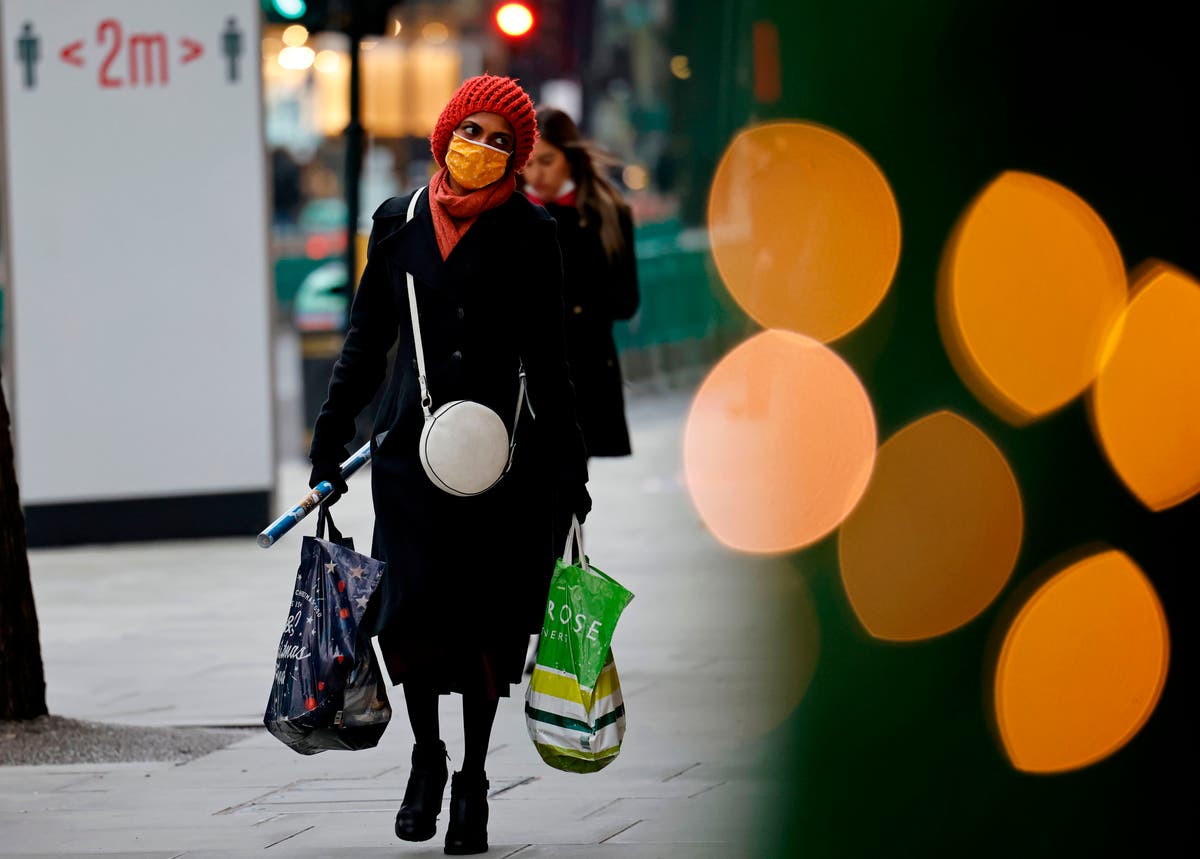 Related video: Sajid Javid 'leaning towards' compulsory Covid vaccines for NHS staff
Sajid Javid has said Christmas will be "normal" this year despite surging Covid case rates which one virus expert described as "unacceptable" and "astonishingly high".
Fears of another disrupted festive season have grown off the back of a high number of infections in recent weeks, but the health secretary told BBC Breakfast that this winter was likely to be different to last, if people continued to come forward for vaccines and made use of regular testing.
"For all those people like me that are hoping and planning for a normal Christmas – which I do by the way, I think that's where we'll be, we'll have a normal Christmas – if we want let's just keep playing our part," Mr Javid said.
Earlier on Monday, Professor Peter Openshaw, a member of the New and Emerging Respiratory Virus Threats Advisory Group (Nervtag), warned about the level of infection in the UK.
He told BBC Radio 4's Today programme that : "What we're facing at the moment is unacceptable, we've got roughly one in 55 people infected, which is an astonishingly high rate compared to most other west European countries."
Key Points
Show latest update
1635164260
Number of UK businesses borrowing pandemic recovery loans appears to slow
Far fewer businesses have taken advantage of a government scheme to help their recovery from the Covid crisis, when compared to take-up of a similar scheme at the start of the pandemic.
The British Business Bank said £822m had been borrowed by 5,137 businesses across the UK since the Recovery Loan Scheme was launched in April. About 1,000 more firms have been told they can borrow up to £200m, but have yet to tap into the money.
At the same point in the life of the Coronavirus Business Interruption Loan Scheme (CBILS), which launched in March 2020, the banks involved had approved £15.45bn of loans to 66,585 companies.
"Businesses up and down the country are beginning to look beyond the pandemic towards the opportunities available to them in the recovery," said British Business Bank chief executive Catherine Lewis La Torre.
Read the full story here:
Andy Gregory25 October 2021 13:17
1635163527
Single vaccine dose could cut chances of long Covid by 13%
A single dose of either the AstraZeneca, Pfizer or Moderna vaccines could lead to a 13 per cent drop in the chance of getting long Covid, according to an Office for National Statistics study described as "the largest internationally to look at long Covid after vaccination".
A first dose was found to be associated with an initial 12.8 per cent decrease in the odds of self-reported long Covid – defined as symptoms that persist for at least 12 weeks – among people aged 18 to 69 in the UK.
A second dose was associated with a further 8.8 per cent drop, with "statistical evidence" of a sustained improvement afterwards.
But because the study is based on a survey of self-reported symptoms, the ONS was unable to say for certain that vaccines affect the chances of getting long Covid, and the data was not clear on whether an initial improvement in symptoms after a first dose is sustained over time until a second dose.
Our science correspondent Samuel Lovett has the full story here:
Andy Gregory25 October 2021 13:05
1635162627
Anti-vax protests outside schools 'a growing problem'
Here's more detail on the health secretary's criticism of the anti-vaccination activists protesting outside schools across the country – who he described as "idiots" who are "spreading vicious lies".
Questioned on Sky News about protests in which three children were injured, he said: "These people are doing so much damage.
"First of all, here you have three children that are injured, actually physically injured, and that's heartbreaking to see – children going about what they should be doing, going to school every day, and you've got, frankly, these idiots outside their school spreading vicious lies.
"It is becoming a growing problem as time goes by … if you've injured children, that is a criminal act and I hope in that case police are able to track those people down."
Speaking of how to tackle the issue, he said that, "in terms of whether it's an exclusion zone, or other potential action, I think it's got to be done at a local level".
Andy Gregory25 October 2021 12:50
1635161742
Are we facing another Christmas lockdown?
Asked on Friday about the possibility of a winter lockdown, Prime Minister Boris Johnson said there is "absolutely nothing to indicate that that is on the cards at all", reports PA.
Chancellor Rishi Sunak also said the vaccine rollout and booster jabs make a lockdown or "very significant economic restrictions" unlikely.
On Monday, Health Secretary Sajid Javid said he thinks Christmas will be "normal", although he has suggested this is contingent on people "playing their part", such as through getting jabs.
However, government adviser Professor Peter Openshaw told BBC Breakfast on Saturday that he fears "another lockdown Christmas if we don't act soon".
He said getting measures in place now in order to "get transmission rates right down" is key to having "a wonderful family Christmas where we can all get back together".
Former vaccines tsar Dame Kate Bingham has also said she is worried about having another Christmas "on Zoom".
Tom Batchelor25 October 2021 12:35
1635160962
World leaders urge Pope to help share Covid vaccines
Global political leaders have written to the Pope seeking his help for a "miracle of life-saving vaccines" for the world's poorest and most vulnerable.
More than 150 world leaders – including former UK prime minister Gordon Brown, UN general secretary Ban Ki-Moon, former Brazilian president Fernando Cardoso, ex-New Zealand premier Helen Clark, and former prime minister of Japan Yasuo Fukado – have come together to press the need for urgent global co-operation.
They are calling on the Pope to intercede this week ahead of the G20 summit which begins in Rome on Friday under the chairmanship of Italian premier Mario Draghi.
The group says the summit could be the last chance for world leaders to agree a detailed plan to send unused vaccines from the global north to the global south and keep vaccination targets on track.
Only 5 per cent of Africa is fully vaccinated.
Tom Batchelor25 October 2021 12:22
1635160122
China implements strict testing regime for Winter Olympics
Competitors in the Beijing 2022 Winter Olympics will be subject to daily tests for Covid and will be required to remain in a closed loop that includes transport between the various games venues, organisers said in guidelines released on Monday.
China, where measures to tackle Covid are among the world's strictest, has already said international spectators will not be allowed to enter the country for the Games which will run from 4-20 February.
China has all-but shut its borders to international travellers, with the number of international flights drastically reduced from pre-Covid levels, and games organisers said on Monday that domestic and foreign airlines will be encouraged to operate temporary flights available only to participants.
Games participants will need to be tested for Covid before arrival, and athletes and team officials must be vaccinated to avoid 21 days in quarantine, with some exceptions for medical reasons granted on a case-by-case basis.
Tom Batchelor25 October 2021 12:08
1635159342
ICYMI: Inside the NHS's looming crisis
The NHS faces its hardest winter yet as soaring coronavirus cases combine with a surge in A&E demand and a health service brought to its knees by 18 months of unrelenting pandemic pressure.
While ministers including health secretary Sajid Javid have claimed the Covid resurgence has not put unsustainable pressure on the NHS, doctors, nurses and health officials from across the country have told The Independent the mounting crises on several fronts mean the health service is facing a very real catastrophe.
Here is the special weekend report from our health correspondent, Shaun Lintern:
Breaking point: Inside the NHS's looming crisis
Special Report: Ministers say the NHS still isn't facing unsustainable pressure. But with Covid cases rising unchecked and demand on hospitals surging, doctors, nurses and officials tell Shaun Lintern the health service is facing its worst winter ever
Tom Batchelor25 October 2021 11:55
1635158382
Russia reports highest case rates since start of pandemic as lockdown looms
Russia reported its highest single-day Covid-19 case tally since the start of the pandemic on Monday as some regions shut workplaces to combat a surge in infections and deaths.
Faced with worsening infection rates and frustrated by the slow take-up of Russia's Sputnik V vaccine by its own population, authorities are introducing stricter measures this week to try to slow the spread of the pandemic.
President Vladimir Putin last week declared that 30 October to 7 November would be paid non-working days but said every region could extend that period or start it earlier depending on the situation.
From this Thursday, Moscow will introduce its tightest lockdown measures since June 2020, with only essential shops like supermarkets and pharmacies remaining open.
Unvaccinated over-60s in the capital have been ordered to lock down for four months starting Monday, and Moscow schools are also closed.
Tom Batchelor25 October 2021 11:39
1635157422
New Zealand reports second-worst day of daily infections since pandemic began
New Zealand reported 109 new locally acquired coronavirus cases on Monday, the bulk of them in its largest city, Auckland, as the country saw its second-worst day of daily infections since the pandemic began.
Once the poster child for stamping out Covid, New Zealand has been unable to beat an outbreak of Delta variant of Covid centred in Auckland, despite the city remaining under a strict lockdown for more than two months.
The country over the weekend also reported the first community case of the virus in its South Island in nearly a year, a cause for further headache, though health officials said the risks of a further spread from the case remained low.
The spike in cases has forced Prime Minister Jacinda Ardern to abandon her elimination strategy and switch to living with the virus, and health officials have warned of an uptick in cases until vaccinations ramp up.
Tom Batchelor25 October 2021 11:23
1635156582
How do travel tests work?
Confused about the new international travel rules? For most vaccinated people, a single, lateral flow test is now required on or before the second day of your return to the UK.
Here is our guide to the process:
Tom Batchelor25 October 2021 11:09
https://www.independent.co.uk/news/health/covid-uk-news-live-lockdown-cases-b1944600.html