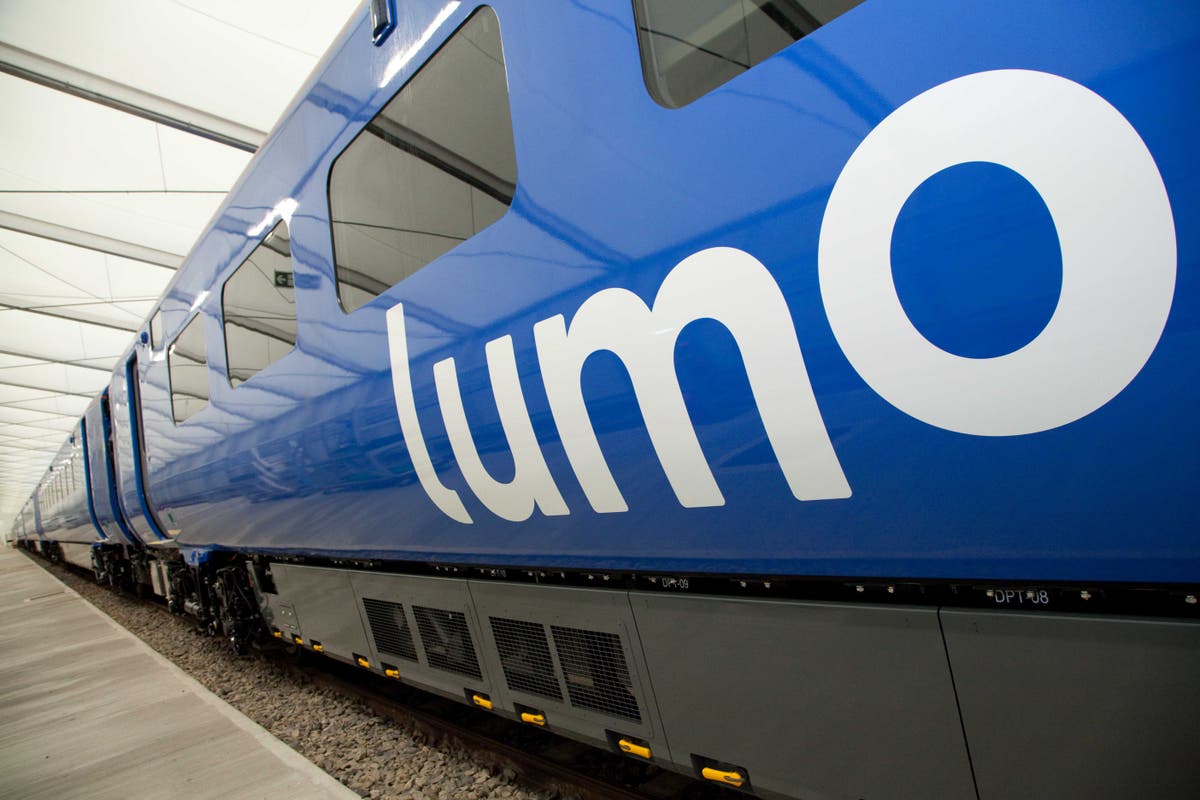 It's the race I really don't want to win. At 10.45am, I will wave off the very first passenger train from the new Anglo-Scottish train operator, Lumo, from London King's Cross. Just over four-and-a-half hours later the shiny train is scheduled to arrive at Edinburgh Waverley. And I may be there to meet it, after a journey by rail, bus, air, bus or taxi and rail.
My opponent is the UK's leading rail expert: Mark Smith, the former British Rail manager who founded the Seat61.com website for international train travel. While he sits back and enjoys the scenery on the East Coast main line, I will be stressing about catching the train to Luton Airport Parkway, the bus up the hill to the Bedfordshire airport, going through security, finding the right gate and (hopefully) strapping in for my £25 flight to Glasgow.
Yes, I appreciate that is technically the wrong city, but given the currently sparse flight schedules from London to Edinburgh it is the only way I might feasibly reach the Scottish capital first.
A bus along the M8 into Glasgow city centre, and a train from the newly refurbished Queen Street station to Edinburgh should, all being well, see me reaching Waverley Station in time for a cup of tea while I wait for Mark. But plenty of jeopardy awaits …
Follow my live updates as we race to the finish line.
Show latest update
1634814122
Transfer window
"Don't rush," reads the sign on the stairs of Luton Airport Parkway station, as I sprint up the stairs two at a time. "One step at a time."
The train arrived six minutes late, leaving just 120 seconds for the scramble up a flight of stairs, along a corridor, down four escalators and through the ticket gates to the bus stop.
Three of us are racing for the transfer bus, and the driver kindly waits an extra 15 seconds before setting off for the airport – and still arrives a minute early, at 11.35am – giving me one hour before my flight.
Simon Calder21 October 2021 12:02
1634811872
'We're not actually chasing LNER's business at all' – Helen Wylde, managing director of Lumo
Just ahead of the train's departure, I caught up with Helen Wylde, managing director of Lumo.
Her train operation is going head to head with state-owned LNER, which runs two trains an hour between London and Edinburgh for much of the day.
"We're not actually chasing LNER's business at all. We're after the airlines. And what we want to do is bring people off those flights, which are so polluting, and get them using the railways. And if that benefits LNER as well – great to hear."
First mover: Helen Wylde, managing director of Lumo, awaiting the departure of the maiden journey from London King's Cross to Edinburgh Waverley
(Simon Calder)
At King's Cross a couple of LNER people confided to me that they have been running a great electric train service for years, covering the ground in four-and-a-half hours, and could not really see the need for Lumo's trains to add capacity.
Ms Wylde responds: "They do hybrid trains [electric with diesel motors also fitted] to Edinburgh in about four-and-a-half hours.
"We are 100 per cent electric. That's a different service. And also we're doing something completely different – we have no first class here, this is for everybody.
"And we're trying to produce fares that are fair – so you don't have to pay for the privilege of being green."
Simon Calder21 October 2021 11:24
1634810772
Lumo is late, and so am I
The first passenger-carrying service of Lumo from London to Edinburgh sets of one minute late, at 10.46am. Immediately it leaves from platform 8, I have to break into an undignified sprint to the adjacent station of St Pancras – for my Thameslink train to Luton Airport Parkway.
I need not have rushed: the departure is four minutes late.
"You're lucky it's only four minutes," a helpful (and anonymous) member of staff tells me.
"Everything's gone wrong this morning because of last night's storms. There's a landslip in Kent and the wires are down further north."
If the train keeps to time, I will still have four minutes to transfer to the bus to the airport itself. I am seated at the rear of the train, closest to the station steps on arrival.
I reflect that if I know that level of detail, perhaps I should get out more.
Meanwhile I note that my train just 30 miles north from London will stop at more stations (if you must know, West Hampstead, St Alban's City and Harpenden) than Mark's Lumo train – which pauses at just Newcastle and Morpeth.
I notice there is no charger for my laptop or phone, which does not bode well for those of us in the communications business.
Late notice: destination screen at London St Pancras International
(Simon Calder)
Simon Calder21 October 2021 11:06
1634806829
Why is The Independent's travel correspondent flying to Glasgow when the train is heading for Edinburgh?
That's the question on Twitter from Alex Jayre: "Out of interest, why the flight to Glasgow and not Edinburgh as flights are available to Edinburgh?"
The reason is simple: timings don't work. To give the train the maximum possible advantage, I am leaving at exactly the same time from King's Cross. The only feasible departure (at least at a fare I am prepared to pay) is Luton-Glasgow.
Simon Calder21 October 2021 10:00
1634806747
Sign up to Simon Calder's free travel newsletter
Want to know about all of this week's key travel rules updates, plus great deals on fares and holidays, and predictions for what's next in the uncertain world of travel?
Sign up free to Simon Calder's Travel Week to get the expert steer of The Independent's travel correspondent sent direct to your inbox each Friday morning.
Whether it's updates on entry rules for reopening countries such as the US and Thailand, great offers on weekend breaks or tip-offs on new rail and flight launches, our newsletter will help you stay informed for all of your travel bookings.
To sign up, simply enter your email into the sign-up box for Simon Calder's Travel Week at the link below:
Newsletters
The latest breaking news, comment and features from The Independent.
Lucy Thackray21 October 2021 09:59
1634806528
Unlike planes, trains give discounts to railcard holders
Lumo, the new cut-price rail link between London, Newcastle and Edinburgh will deliver even better value for the UK's millions of railcard holders.
The lowest-price tickets are selling for £14.90 one way, but that cost comes down to £9.80 for railcard holders.
The fare cut applies to 16-25, 26-30, Disabled Persons, Family & Friends, Two Together and Senior railcards.
During the opening phase of the service – between Lumo's launch on 25 October and 1 December – railcard holders need not pay more than £13.10, so long as they book at least a day before departure.
Simon Calder21 October 2021 09:55
1634804157
Lumo: all you need to know
From 25 October, Lumo will offer two services a day each way between London and Edinburgh, calling at Stevenage (close to Luton airport), Newcastle and the Northumberland town of Morpeth. As more new trains are delivered, the frequency will increase to five daily trips each way.
The service is aimed squarely at price-sensitive travellers. For the first five weeks – from opening day on 25 October to 1 December – every journey that is booked by the day before travel will cost £19.90 or less. Longer term, Lumo says that 60 per cent of all single fares will be available for £30 or less. The most expensive "walk-up" ticket for an on-the-day purchase is likely to be £69.
LNER, which currently has two trains an hour between the capitals, sells its cheapest tickets between London and Edinburgh at typically around £50 – though railcard holders can reduce that fare to £33.
Lumo also aims to attract passengers away from the airlines: British Airways and easyJet currently have more than 20 flights each way to a total of five London airports, with fares typically starting at £47 and £25 respectively.
Simon Calder21 October 2021 09:15
1634801335
Mark Smith, The Man in Seat Sixty-One, points out the environmental benefits of train vs plane
"I'm looking forward to a journey on Britain's classic London to Edinburgh east coast main line, on a new operator that promises airline-beating fares from £14.90 – less than the £18.40 train fare from London to Luton airport – on a train producing 85 per cent less CO2 than a flight.
But can a four-and-a-half-hour train journey beat Simon's 75-minute flight? Simon seems confident, but I don't think it'll be the walk-over that those numbers suggest."
Sitting comfortably: Mark Smith, The Man in Seat Sixty-One
(Mark Smith)
Simon Calder21 October 2021 08:28
1634799844
Time sensitive: the key milestones between London and Edinburgh
Mark Smith will depart from London King's Cross at 10.45am – first stop, Newcastle, 269 miles north, at 1.47pm.
A pause at the Northumberland town of Morpeth, a further 16 miles on, is scheduled for 2.01pm.
Arrival at Edinburgh is set for 3.17pm, after a journey of four hours, 42 minutes.
After seeing off the train, I will sprint across to St Pancras station and catch the 10.51pm to Luton Airport Parkway, That train should arrive at 11.22am, with an eight-minute wait for the connecting bus to the airport – which is scheduled for six minutes, arriving at 11.36am.
That leaves 59 minutes to get through security and find some lunch before the 12.35pm departure to Glasgow.
The 322-mile flight is scheduled to take 75 minutes, arriving at the airport serving Scotland's largest city at 1.50pm.
This is when things get tight and/or expensive: in order to reach Edinburgh ahead of the Lumo train, the only possible departure from Glasgow Queen Street station is at 2.15pm. Should the flight arrive five or 10 minutes early, Ishould make the 1.48pm bus, which reaches George Square (a few minutes from the station) at 2.09pm. Otherwise, it's a taxi.
Even with five stops en route, that 2.15pm train is due to arrive at 3.03pm, comfortably ahead of Mark's train.
In terms of cost: the rail/bus ticket from London to Luton airport costs £18.40. I booked my easyJet flight two weeks ahead for £24.99.
I hope to pay £8 for the bus into Glasgow but it could easily be twice as much for a taxi. The fare from Queen Street station to Edinburgh is £13.50.
At a minimum, the journey as planned has a total cost of £64.89.
All Lumo tickets between London and Edinburgh are selling for £19.90 or less until the end of November.
Simon Calder21 October 2021 08:04
https://www.independent.co.uk/travel/news-and-advice/flight-train-london-edinburgh-lumo-easyjet-race-b1942445.html