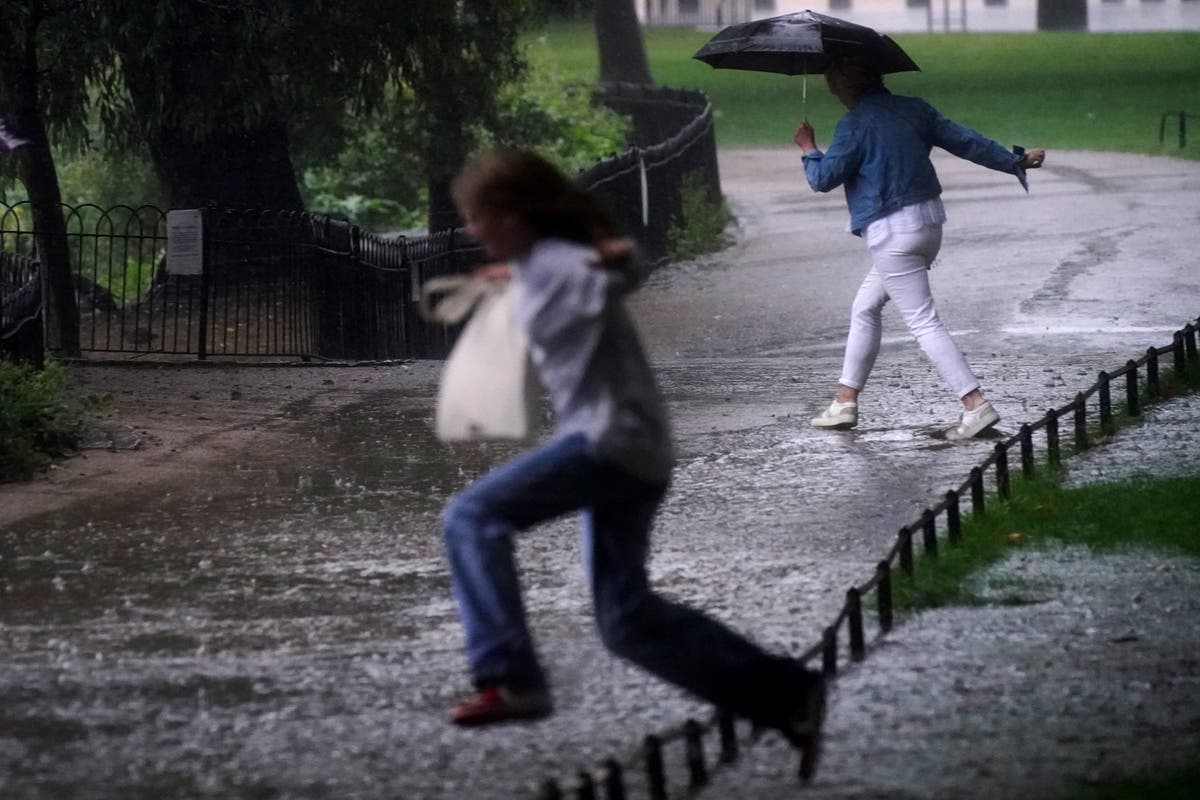 Road severely flooded on London's A4 after torrential downpours overnight
The impact of the climate emergency is on "our doorstep", Sadiq Khan warned after London experienced more flash floods.
The torrential rainfall caused road disruption and Tube closures on Tuesday.
More than an inch of rain fell in one hour in some parts of the city overnight, with St James's Park among the worst-affected areas. It saw a total of 26mm in just sixty minutes, according to the Met Office.
"Once again, we're seeing the impact of the climate emergency on our doorstep. In London we're leading from the front to tackle this crisis, and I'll continue to urge other politicians here and around the world to take the action that's desperately needed," the mayor of London said.
As a result of the downpour, Transport for London (TfL) has confirmed that there are "severe" delays on some Underground lines.
Above ground, floodwater hit tourist hotspots such as Knightsbridge, with firefighters in attendance to unblock a drain there.
Elsewhere, there is no service between Willesden Junction and Clapham Junction due to flooding at Imperial Wharf.
Meanwhile, a whole lane on the A4 near the Hammersmith Flyover in west London has been submerged.
Key Points
Show latest update
1633445126
London floods: 'Exactly what we expect' in climate crisis, says hydrologist
The flooding seen in London is "exactly what we expect" as global temperatures rise, a leading hydrologist has said.
Hannah Cloke, a hydrologist at the University of Reading, said the mayor of London, Sadiq Khan, was right to suggest that "everyone…is potentially in the firing line of climate extremes".
"This kind of flooding is exactly what we expect to see more of as the climate warms up. Heavier rainfall from slower-moving weather systems are likely to be one of the causes of more surface water floods due to climate change," she added.
The hydrologist also said that the government, local authorities, business and individuals need to make infrastructure and homes "more resilient" to future flooding.
Rory Sullivan5 October 2021 15:45
1633443746
Wetland centre in Tyne and Wear closes due to flooding
The Washington Wetland Centre, a nature reserve in Tyne and Wear, has closed temporarily due to on-site flooding.
Staff at the wildlife site thanked the public for their concern, adding that all its otters and birds are safe.
Rory Sullivan5 October 2021 15:22
1633442426
Video: Knightsbridge flooding
Here's more about this morning's flooding in Knightsbridge, central London.
The Evening Standard's Michael Howie took this clip on his commute to work:
Rory Sullivan5 October 2021 15:00
1633440986
Flooding in northern England could last into Wednesday
Flooding in the north of England could last into Wednesday, the Environment Agency has said.
Katherine Smith, flood duty manager at the public body, said: "Working with our partners in local resilience forums, Environment Agency teams have been out on the ground clearing waste grilles and screens, and stand ready to operate flood defences if needed.
"They are also ready to support local authorities in their response to surface water flooding."
Scottish and Welsh agencies have also issued flood alerts for Edinburgh and the Lothians, the Scottish Borders and parts of the north Wales coast.
Rory Sullivan5 October 2021 14:36
1633439849
Flood warnings in place across UK
Two flood warnings are in place as well as dozens of flood alerts, the Environment Agency has said.
Flooding is expected in an area of Keswick in the Lake District as well as by sections of the River Anker near Birmingham.
Meanwhile, more flooding is possible in regions such as London, the south-west and the Midlands.
Rory Sullivan5 October 2021 14:17
1633438826
Met Office issues rain warning for west Scotland on Thursday
Up to 150mm of rain could fall in a single day in some areas of western Scotland later this week, the Met Office has said.
This is considerably more rain than the levels seen in London overnight.
As a result, the agency issued a yellow weather warning from Glasgow up to Fort William between midnight and 3pm on Thursday.
Rory Sullivan5 October 2021 14:00
1633437806
LFB pumps water out of flooded premises
The London Fire Brigade is helping to pump floodwater out of premises in Westminster, the local council has confirmed.
Earlier on Tuesday, Westminster Council said that city inspectors were assessing the damage to properties in parts of Knightsbridge, Bourne Terrace (W2), Oak Tree and Abbey Road (NW8).
Rory Sullivan5 October 2021 13:43
1633436426
Latest weather update
Here's the latest weather forecast from the Met Office:
Rory Sullivan5 October 2021 13:20
1633434926
Fire at Westminster Tube station
Turning away from flooding news momentarily, a fire has broken out at Westminster Tube station.
"Six fire engines and around 40 firefighters are at the scene of a fire at Westminster Station on Bridge Street in Westminster," the London Fire Brigade (LFB) said.
Lamiat Sabin has this breaking story:
Rory Sullivan5 October 2021 12:55
1633433724
Rory Sullivan5 October 2021 12:35
https://www.independent.co.uk/climate-change/london-flooding-today-tube-rain-b1932508.html