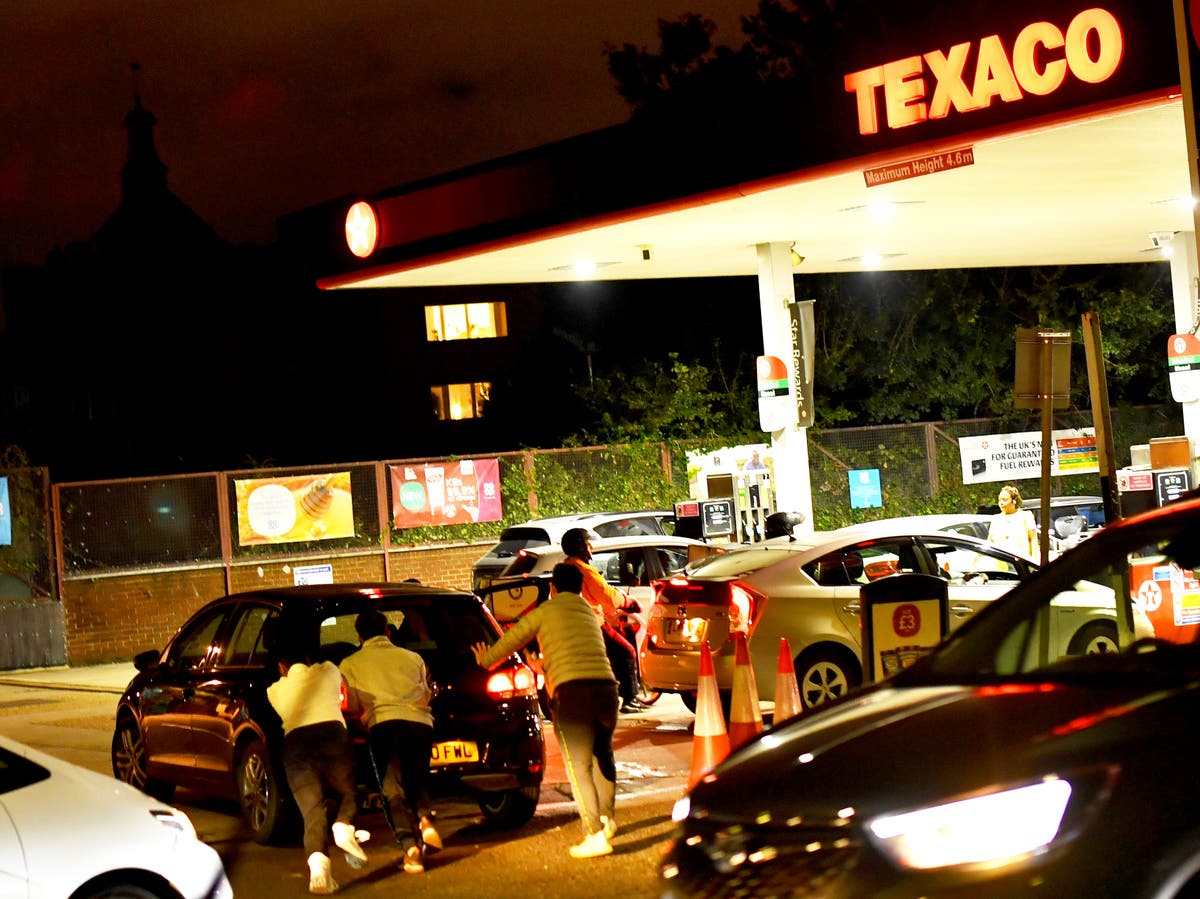 'No chance' of a return to normality if panic buying continues, says industry chief
The prime minister is said to be considering whether to call in soldiers to deliver fuel to petrol stations after a weekend of panic buying.
Competition law was suspended for the fuel industry last night by Kwasi Kwarteng, the business secretary, to improve communication between suppliers so they can target areas in need.
Grant Shapps, the transport secretary, refused to rule out requesting military assistance to meet the shortage in fuel tanker drivers. He said the industry was "100 to 200" drivers short.
Panic buying of fuel began after a BP executive expressed concern that the lorry driver shortage could impact its ability to keep up with fuel deliveries, in leaked comments.
The surge in demand led the Petrol Retailers Association (PRA) to warn that as many as two-thirds of its membership of nearly 5,500 independent outlets were out of fuel on Sunday, with the rest of them "partly dry and running out soon".
Key Points
Show latest update
1632736243
Word on the street: Panic buying
Roland McKibbin, 31, from Beckenham, London, said he was only able to reach one of his jobs on Monday having been forced to cancel the rest.
"I rely on fuel to travel to jobs, no fuel means I can't drive, which means I can't get to jobs with my tools," he said.
"So, basically, the panic-buying idiots have lost me income, and directly taken food off the table for my wife and five-year old son, because I can't wire people's houses from home unfortunately.
"I wasted about 15 miles of fuel looking, in the end I had to turn back as I was on fumes."
Mr McKibbin said being unable to travel would cost him "at least £200 for the day" while he could also have to cancel jobs on Tuesday.
Liam James27 September 2021 10:50
1632735403
EU drivers won't return to help UK 'get out of the s***', says European union boss
Adam Forrest has more on the European worker's view of the energy crisis:
Liam James27 September 2021 10:36
1632734803
Sadiq Khan: We knew in 2016 Brexit would cause fuel shortage
The Mayor of London, Sadiq Khan, said it was apparent in 2016 that Brexit would lead to a shortage of haulage drivers.
He said the government had "let their eye off the ball" as they knew a driver shortage was impending. The government knew the industry was struggling to train enough drivers during the pandemic, he said.
Liam James27 September 2021 10:26
1632734143
Fight breaks out at petrol station as fuel shortage grips UK | Independent TV
Footage of a fight on a London forecourt on a weekend of panic buying:
Watch: Fight breaks out at petrol station as fuel shortage grips UK
A fight broke out on the forecourt of a north London petrol station during a weekend that saw many people panic buying fuel.Thousands of service stations have run dry amid the frenzy, which has seen customers literally fighting over the limited stock. At one BP garage near Camden, a scuffle broke out between moped drivers as others queued to fill up.One driver can be seen jump-kicking another, while a third person attempts to swing his helmet in the same direction. Lengthy queues at petrol stations are expected to continue, despite government reassurances on supply.
Liam James27 September 2021 10:15
1632733644
Energy crisis: Trio of financial hits will be hard on single parents, says Labour
Labour has warned that the combined effects of the Conservatives tax rises, Universal Credit cuts and the energy crisis are a "perfect storm" set to leave single-parent working families £1,757.61 a year worse off.
According to Labour's calculations, a working single parent with two children will lose 5 per cent of their income in April because of the government's decision to freeze personal income tax allowances, raise National Insurance and cut Universal Credit.
Jonathan Reynolds, Labour's shadow work and pensions secretary said: "It is not too late for the Government to change course, cancel their cut to Universal Credit and back struggling families this winter. Labour would maintain the uplift and replace Universal Credit."
Liam James27 September 2021 10:07
1632732823
Some brands have 90% of petrol stations running dry
Some fuel supply brands are seeing pumps run dry at as many as 90 per cent of their petrol stations, according to an industry straw poll.
Gordon Balmer, executive director of the Petrol Retailers Association (PRA), said half of the group's members had some dry sites but a few said almost all of their sites were dry.
The PRA represents independent fuel retailers who now account for 65 per cent of all UK forecourts.
Liam James27 September 2021 09:53
1632731803
EU workers won't sort out UK's self-imposed problems, says Dutch trade unionist
Edwin Artema, of the Dutch Trade Union Federation said: "The EU workers we speak to will not go to the UK for a short-term visa to help UK out of the s*** they created themselves.
He told BBC Radio 4's Today Programme that regulation protecting drivers was "not worth the paper it is written on because there is no enforcement and no interest to enforce it down the supply chain".
"Drivers need way more than just a visa and a payslip.
"A Marshall Plan is needed for the whole of Western Europe to drag this entire industry back to the surface where it needs to be."
Liam James27 September 2021 09:36
1632731143
Some fuel crisis tragicomedy playing out on Britain's roads:
Liam James27 September 2021 09:25
1632730782
Labour says fuel crisis down to government immigration policy
Labour has pinned the fuel crisis on the government's attitude to immigration.
Rachel Reeves, the shadow chancellor, said "most people couldn't care less whether the HGV is being driven by a British worker or a foreign worker."
"What they want to know is when they get to the petrol station, they are able to fill up their car; when they are trying to get presents for their kids at Christmas they are going to be delivered; and when they are trying to order food it is available in our supermarkets and on online deliveries."
She told ITV's Good Morning Britain she had been meeting with the Road Haulage Association over the past year to discuss impending problems.
"The government ignored those problems, which is why we are now facing the situation where people go to the supermarkets and see shortages of goods on the shelves, and why they are queuing up at petrol stations and not being able to fill up their tank," she said.
Liam James27 September 2021 09:19
1632730003
Stop panic buying or fuel crisis will go on, says freight boss
Consumers must stop panic-buying to ease the fuel crisis as longer-term measures are implemented, Elizabeth de Jong, policy director at freight trade association Logistics UK, said.
Ms de Jong said the situation could "calm down quite quickly" if people stopped panicking and resumed buying fuel as they usually would.
She told BBC Breakfast: "We are seeing the impact of panic buying, we have been assured through the Petrol Retailers Association and we have been assured by some of the larger petrol companies in the country that there is enough fuel for everyone, but yet we have become very concerned and are buying and buying and have caused a very big problem.
"I represent and have been dealing with the government over the general shortage of HGV drivers, we have got a number of announcements there about increased tests, funding of new visas, so there are issues in the industry and some of these will take a while to resolve, some of these can be resolved, so a lot is being done, but we really need to keep calm, just as we did through Covid with toilet rolls, for this not to continue."
Liam James27 September 2021 09:06
https://www.independent.co.uk/news/business/fuel-crisis-uk-petrol-shortage-live-b1927473.html