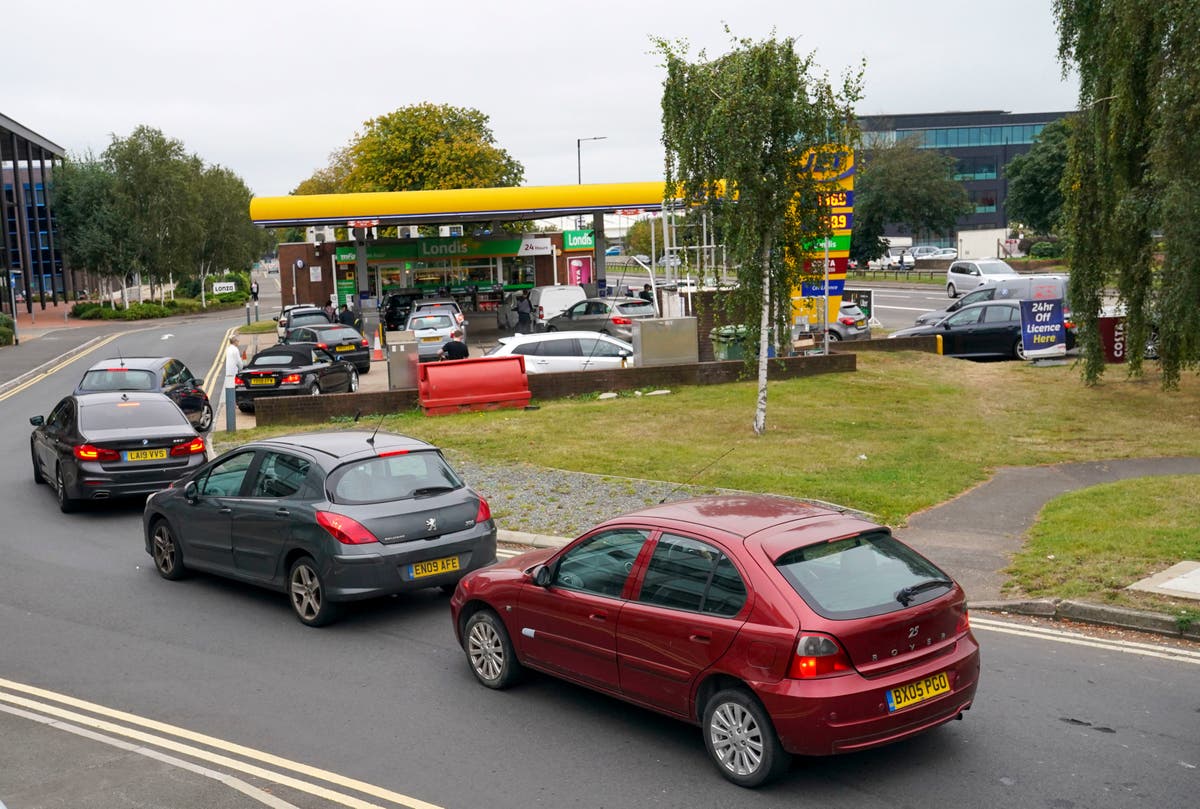 Grant Shapps says fuel crisis a 'manufactured crisis' and blames a road haulage association
Ministers' plan to offer temporary visas to 5,000 foreign HGV drivers are unlikely to fix the immediate and "really serious problems" caused by the panic buying of petrol and diesel, the head of the Petrol Retailers Association has warned.
Citing conversations with the trade body's membership, its chair Brian Madderson suggested that "between 50 per cent and 90 per cent of their forecourts are currently dry, and those that aren't dry are partly dry and running out soon."
Meanwhile, a row has erupted between the government and the Road Haulage Association after transport secretary Grant Shapps claimed the fuel crisis was a "manufactured situation" caused by a media leak by the RHA, from a meeting at which concerns were raised by BP about supply problems.
The RHA denied the allegation, which it described as a "disgraceful attack", and claimed ministers were trying to divert attention away from their handling of the shortage of HGV drivers.
Business groups have also criticised the government's visa plan for lorry drivers and 5,500 poultry workers as "too little, too late" and "throwing a thimble of water on a bonfire", with retailers warning on Friday that ministers had just 10 days to save Christmas from significant disruption due to the shortage of around 100,000 HGV drivers.
Follow the latest developments in our live coverage below
Key Points
Show latest update
1632665148
In pictures: Panic at the pumps
Motorists are still facing long queues at some petrol stations after two days of panic buying across the UK.
Demand has soared by up to 400 per cent and a significant proportion of garages have run, according to industry leaders.
BP said around 30 per cent of its sites had run out of the main fuel grades, while the Petrol Retailers Association said that its members had reported between 50 per cent and 90 per cent of its forecourts had run out.
Motorists queue for fuel at Asda, which has imposed a £30 limit
(PA)
A member of staff directs motorists trying to queue for fuel at a Sainsbury's petrol station in south London
(PA)
A dry Shell petrol station in Bracknell, Berkshire
(PA)
Cars queue for fuel at a Sainsbury's in Camberley, Surrey
(PA)
Peter Stubley26 September 2021 15:05
1632664256
Campaigner's home listed as petrol station in 'sick' prank
A campaigner has told how he was besieged by motorists desperate for fuel after pranksters listed his home as a petrol station.
Howard Cox, who fronts FairFuel UK and lives in Cranbrook, Kent, said he received more than 70 calls asking if he had any supplies left.
Mr Cox described the prank as "puerile and sick". He told Kent Online: "I got home the night before last and this bloke asked if I had any petrol there. I was like 'what?'. It sounds funny but when you get 70 calls it makes you annoyed."
Peter Stubley26 September 2021 14:50
1632663523
Starmer accuses ministers of 'total lack of planning'
Keir Starmer has accused the government of a "total lack of planning" over worker shortages caused by Brexit, as a minister attempted to shift blame on to consumers and industry leaders for the panic-buying of fuel.
'We took the decision to leave the EU in 2016, so we've had five years for the government to work through the consequences,' the Labour leader said.
Peter Stubley26 September 2021 14:38
1632662217
Here's footage of David Morris, a Tory MP, describing the current set of crises as "reminiscent" of the UK's "winter of discontent" in 1978.
Tory MP admits current crisis 'reminiscent' of 1970s Winter of Discontent
Andy Gregory26 September 2021 14:16
1632661471
Visa plan 'unlikely to quickly fix really serious problems' caused by panic buying
Panic buying has caused "serious problems" for stock levels, which the government's HGV driver visa plan is unlikely to fix quickly, an industry chief has warned.
"Those measures introduced by the government this weekend are not ultra-short term," Brian Madderson, chair of the Petrol Retailers Association told the BBC. "We might see benefits of them later in the autumn as the drivers come across and start to work, but in the very short term this panic buying has caused really serious problems.
"I've talked to a lot of our members this morning. They serve the main roads, the rural areas, the urban roads, and anywhere in between 50 per cent and 90 per cent of their forecourts are currently dry, and those that aren't dry are partly dry and running out soon."
He added that drivers were flocking to motorways to refuel after oil companies prioritised these service stations, prompting an anecdotal increase in demand of 500 per cent at one station compared to the previous week.
Andy Gregory26 September 2021 14:04
1632660994
UK lacking petrol tankers as well as drivers, industry chief suggests
In addition to a shortage of HGV drivers, the finite number of tankers available in the UK is stopping petrol from getting to motorists, according to the Petrol Retailers Association.
The group's chair Brian Madderson told the BBC's The World This Weekend show that the government was "loath to recognise" the pump supply issues, adding: "There is plenty of fuel in this country but it is in the wrong place for the motorists."
"It is still in the terminals and the refineries, and the amount they can now ship into and deliver to the forecourts is limited by two things. One, the availability of the hardware, the tankers themselves. These are specialist tankers able to deliver in pods, in those big trucks, a wide variety of fuels to the forecourts.
"There is a finite number of those and there is obviously a finite number of trained drivers, and that has been the problem, that that number of finite number of drivers has been reduced."
Andy Gregory26 September 2021 13:56
1632660219
Opinion: Only by reducing demand will gas supply no longer be an issue
Writing for Independent Voices, Greenpeace UK's chief scientist Dr Doug Parr argues:
While it is true that a global surge in demand, coupled with geopolitical games and electricity supply issues in the UK have resulted in a squeeze on supply and subsequent price hike, this is only half the story.
What ministers are failing to talk about as they reassure us that they do "not expect" supplies to run out this winter, is that it is not supply but the UK's dependency on gas, and the failure of successive governments to wean us off the stuff years ago, that has left the UK dangerously exposed.
Andy Gregory26 September 2021 13:43
1632659511
'It will create a lot of problems or accidents': HGV driver dismisses idea of 3-month visa
An HGV driver has said he does not believe European drivers will come to the UK for three months as it is too expensive and not enough time for them to learn the roads.
Imran Mustafa, who moved to Barcelona from Pakistan eight years ago and has been a haulage driver for three years, said he wants to move to the UK to work but the 12-week visa was not enough time to uproot his life.
"It's a temporary visa and it's for a very small time period," he told the Press Association. "These days, people don't have the money to travel. No-one wants to travel for just three months.
"I could move as I live on my own but other people, French people, German people, Spanish people, they're already earning a lot of money, so why would they move to the UK for three months only on a temporary visa?
"I would move but not for three months. It's not enough time as we don't know the roads, the maps or how it all works. I think it will create a lot of problems or accidents."
Andy Gregory26 September 2021 13:31
1632658020
Nearly a third of BP sites 'out of fuel' due to panic buying
BP has confirmed that 30 per cent of its sites do not have either of the main grades of fuel as a result of "intense demand" over the last two days.
The company said in a statement to Sky News: "We are experiencing fuel supply issues at some of our retail sites in the UK. This is being caused by delays in our supply chain due to a shortage of qualified drivers – this issue is impacting industries across the UK.
"We are working to resupply as rapidly as possible. Sites that have multiple grade-outs may have closed for fuel purchases – we do not have an estimate of this number", the statement continued.
"We continue to work hard with our haulier supplier, Hoyer, to optimise fuel distribution and to minimise the level of disruption, keeping key sites supplied and restocking as rapidly as possible. The sites affected are changing as we continue deliveries as usual.
"We welcome the government's decision to issue temporary visas to truck drivers. While it will take time for the industry to strengthen deliveries and rebuild stocks at retail sites, we believe this step can help address the economy-wide shortage of drivers with a targeted and temporary measure."
BP operates around 1,200 petrol stations around the UK.
Peter Stubley26 September 2021 13:07
1632657354
Asda sets £30 fuel limits at forecourts
Asda has imposed a temporary £30 limit on fuel at its 320 petrol stations across the UK – echoing the move by its owners EG Group on Friday.
A spokesperson told Sky News: "To ensure as many customers as possible can refuel, we have put a temporary limit of £30 per transaction on our forecourts.
"We can reassure our customers that we have good levels of fuel supply and our sites will continue to receive deliveries over the weekend."
EG Group operates nearly 400 stations.
To put it in context, there are more than 8,300 petrol stations across the UK in total.
Peter Stubley26 September 2021 12:55
https://www.independent.co.uk/news/business/petrol-crisis-live-fuel-supply-update-b1927128.html