Link to this page: https://www.socialistparty.org.uk/issue/1143/32864

Home  
|  
The Socialist 28 July 2021   |
  Join the Socialist
Party
Subscribe  
|   Donate  
|   Audio  |   PDF  |   ebook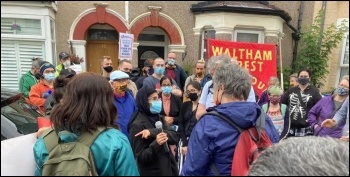 Eviction resistance in Walthamstow, London, 29.6.21. Nadia addressing the crowd after bailiffs say they're not entering her home today!, photo Waltham Forest SP   (Click to enlarge)
Linda Taaffe, Waltham Forest Socialist Party
Nadia Zaman has to fight once again (see 'Protesters halt Nadia's eviction') – this time to stop her and her three children being relocated to Stoke-on-Trent. Nadia has lived all her life in Walthamstow, east London.
She resisted eviction, and then accepted the council offer of a single room in nearby Leyton for her whole family. Her supporters are submitting a realistic plan on how she can be housed locally – given willingness to listen and with sensible flexibility on both sides.
But these plans could go down the drain now that Mears are involved – the private contractors have a £80 million deal to cleanse the borough of its poorest families, and ship them off to Stoke.
The prospect of being isolated away from family and community fills Nadia with dread – as it would anybody. It is grossly unjust – even cruel and inhuman.
Councillors must stop this crisis for Nadia right now. They should pull into line the council officers pressing ahead with the 'offer' of Stoke or 'out on the streets'. They should respond to Nadia's supporters' proposal.
We are sick of the torrent of sad stories in the media about people in housing difficulties. We need action.
Take the profit motive out of housing provision. Instead, housing should be considered a social service. Build masses of council homes at council rents, not unaffordable tower blocks.
https://www.socialistparty.org.uk/issue/1143/32864/28-07-2021/east-london-resident-fighting-eviction-again