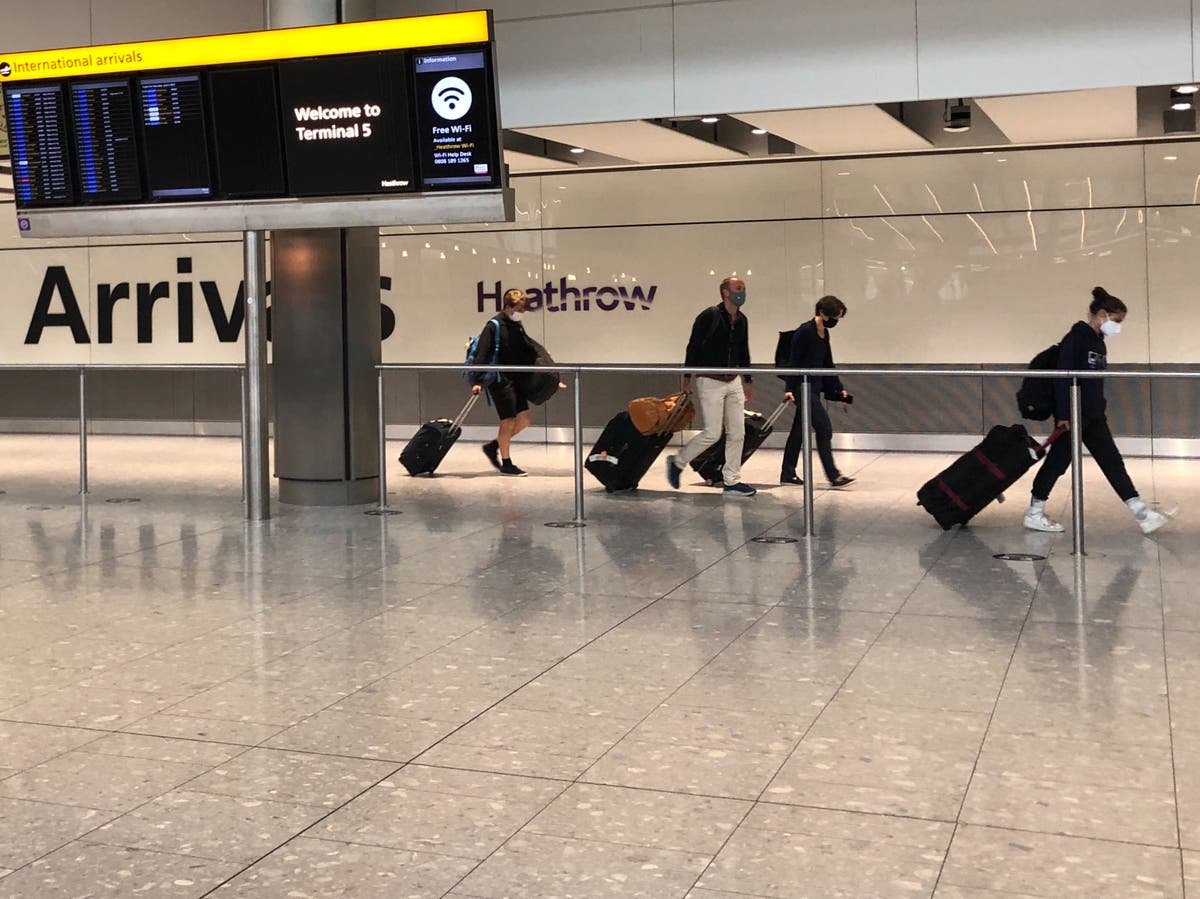 Expert warns of resurgence in Covid cases
Double-jabbed EU and US travellers will be exempt from quarantine rules in England from 2 August, ministers have confirmed.
This comes after Labour described the policy as dangerous. "I think at the moment everybody wants to go on holiday and go back to normal as quickly as possible but this is reckless," the party's deputy leader Angela Rayner said.
The relaxation of rules follows a 10-day pilot scheme involving 250 passengers on flights from Jamaica, New York and Los Angeles. All bar two of the travellers showed authentic vaccination credentials.
The trial gives "the evidence the government needs" to drop quarantine requirements for passengers from low-risk countries, BA chief executive Sean Doyle said.
Elsewhere, companies have criticised the government over its scheme to exempt essential workers from having to self-isolate when they are pinged by the NHS Covid-19 app.
The plan has been labelled a shambles, as small businesses warned of delays and difficulties in registering their staff.
Key Points
Show latest update
1627482004
UK expects US to ease travel restrictions for Britons
The UK expects the US to ease some of its travel measures, allowing Britons to enter the country, a minister has said.
"We can't change (the rules) on the other side but we do expect that in time they'll release that executive order which was actually signed by the previous president and bans inward travel," British transport secretary Grant Shapps said.
Rory Sullivan28 July 2021 15:20
1627480846
Travel sector welcomes quarantine rule change
The travel sector has welcomed the news that fully-vaccinated US and EU travellers to England will no longer need to quarantine.
Paul Charles, chief executive of travel consultancy The PC Agency, said the importance of the decision, which he thinks "should have been made weeks ago", could not be "overestimated".
He added: "It will pump vital cash into the travel economy, and help salvage the rest of the summer.
"Inbound visitors deliver billions of pounds to the economy and they can be welcomed safely."
Rory Sullivan28 July 2021 15:00
1627479904
'We're helping reunite people', says Shapps
The government's decision to ease travel restrictions for travellers from the EU and the US will allow friends and families to be reunited, Grant Shapps has said.
The transport secretary tweeted that the rule change will come into effect at 4am on 2 August.
Rory Sullivan28 July 2021 14:45
1627479346
Video: Re-opening travel 'important', says foreign secretary
Re-opening travel links 'important step', says Raab
Rory Sullivan28 July 2021 14:35
1627478446
Scotland records 56 new Covid-19 deaths last week
A total of 10,324 people have likely died from Covid-19 in Scotland, death certificates show.
The National Records of Scotland's (NRS) figures include deaths from "suspected" or "probable" coronavirus.
Last week, there were 56 deaths where the virus was mentioned on the death certificate.
Rory Sullivan28 July 2021 14:20
1627477246
'Test and release' should have started in January, scientific adviser says
A "test and release" approach should have been adopted from January, a government scientific adviser has said.
Professor Sir John Bell, an immunologist at Oxford University, told BBC Radio 4 that data supported releasing people from self-isolation via testing earlier this year.
"If I was the one making the decisions I would have thought to move much more aggressively from January to make that happen but obviously there is a complex set of issues that lead to political decision making and I am not involved in any of that. I just give advice," he said.
Rory Sullivan28 July 2021 14:00
1627476046
UK wants world vaccinated by middle of 2022
The UK wants the world to be vaccinated against Covid-19 by the middle of 2022, Dominic Raab has said.
The foreign secretary warned that this is not likely to happen until 2024, unless wealthier countries donate jabs to poorer ones.
His comments come as the UK began to distribute 9 million AstraZeneca vaccines to other nations.
Rory Sullivan28 July 2021 13:40
1627475003
Fully-vaccinated travellers from US and EU will be exempt from English quarantine rules
Double-jabbed travellers from the UK and the EU will no longer need to quarantine upon arrival in England, ministers have confirmed.
Here's Jon Stone with this breaking story:
Rory Sullivan28 July 2021 13:23
1627474859
Opening of key-worker testing sites delayed until after self-isolation rule lifted
Only around 200 of the 2,000 daily testing sites for key workers promised by Boris Johnson to beat the "pingdemic" are in operation and hundreds of them will not be in place until the end of next month – two weeks after the 16 August date when the requirement to self-isolate will be lifted.
The delay was blasted by business figures, writes our political editor Andrew Woodcock:
Jane Dalton28 July 2021 13:20
1627473858
UK starts sending 9m jabs abroad
Britain will start delivering 9 million doses of the Oxford-AstraZeneca vaccine this week to countries including Indonesia, Jamaica and Kenya to help tackle the pandemic, the government says.
Some 5 million doses were being offered to Covax, the scheme to ensure equitable, global access to Covid-19 vaccines, while another 4 million doses will be shared directly with countries in need.
"The first batch – 9 million doses – will be going out on Friday," Foreign Secretary Dominic Raab said, adding that they would go to countries including Laos, Cambodia, Indonesia, Malaysia, Kenya and Jamaica.
"We're not just doing it because it's in our own interest, it shows global Britain as a life-saving force for good in the world," he said.
Indonesia will receive 600,000 doses, 300,000 will be sent to Jamaica and 817,000 will go to Kenya, among other countries, the government said.
Boris Johnson pledged to donate at least 100 million surplus vaccines within the next year as a contribution to the efforts of the G7 to help poorer countries inoculate their citizens.
Jane Dalton28 July 2021 13:04
https://www.independent.co.uk/news/coronavirus-news-live-covid-vaccine-b1891865.html