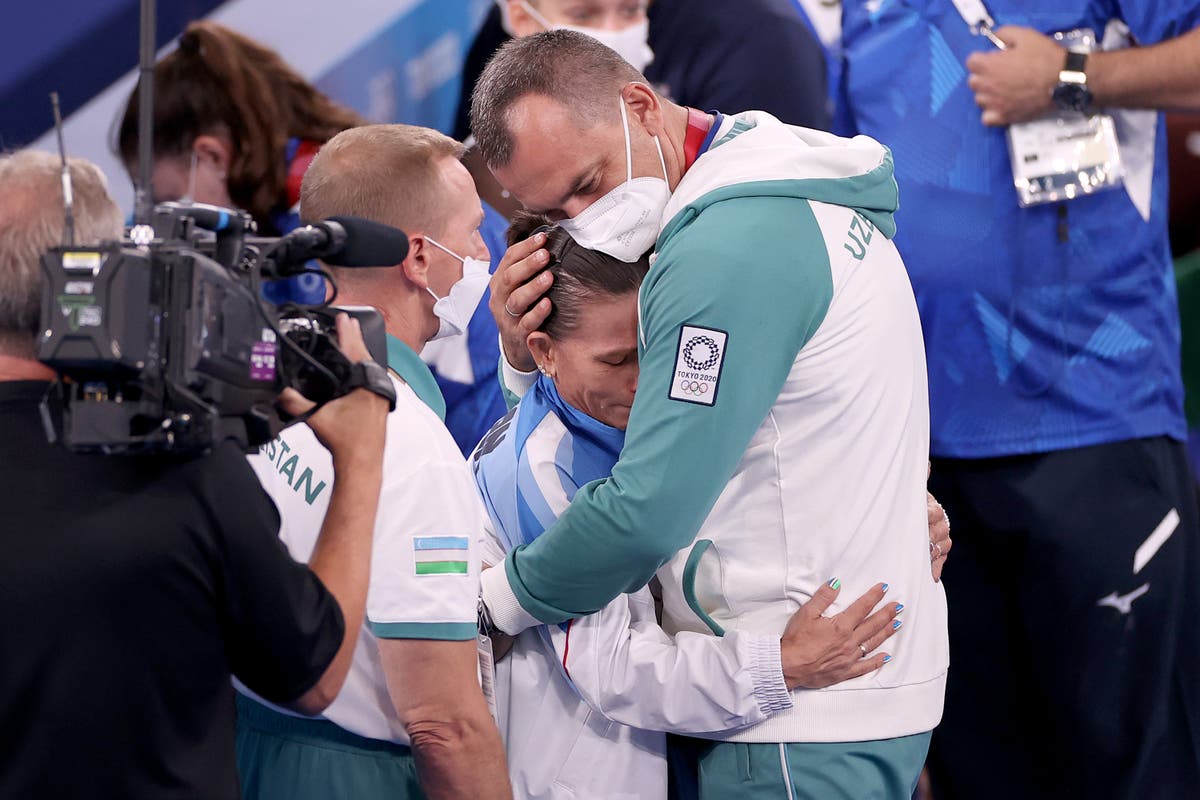 Tokyo 2020 round-up: Adam Peaty reaches 100m breaststroke final
The Tokyo 2020 Olympics is officially underway and day 2 saw a schedule jam-packed with events.
Andy Murray has pulled out of the men's singles on medical advice and will now focus on the doubles alongside Joe Salisbury, having been due to play Canada's Felix Auger-Aliassime. Japan's Naomi Osaka beat China's Zheng Saisai to progress to the second round.
Team GB's Jade Jones fell to a shock defeat in the opening round at the Taekwondo arena, and she will have to wait until Paris 2024 to become to first British woman to win gold medals at three Games. Bradly Sinden produced a stunning series of performances to reach the final in the men's competition but had to settle for a silver medal after an agonising defeat against Uzbekistan's Ulugbek Rashitov, while in the women's judo 24-year-old Chelsie Giles won Team GB's first medal of the Games with an impressive bronze at her first Olympics.
Simone Biles made rare mistakes as the USA failed to dominate the women's gymnastics team qualifying, with the Russian Olympic Committee instead leading from the front. Biles was penalised on both floor and vault and failed to qualify for the finals of the individual uneven bars.
In the women's road race, Anna Kiesenhofer pulled off a shock upset to take gold for Austria. Kiesenhofer, without a professional contract since 2017, was on the attack from the very start of the 137-kilometre race to the Fuji International Speedway, and was rewarded with a truly stunning victory after going solo for the final 40km of the race. Follow all the latest news, updates and results below.
Tokyo Olympics day two
Show latest update
1627254984
Tokyo Olympics men's triathlon
New Zealand's Hayden Wilde leads, Norway's experienced Kristian Blummenfelt is second, and Britain's Alex Yee is third – the three together at the front. Others are trying to catch but they are running out of time.
Lawrence Ostlere26 July 2021 00:16
1627254720
Tokyo Olympics men's triathlon
This lead group is thinning out as they near the final two laps of this four-lap loop. GB's Yee leads, with two tucked behind him and the there's Brownlee in fourth, clinging on. Everyone else seems to be falling away…
Lawrence Ostlere26 July 2021 00:12
1627254353
Tokyo Olympics men's triathlon
We are into the final throes of the men's triathlon and Team GB have two men in contention: Jonny Brownlee, aiming to complete his set of Olympic medals after silver and bronze in London and Rio; and Alex Yee, the new man on the block. Yee is a fast runner and is in a great spot here in this front pack of six or so runners.
Lawrence Ostlere26 July 2021 00:05
1627254001
When to watch the Olympic football matches
The Tokyo 2020 Olympics are underway in the men's and women's football tournaments.
There has already been an upset with the USA women suffering a heavy defeat to Sweden in their opener.
For the full schedule of both tournaments, kick-off times and TV information, check out The Independent's coverage here:
Nathan Place26 July 2021 00:00
1627250401
Looking ahead: Where and when will the next Olympics be?
Paris will be the host of the next Games and they will be held between July 26 and August 11 in 2024 . This means the Olympic cycle will be shortened to three years from the usual four.
The cycle will then return to normal with the next edition being in 2028 in Los Angeles.
Nathan Place25 July 2021 23:00
1627248705
FAQ: Why is Russia banned from the Olympics?
Russia was banned from the Tokyo Olympics in December 2019 after its notorious doping scandal, which rocked the sporting world.
The initial ban of four years was reduced to two years in 2020, but still ensured no official Russian te
am would be present at the Olympic Games in Japan or the 2022 World Cup in Qatar.
Nonetheless, Russian athletes are still at Tokyo 2020 due to the establishment of the Russian Olympic Committee.
Nathan Place25 July 2021 22:31
1627242473
Viewers struggle to watch Olympics as ratings hit historic lows
This year's Olympic Games are receiving record-low ratings as viewers fume that NBC has made them too hard to watch.
On Twitter, complaints abound that Peacock, NBCUniversal's streaming service, has blocked some sports with a paywall, while other viewers have struggled with TV reception problems.
"NBC and Peacock suck for making #USA #Basketball a Premium Peacock option," one user griped.
"This still isn't the #Olympics… but I guess it's better than the test pattern," another wrote, posting a photo of a typed message on her TV: "The station normally seen on this cable channel is experiencing technical difficulties."
If the broadcast's ratings are any indication, there does seem to be a problem. According to data from NBC, only 16.7 million Americans watched the Olympics' opening ceremony on TV – its smallest audience in 33 years.
Nathan Place25 July 2021 20:47
1627240071
Internet hails US skateboarder Jagger Eaton for winning bronze with his AirPods on
Olympic viewers are sharing their praise and admiration for US skateboarder Jagger Eaton after he secured a bronze medal while listening to his AirPods.
"I need to know what Jagger Eaton is vibing to on his AirPods," one person tweeted, while another asked: "Is anyone else insanely curious what Jagger Eaton is listening to in those AirPods?"
Nathan Place25 July 2021 20:07
1627238685
46-year-old gymnast gets standing ovation at her 8th Olympics
Uzbek gymnast Oksana Chusovitina, 46, received a standing ovation after her record-breaking eighth appearance at an Olympic Games.
Ms Chusovitina received a score of 14.166 in the vault competition, not enough to make it into the final. But she earned a moving show of support from her teammates and opponents, who stood and cheered for her as she posed for pictures.
Ms Chusovitina first competed at the Olympics in 1992, representing the former Soviet Union.
Nathan Place25 July 2021 19:44
1627236060
An epic slam dunk from 2000 Olympics France vs US
Mother Jones resurfaced this iconic sport moment, when Team USA player Vince Carter literally leaped over French player Frederic Weis to slam dunk.
David Taintor25 July 2021 19:01
https://www.independent.co.uk/sport/olympics/tokyo-2020-live-results-tennis-gymnastics-b1890001.html