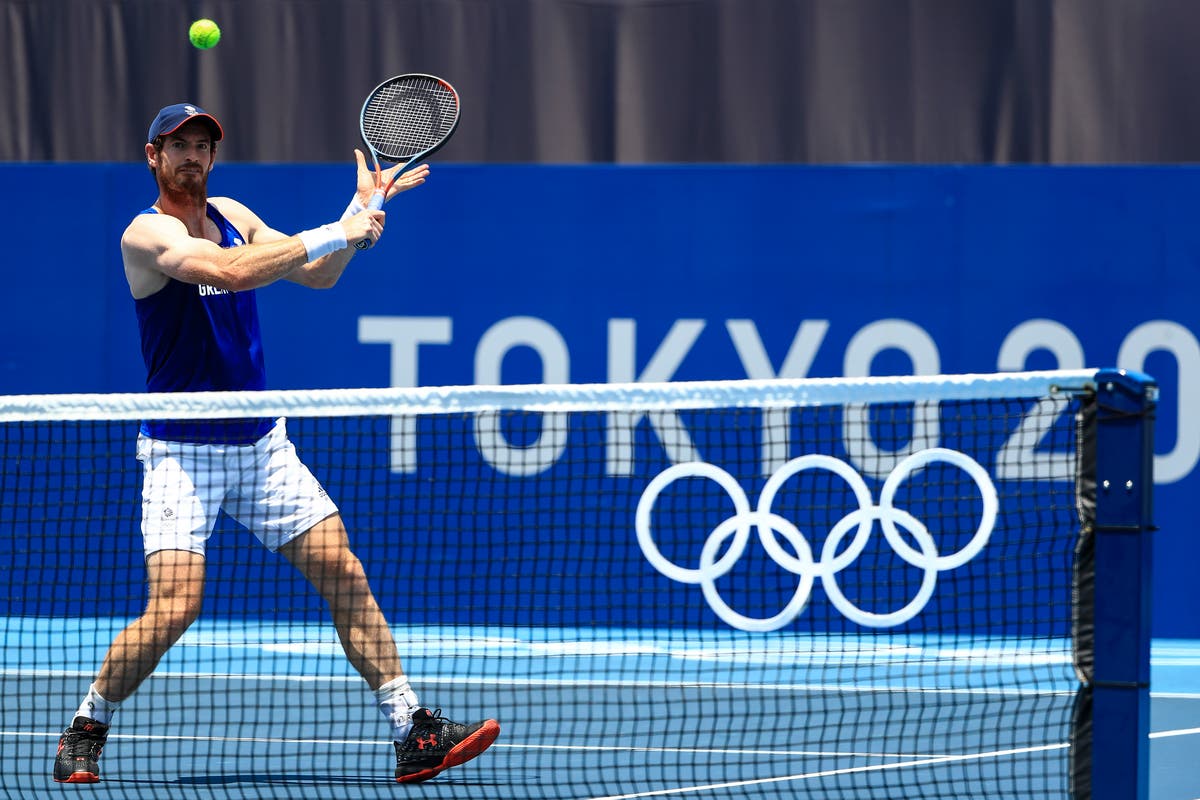 Watch live as Tokyo Olympics president holds press conference
The Tokyo Olympics continues today with softball on the agenda, while Germany meeting Brazil in Yokohama headlining a busy day of men's football too. However the build-up continues to be overshadowed by news of emerging Covid cases among athletes and officials at the Games ahead of Friday's opening ceremony.
Tokyo's coronavirus infections surged to a six-month high on Wednesday with the host city logging 1,832 new cases just two days before the officially Games open. There have been a number of athletes reporting positive cases forcing them into isolation and potentially ending their hopes of competing, while the highly promising Team GB skeet shooter Amber Hill tested positive shortly before her flight and the "devastated" 23-year-old has been forced to stay at home.
The action started yesterday, when Great Britain opened the women's football competition with a comfortable 2-0 win over Chile in Sapporo. A double from striker Ellen White secured the win and there were plenty of positives for head coach Hege Riise as Team GB opened their tournament with three points. The first big shock of the Games came shortly afterwards as the reigning world champions USA were humbled 3-0 by Sweden in Tokyo, as their 44-game unbeaten run came to an end.
Follow all the latest news and updates below.
Tokyo 2020 Olympics
Show latest update
1626938298
Every Olympic athlete that has tested positive for Covid in Japan so far
Every athlete that has tested positive so far in the Olympic Village:
Kamohelo Mahlatsi and Thabiso Monyane (Football, South Africa)
Ondrej Perusic (Beach Volleyball, Czech Republic)
Kara Eaker (Gymnastics, USA)
Candy Jacobs (Skateboarding, Netherlands)
Fernanda Aguirre (Taekwondo, Chile)
Pavel Širuček (table tennis, Czech Republic)
Taylor Crabb (beach volleyball, USA)
Ilya Borodin (Swimming, Russia)
Dylan Terry22 July 2021 08:18
1626937563
Dating apps thrive in Tokyo ahead of Olympics
After a year-long delay, the Tokyo Olympics begin in earnest on Friday.
For thousands of athletes, delegations and media crews from abroad, the excitement of the games, not to mention Tokyo itself, is palpable.
And yet the government declared a state of emergency in the host city and surrounding areas, the fourth such declaration, amid rising coronavirus infection numbers, between 12 July and 22 August.
For the visitors, this not only means they have to be quarantined upon arrival and be monitored; their every move to and from the Athletes Village or hotel and the venues is heavily restricted.
And any hopes of meeting locals, sampling Japanese food and drink, or merely discovering Tokyo and Japan are massively curtailed – if not totally dashed.
But that's not stopping many of them from skirting social distancing measures, if only digitally.
Social media platforms in Japan, in particular dating apps, are experiencing an uptick of foreign users, most of them officially here for the games.
One Tokyoite, a Japanese woman in her thirties, noticed that "so many media people from the States and the UK are on there," referring to a noticeable increase of foreign profiles on dating app Bumble.
Dylan Terry22 July 2021 08:06
1626936132
CJ Ujah on Zen Buddhism, Travyon Bromell and how to right the wrongs of Rio
During CJ Ujah's time in the Olympic Village this week ahead of Tokyo 2020, one of Britain's leading sprinters has been listening to a podcast called Mindful Compassion which explores Zen Buddhism, not something you would immediately associate with the brooding macho stereotype of elite 100m sprinters. But what happened five years ago in Rio helps to explain his pursuit of a clear mind.
Ujah missed out on the Olympic 100m final by less than 0.01sec, tensing up at the line and losing his form to let others sneak ahead in a photo finish. He was 22 then; now aged 27, after several seasons struggling with injury, Ujah has learnt the importance of remaining calm in the chaos of those electrifying 10 seconds that define a sprinter's career. He is determined to learn from his mistake, as he tells Lawrence Ostlere:
Tom Kershaw22 July 2021 07:42
1626934930
Japan secure 3-2 victory against Mexico in Softball
Japan have beaten Mexico 3-2 on the second day of softball at the Tokyo Games, thereby joining the US at 2-0 in the standings.
The host country secured their second victory after facing tough competition from Mexico, who tied up the game twice.
In the seventh inning, Japan's ace Yukiko Ueno was three outs away from a complete game and second-straight winning start when a drop by her centre fielder let in a run.
But Miu Goto, the relief pitcher for Japan, saved the day as she managed to escape loaded bases without surrendering a run in the top of the eighth, setting teammate Mana Atsumi to drive in Eri Yamada for the 3-2 victory.
Namita Singh22 July 2021 07:22
1626933035
Hannah Mills and Mohamed Sbihi named as Team GB's first joint flag bearers
Olympic champions Hannah Mills and Mohamed Sbihi of Team GB have been selected as the flag bearers for Friday's opening ceremony.
The announcement came after the International Olympics Committee in March 2020 said that each National Olympic Committee could nominate one female and one male athlete as flag bearers.
Mills, 33, who won sailing gold in 2016 in the women's 470 class alongside Saskia Clark, will be defending her title in Tokyo, with her new team-mate, Eilidh McIntyre.
Sbihi, 33, is the fourth rower to be afforded the privilege. He won a gold medal in the coxless fours in Rio and was in the British crew in London Olympics 2012 that won bronze in the men's eight. He will be competing in the men's eight in the Japanese capital.
Namita Singh22 July 2021 06:50
1626931927
About 950 people to attend the opening ceremony live at the stadium
About 950 people, including officials and journalists, will be watching Friday's opening ceremony inside the stadium in Tokyo, one of the organisers has said.
The spectators will be joined by performers and athletes participating in the Games, said Hidemasa Nakamura, chief of Tokyo 2020's main operation centre.
The organisers of the Games had earlier announced their decision to ban fans from attending the event in view of the coronavirus pandemic. Despite strict protocols, the organisers are still struggling with outbreaks of cases among athletes.
Acknowledging the challenge of containing infections, Mr Nakamura said it was "extremely difficult" to completely get rid of the virus, making it most important for them to quickly identify and tackle any new cases that emerge.
Namita Singh22 July 2021 06:32
1626930257
No intentions to resign, says Tokyo Olympics president
Seiko Hashimoto, the president of Tokyo 2020, said that she has no intentions to resign as another scandal hit the Games.
Her announcement came after the organisers of the Games fired Kentaro Kobayashi, the director of the opening ceremony, over his past comments about the Holocaust.
"We found out that Mr Kobayashi, in his own performance, has used a phrase ridiculing a historical tragedy," Ms Hashimoto said. "We deeply apologise for causing such a development the day before the opening ceremony and for causing troubles and concerns to many involved parties as well as the people in Tokyo and the rest of the country."
She added that they are "currently investigating how to do tomorrow's opening ceremony".
Namita Singh22 July 2021 06:04
1626929202
Andy Murray to face Canada's Auger-Aliassime in first round
Two-time Olympics champion Andy Murray will start his action in Tokyo against Canada's Felix Auger-Aliassime.
The reigning gold medallist from Great Britain will be facing the 15th seed in the first round of the tournament, it was announced today, as draws for four of five Olympic brackets were revealed in Japan.
Murray is the only tennis player to have won two consecutive singles gold medals, having triumphed at the London and Rio Olympics.
Namita Singh22 July 2021 05:46
1626926731
US beat Canada in softball
The United States scored a 1-0 victory against Canada on the second day of softball at the Tokyo Olympics.
US pitcher Monica Abbott dominated the Canadian batters from the start. She pitched a one-hitter and center fielder Haylie McCleney and second baseman Ali Aguilar combined to throw out the potential tying run at the plate in the sixth inning.
The second of five days of round-robin play leaves the US at 2-0 in the standings and Canada 1-1.
Namita Singh22 July 2021 05:05
1626924476
Tokyo Olympics opening ceremony director steps down over Holocaust jokes
The director of the Tokyo Olympics opening ceremony has been ousted after footage of him making jokes about the Holocaust emerged on social media on Wednesday.
The dismissal of Kentaro Kobayashi was announced after a clip was widely shared on Japanese social media on Wednesday showing Kobayashi, who is a comedian, in a TV skit from the 1990s, making light of the mass murder of Jews by the Nazis.
Namita Singh22 July 2021 04:27
https://www.independent.co.uk/sport/olympics/tokyo-olympics-2020-live-news-football-b1888321.html