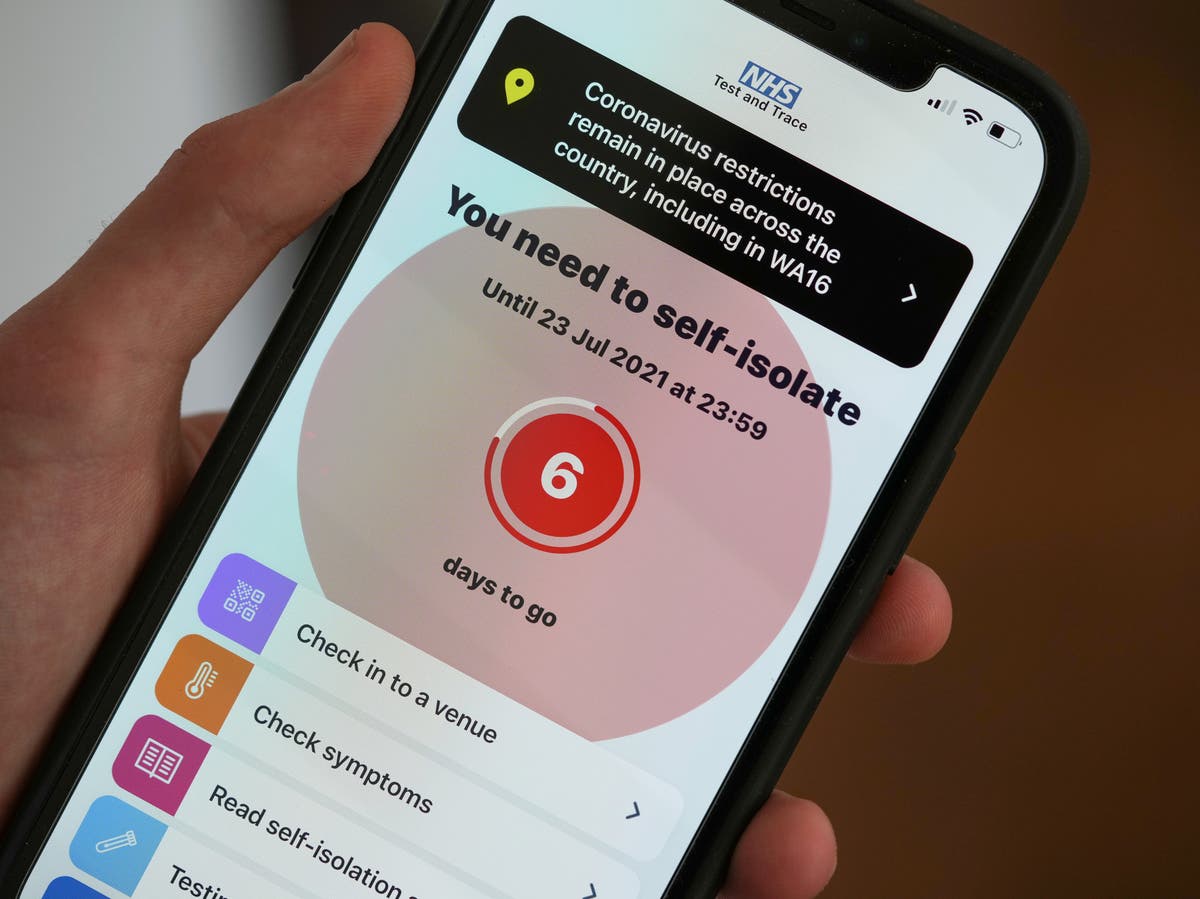 Boris Johnson is facing a major rebellion among Conservative MPs over his plan for vaccine passports.
More than 40 Tories have signed a declaration by campaign group Big Brother Watch to say they oppose using "Covid status certification to deny individuals access to general services, businesses or jobs".
It came as ministers were accused of "flying by the seat of their pants" amid widespread confusion about who will be allowed to ignore self-isolation "pings" from the NHS coronavirus app.
As isolation-driven absences multiply, businesses have complained the government's policy appeared to have been concocted "on the hoof without proper organisation or thought".
The app is telling more people to self-isolate because the pandemic is now in its third wave, following the easing of lockdown rules and the rise of the Delta variant.
Key points
Show latest update
1626863541
Opinion: Freedom may damage the economy not help it – we must respect the risks around us
Economics has a funny way of confounding intuition and empirical observation, writes Jagjit Chadha.
That often makes it infuriating and fascinating in equal measure. Now 'Freedom Day' is here, we might think that this is a case of the economics trumping concerns about our health. But, in fact, there is no trade-off between the two and bad health policy is also bad economic policy and vice-versa.
It's been a stop-start period of 18 months, but it could be argued the vaccine rollout is so far advanced we have built a wall against Covid that will allow us to open up and get the economy motoring again. But the arguments for circumspection and caution during a rapid opening are more compelling.
Jon Sharman21 July 2021 11:32
1626862401
Boris Johnson faces major Tory rebellion over Covid vaccine passport plans
Boris Johnson faces a potential major rebellion over Covid vaccine passports from his own MPs, writes Jon Stone.
More than 40 Conservatives have signed a declaration by campaign group Big Brother Watch saying they are opposed to using "Covid status certification to deny individuals access to general services, businesses or jobs".
Jon Sharman21 July 2021 11:13
1626861261
Maternity services could struggle if Covid rates climb, healthcare leaders say
Maternity services could struggle to keep running if Covid infection rates carry on climbing as restrictions ease, health professionals have warned.
The Royal College of Midwives and the Royal College of Obstetricians and Gynaecologists, which together represent the majority of NHS maternity staff, said planned home births were already being cancelled in some areas due to ambulance shortages, writes Maya Oppenheim.
Leah Deutsch, a senior registrar in obstetrics and gynaecology at the Royal Free Hospital in north London, told The Independent some women were not able to have home births during the two previous waves of the pandemic.
Jon Sharman21 July 2021 10:54
1626860121
Two more positive Covid tests at Olympics
A Chilean taekwondo athlete and a Dutch skateboarder are the latest Olympic athletes to test positive for coronavirus at the Tokyo Games.
Chilean fighter Fernanda Aguirre said in an Instagram postL "I feel so much sadness, anguish, frustration.
"It's something that angers me a lot and I feel it's just unfair that my dream is crushed after so much sacrifice."
Ms Aguirre was training in Uzbekistan prior to coming to Tokyo. The Chilean Olympic Committee says she tested negative before her flight but then positive at the airport in Japan. Although asymptomatic, she cannot compete because of the minimum 10-day quarantine requirement.
Candy Jacobs, the skateboarder, said she was "heartbroken" but hoped to compete in Paris in 2024 instead.
Tedros Adhanom Ghebreyesus, the head of the World Health Organisation, has previously said infections among athletes are inevitable, but that the Games should be judged on how they are dealt with, not the overall number.
There have been about 80 positives tests so far in Japan, but athletes have also been prevented from travelling there in the first place due to Covid-19.
Jon Sharman21 July 2021 10:35
1626858981
Opinion: Boris Johnson appears to be playing out his own version of 'Logan's Run'
I think I've finally worked out how Boris Johnson plans to get levelling up done: he's going for a latter day version of 70s sci-fi classic Logan's Run, writes James Moore.
For those who haven't seen the dystopian movie, released in 1976 before the genre became the juggernaut it is today, it centres on an apparently idyllic city where everyone aged over 30 gets sent to meet their maker in a savage "ceremony" – and runners (people who try to escape their dark destiny) are put to sleep by gun-toting sandmen.
Jon Sharman21 July 2021 10:16
1626857841
'I don't want to go anywhere without Alfie': What the future holds for our pandemic pets
At the beginning of 2021, my household became one of 3.2 million that acquired a pet during lockdown, writes Kate Ng.
The new addition to my small family, which comprised of my husband and I, was Bertie, a black cat taken off the streets by one of London's many rescue agencies.
Pets became a lifeline for many throughout the harsh months of lockdown, myself included. As a key worker, my husband spent most of the working week at his office, but I was working from home, which meant being completely alone for long periods of time.
Jon Sharman21 July 2021 09:57
1626856701
'You crack me up': Marjorie Taylor Greene laughs off question about children dying of Covid
Congresswoman Marjorie Taylor Greene laughed off a question about people dying of Covid-19, telling the reporter, "You crack me up."
The question came a day after Twitter briefly suspended the Georgia Republican over misinformation she'd posted about the coronavirus, including that it "is not dangerous for non-obese people and those under 65."
On Tuesday, a journalist challenged Ms Greene about that tweet, writes Nathan Place.
Jon Sharman21 July 2021 09:38
1626855561
Meat industry warns on self-isolation as 'production lines failing'
The British Meat Processors Association has warned that production lines have started to fail due to the number of workers self-isolating over coronavirus contacts.
Chief executive Nick Allen said the industry cannot rely on exemptions announced by Boris Johnson because it has been made clear that very few people will benefit from the plan.
Asked if the government had made the situation any clearer in recent days, he told BBC Radio 4's Today programme: "No not really. There's an air of despondency creeping through the industry really. Until now we've managed to keep the food supply chain running but there's a sense of we're starting to fail on that front.
"Morale isn't helped by the confusion that comes from these confusing messages from government."
Asked if production lines are stalling, he said: "They are. It's happening already. We're starting to see that at retail level and in restaurants – everyone is struggling to get things out really."
He said the industry is not clear who is covered by the exemption for a small number of double-jabbed critical workers.
"It was made very clear to us late yesterday that this exemption will be for very, very few people. They described it as setting the bar very, very high and we're certainly not counting on that," he said.
Coronavirus "pings" from the NHS app are rising because the number of infections is rising, as lockdown restrictions end and the Delta variant, which is more infectious, takes hold.
Additional reporting by PA
Jon Sharman21 July 2021 09:19
1626854421
Australia sees rise in Covid-19 cases despite lockdowns
Bad news out of Australia, where Covid-19 infections are rising despite the imposition of lockdowns.
More than half the country's population is under a stay-at-home order.
New South Wales (NSW) state, home to Sydney, the country's most populous city, logged 110 new cases, up from 78 the day before, nearly four weeks into a lockdown of the city and surrounding areas to contain an outbreak of the Delta variant.
Victoria state clocked 22 new cases, from nine the day before, its biggest increase since the outbreak began this month, as it nears its second week of statewide lockdown.
"Had we not gone into the lockdown a few weeks ago, the 110 number today would undoubtedly have been thousands and thousands," said NSW premier Gladys Berejiklian at a televised news conference.
Jon Sharman21 July 2021 09:00
1626853821
Prisoners forced to defecate in buckets during pandemic, watchdog finds
Prisoners have been left feeling "helpless and without hope" by the confinement measures used to avert infection during the coronavirus pandemic, Her Majesty's Chief Inspector of Prisons has said.
While jails largely succeeded in keeping Covid outbreaks at bay, Charlie Taylor's annual report concluded, this was achieved "at significant cost" to the welfare of prisoners – most of whom have spent the pandemic locked in their cells for all but 90 minutes per day, writes Andy Gregory.
It found that the pandemic exacerbated "unacceptable conditions", which left some prisoners without access to a toilet or sink during the night, forced to wait to use communal facilities one at a time.
Jon Sharman21 July 2021 08:50
https://www.independent.co.uk/news/health/covid-uk-news-vaccine-coronavirus-b1887708.html