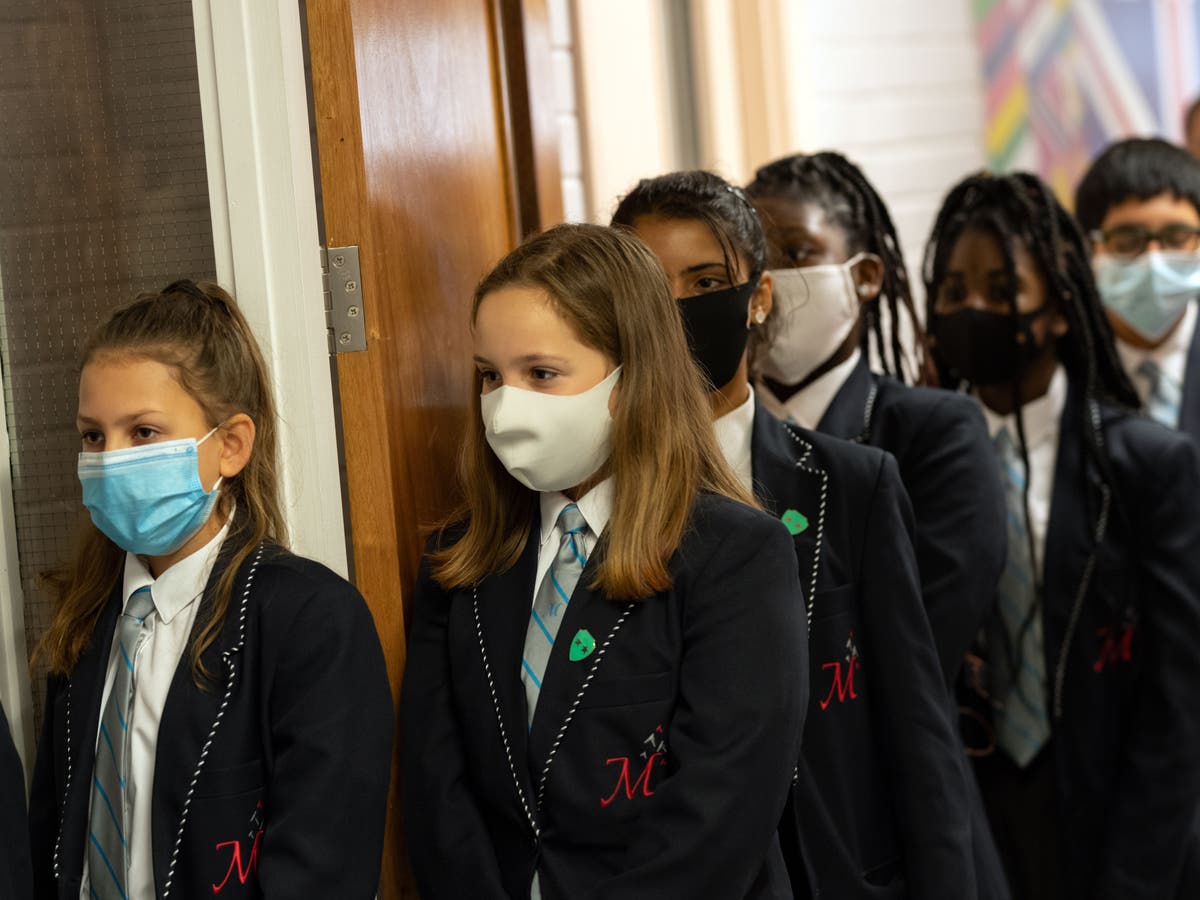 A record number of children were off school in England last week due to Covid-related reasons, official figures show, with some 1.05 million pupils thought to have missed lessons on 15 July.
This is the equivalent of around one in seven (14.3 per cent) school kids, according to the Department for Education (DfE).
Of this total, 773,700 pupils were self-isolating due to a possible contact with a case of coronavirus from inside school, while 47,200 pupils had tested positive themselves.
It comes after the government faced backlash today for failing to "get a grip" of its public health policies, as a result of plans to make jabs compulsory for entry to nightclubs and other crowded venues from the autumn.
Former health secretary Jeremy Hunt and the shadow health minister Justin Madders questioned why the scheme was being delayed until autumn. "The government making it up as they go along," Mr Madders said. "Yet again there is more confusion and incompetence from the heart of government at the expense of public health. They need to get a grip."
Meanwhile, a study has found that just one in five people are using the NHS Covid-19 app correctly.
Key Points
Show latest update
1626785147
Only a fifth of people are using Covid app properly
Only a fifth of the population have the NHS app and are using it properly, a poll has found.
The survey discovered that 40 per cent of respondents have never even downloaded the app.
My colleague Zoe Tidman reports:
Rory Sullivan20 July 2021 13:45
1626784546
Vaccinating teenagers should not be ruled out, Sturgeon says
The Joint Committee on Vaccination and Immunisation (JCVI) should not rule out immunizing all young teenagers, Nicola Sturgeon has said.
Her comment comes as the country's chief medical officer Dr Gregor Smith prepares to write to the JCVI outlining the benefits of vaccinating all over-12s.
"I think that is really important – if there is a benefit to be got from vaccinating younger teenagers then its really important to make sure that young people don't lose out on that," Scotland's first minister said.
At the moment, guidance recommends that only 12 to 15-year-olds with specific health conditions receive a jab.
Rory Sullivan20 July 2021 13:35
1626783411
No 10 does not rule out vaccine passports for pubs
The need for vaccine passports could be extended to venues such as pubs, Downing Street has implied.
The statement from No 10 comes just hours after business minister Paul Scully said pubs would not require customers to show proof of vaccination.
The correction came from Boris Johnson's official spokesperson. "The prime minister talked about the sort of areas we were considering, and nightclubs are where there is significant evidence we have at the moment," he said.
"But we're going to use the coming weeks to look at the evidence, particularly both in the UK and globally before making a specific decision."
Rory Sullivan20 July 2021 13:16
1626783004
Supermarket staff could be exempt from NHS app 'pings', says No 10
Workers at supermarkets could be given an exemption from self-isolating after being notified by the Covid app, Downing Street has said, in a move designed to help Britain reopen quicker.
Essential retail staff are among a list of key workers who could be told they can ignore the smartphone "ping" telling them to stay home, alongside healthcare staff, utility workers, border officials, transport workers and nuclear power plant employees.
But Boris Johnson's official spokesman said the government is not expecting to produce a list detailing precisely which categories of worker will benefit from the exemption, reports our political editor Andrew Woodcock.
Sam Hancock20 July 2021 13:10
1626782396
Novel coronavirus discovered in British bats
Scientists have discovered a new coronavirus in UK bats that is related to Sars-CoV-2, the infection which causes Covid-19.
An undergraduate researcher from the University of East Anglia (UEA) collected fecal matter from dozens of lesser horseshoe bats, and genome sequencing found the previously unknown coronavirus in one of the 53 samples.
The virus, identified by experts at Public Health England, has been named RhGB01. It is unlikely to threaten humans unless it mutates, and there is no evidence it has yet made the jump to us, experts said.
Sam Hancock20 July 2021 12:59
1626781592
Lib Dems: Government must provide 'urgent clarity' on self-isolation
Layla Moran, chairwoman of the all-party parliamentary group on coronavirus, has called for "urgent clarity" about the approach to self-isolation.
"The government has dismantled our defences against the virus and is now busy undermining one of the final tools left in our armoury to fight it," the Lib Dem MP said on Tuesday.
"We need urgent clarity from the government to repair the damage being done to public trust and compliance with self-isolation rules."
She added: "It's clear that lessons are still not being learned about the importance of clear, consistent messaging during a pandemic."
It comes after Tory business minister Paul Scully said earlier it was up to the public to decide if it listened to 'pings' from the NHS Covid-19 app, telling them to self-isolate. No 10 later slapped Mr Scully down, insisting self-isolation is not optional and is in fact "crucial" whether it's Test and Trace or the app telling you.
Sam Hancock20 July 2021 12:46
1626781183
Number of school absences getting significantly worse, DfE data reveals
With one million children reported to be out of school last week due to Covid, the Department for Education compared this to the previous 14-day period.
The proportion of pupils in England out of school for Covid-19 related reasons stood at 14.3 per cent on 15 July, up from 11.2 per cent on 8 July and 8.5 per cent on 1 July, the DfE said.
An estimated 6.6 per cent of teachers and school leaders were absent due to Covid-19 on the same date last week, up from 5.4 per cent on 8 July and 4.2 per cent on 1 July.
For teaching assistants and other staff, the proportion absent due to Covid-19 was estimated to be 6.4 per cent on 15 July, up from 5.2 per cent on 8 July and 3.9 per cent on 1 July.
Sam Hancock20 July 2021 12:39
1626780899
Sturgeon urges Scots to remain vigilant about Covid-19
Scotland moved to Level 0 on Monday, but its first minister said case numbers were "higher than we should be comfortable with".
Speaking at the coronavirus briefing in Edinburgh, Nicola Sturgeon said: "Vigilance and care remain very important."
She continued: "Restrictions were eased yesterday as part of a gradual process, but restrictions were not abandoned yesterday.
"Important measures and mitigations do remain in place and we continue to ask people across the country, and I do so again today, to treat the threat that Covid poses seriously at this stage."
It comes as Scotland recorded 13 coronavirus deaths and 1,604 new cases in the past 24 hours, according to Ms Sturgeon.
Sam Hancock20 July 2021 12:34
1626780032
Tokyo 2020 chief refuses to rule out Olympics cancellation
The head of the Tokyo 2020 Olympics has refused to rule out the possibility that the games could be cancelled at the last minute.
This comes as Japan continues to struggle with rising Covid-19 cases.
Rory Sullivan20 July 2021 12:20
1626779312
Breaking: One million kids out of school due to Covid – data
More than one million children in England were out of school last week due to Covid-19 related reasons, government figures show.
This is due to children either testing positive or having to self-isolate as a result of coming into contact with someone who has tested positive for the virus.
Follow Tom Batchelor's breaking report here:
Sam Hancock20 July 2021 12:08
https://www.independent.co.uk/news/coronavirus-news-live-covid-delta-b1886954.html