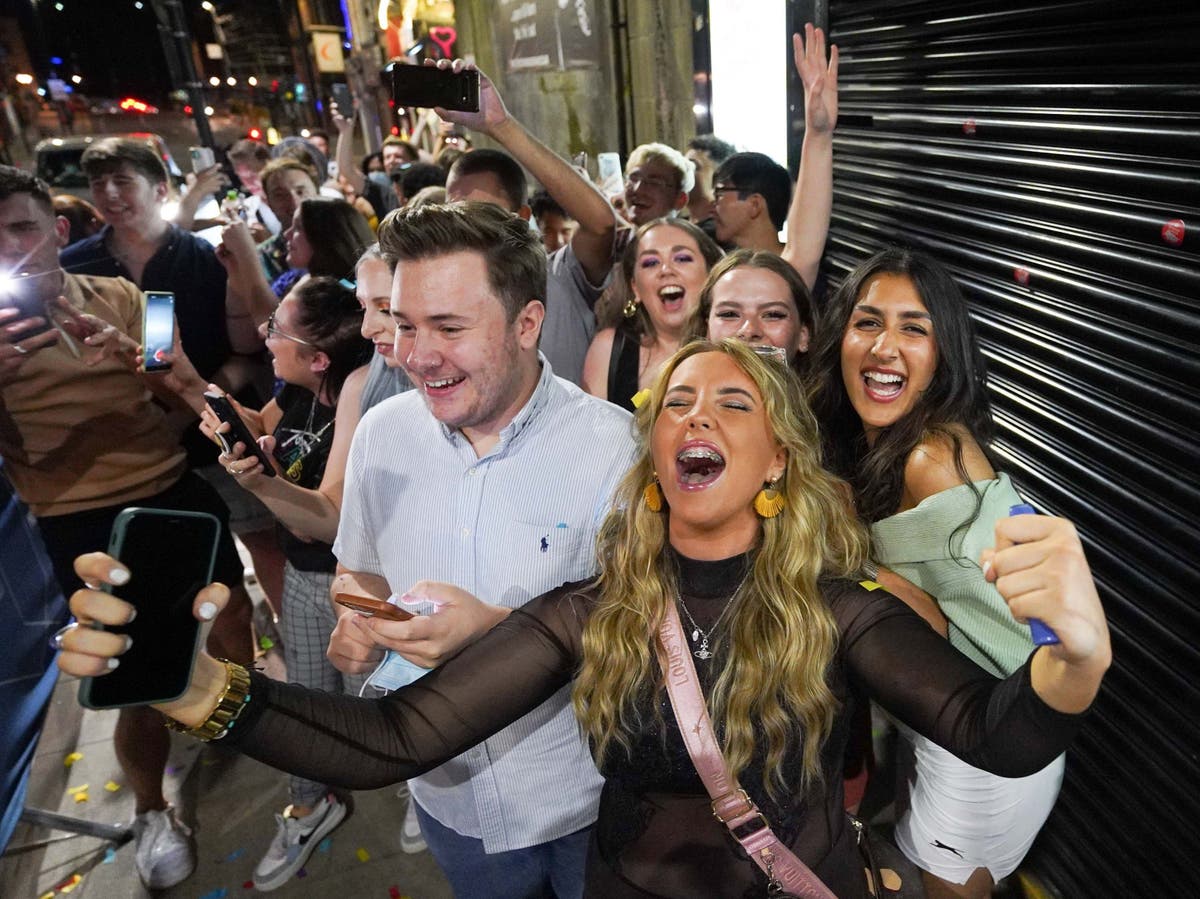 Nightclubs open their doors for first time since start of Covid
Boris Johnson has urged to people to exercise their new freedoms with caution as most mandatory coronavirus restrictions in England are finally lifted.
Face masks are no longer mandatory in shops and on public transport, limits on gathering have gone and the work from home guidance has ended.
Nightclubs, theatres and restaurants can fully reopen, while pubs are no longer restricted to table service only.
But with Covid-19 cases continuing to soar and renewed warnings about the pressure on the NHS, the prime minister urged people to "go forward into the next step with all the right prudence and respect for other people".
Mr Johnson is spending so-called "freedom day" self-isolating at his official country residence at Chequers after being "pinged" by NHS Test and Trace following a contact with health secretary Sajid Javid, who subsequently tested positive for the virus.
The prime minister and Chancellor Rishi Sunak, who also met Mr Javid on Friday, initially tried to dodge the requirement to quarantine by saying they would join a daily workplace testing programme being trialled by the Cabinet Office.
But they were forced into a hasty U-turn amid widespread public anger at their "special treatment".
Vaccines minister Nadhim Zahawi on Monday insisted the government wasn't "taking anyone for fools" as he struggled to defend the prime minister's actions.
Key Points
Show latest update
1626703081
MPs advised to wear face coverings and 'not push the limit for the sake of it'
Speaker Sir Lindsay Hoyle told the Commons a "large number" of people have been contacted to isolate, and advised MPs to wear face coverings and "not push the limits for the sake of it".
Making a statement, he said: "With the increasing infection levels in the community and people having to isolate, I strongly advise that everyone on the estate should wear face coverings when moving around – assessing catering venues and in the areas they consider crowded, including the chamber.
"We have four sitting days before the House rises. I really want us to behave safely, responsibly, during these few days.
"None of us wants to risk taking Covid back to our families, staff or constituents and I'm sure we will want everyone working on the estate to feel safe and secure, and to ensure the business of this House continues.
"I've got to say we've certainly got a large number of people that have been contacted so I'm very worried about the outcome.
"Four days to go, I want us all to have a good break and enjoy our holidays so hopefully we will take it seriously and not push the limits for the sake of it."
Chiara Giordano19 July 2021 14:58
1626702516
Sir Keir Starmer claims Tory ministers 'played the system' to avoid self-isolation
Labour leader Sir Keir Starmer has claimed Tory ministers "played the system" in an attempt to avoid self-isolation during the pandemic.
Watch his full comments in this video:
Keir Starmer says Tory ministers 'played the system' to avoid self-isolation
Chiara Giordano19 July 2021 14:48
1626701123
Lateral flow Covid tests run out on day lockdown is fully lifted
The UK has seemingly run out of Covid-19 lateral flow tests just hours after most mandatory coronavirus restrictions were eased in England.
People attempting to order supplies of the at-home kits via the government's website are being told to "try again tomorrow when more tests become available".
Leonie Chao-Fong has more on this story below:
Chiara Giordano19 July 2021 14:25
1626700082
Virgin Atlantic reopens onboard bars after 15-month closure
Virgin Atlantic has reopened its onboard bars following a 15-month closure due to the coronavirus pandemic.
The communal areas in Upper Class cabins are being used on flights serving countries on the government's green and amber travel lists, including Antigua, Barbados and Grenada.
They include a facility named The Loft on the airline's newest aircraft, the Airbus A350, which features a 32-inch television.
Virgin Atlantic said social distancing is in place in the bars "where possible", but passengers are permitted to remove their face coverings when eating or drinking.
Chiara Giordano19 July 2021 14:08
1626699325
Labour would keep measures recommending working from home and mandatory face coverings, says Sir Keir Starmer
Sir Keir Starmer said Labour would keep measures recommending working from home, the mandatory wearing of face coverings and encouraging ventilation.
He said his party would also accelerate the vaccination programme for young people and improve the sick pay offer.
Asked whether he was comfortable with nightclubs reopening and social distancing being dropped, he said: "The big difference between us is that we think lifting all these restrictions, all these protections, in one go today is reckless.
"Masks, working from home if you can and ventilation plans are the three things that Sage identified as materially keeping the infection rates down."
He said he was still using the Covid app and had his contact tracing turned on, adding that reducing the sensitivity of the app was like "taking the batteries out of the smoke alarm".
Chiara Giordano19 July 2021 13:55
1626698614
Boris Johnson to give press conference today from self-isolation
Boris Johnson will virtually lead a government press conference at 5pm today to mark the lifting of most legal coronavirus restrictions in England, No 10 has confirmed.
My colleague Joe Middleton has more on this breaking story:
Chiara Giordano19 July 2021 13:43
1626698141
Government website runs out of at-home lateral flow tests
At-home rapid lateral flow tests have seemingly already run out today, with people unable to order the kits via the government's website.
Those attempting to order them through gov.uk are being told to "try again tomorrow when more tests become available".
They are then advised to try ordering through the NHS England website instead – but are reportedly redirected back to gov.uk.
Chiara Giordano19 July 2021 13:35
1626697825
NHS Covid app will not be tweaked to make it less sensitive, Downing Street confirms
The NHS Covid app will not be tweaked to make it less sensitive, Downing Street has confirmed, despite a rising number of people being "pinged".
Asked whether the app was working as expected and so would not be tweaked, the prime minister's spokesman said: "That's correct."
He added: "We recognise that with high cases that also means a high number of people being required to isolate and that does present significant challenges to businesses.
"We need to strike the right balance between protecting lives and livelihoods.
"That's why we believe it is entirely right that people asked to do so do isolate because we know it prevents onward transmission and eases pressure on our NHS which is facing a significant challenge."
He said the government would "constantly review" issues around critical workers and critical infrastructure.
Chiara Giordano19 July 2021 13:30
1626697405
Not known 'specifically' when Boris Johnson discovered Sajid Javid was Covid-positive, says PM's spokesman
The prime minister's official spokesman said he did not know "specifically" when Boris Johnson discovered health secretary Sajid Javid had tested positive for coronavirus.
The official also said he could not confirm what day or time Mr Johnson was contacted by NHS Test and Trace over the weekend and told to self-isolate, only that he was at Chequers at the time.
The spokesman would not confirm whether the PM's wife, Carrie Johnson, was isolating in Buckinghamshire as well but did state that chancellor Rishi Sunak is quarantining in his flat above 10 Downing Street.
Asked whether ministers had failed to adhere to social distancing rules in order to have been alerted to self-isolate, Mr Johnson's spokesman replied: "We do abide by the regulations and ministers have been taking the requisite precautions.
"It is down to NHS Test and Trace to decide what constitutes a close contact – there are broad guidelines but they may take other things into account.
"The chancellor, prime minister and health secretary, as you would expect, have a number of meetings which can last more than an hour certainly, so obviously Test and Trace have taken that decision, but it is not for me to comment on how they came to that decision."
Chiara Giordano19 July 2021 13:23
1626696654
Shoppers wearing masks despite rules being lifted
Even though rules over wearing masks in shops have now been lifted, people have told social media shoppers have still been wearing coverings inside.
One social media said they were "relieved" to notice this.
Zoe Tidman19 July 2021 13:10
https://www.independent.co.uk/news/health/covid-news-live-freedom-day-rules-vaccine-b1886352.html