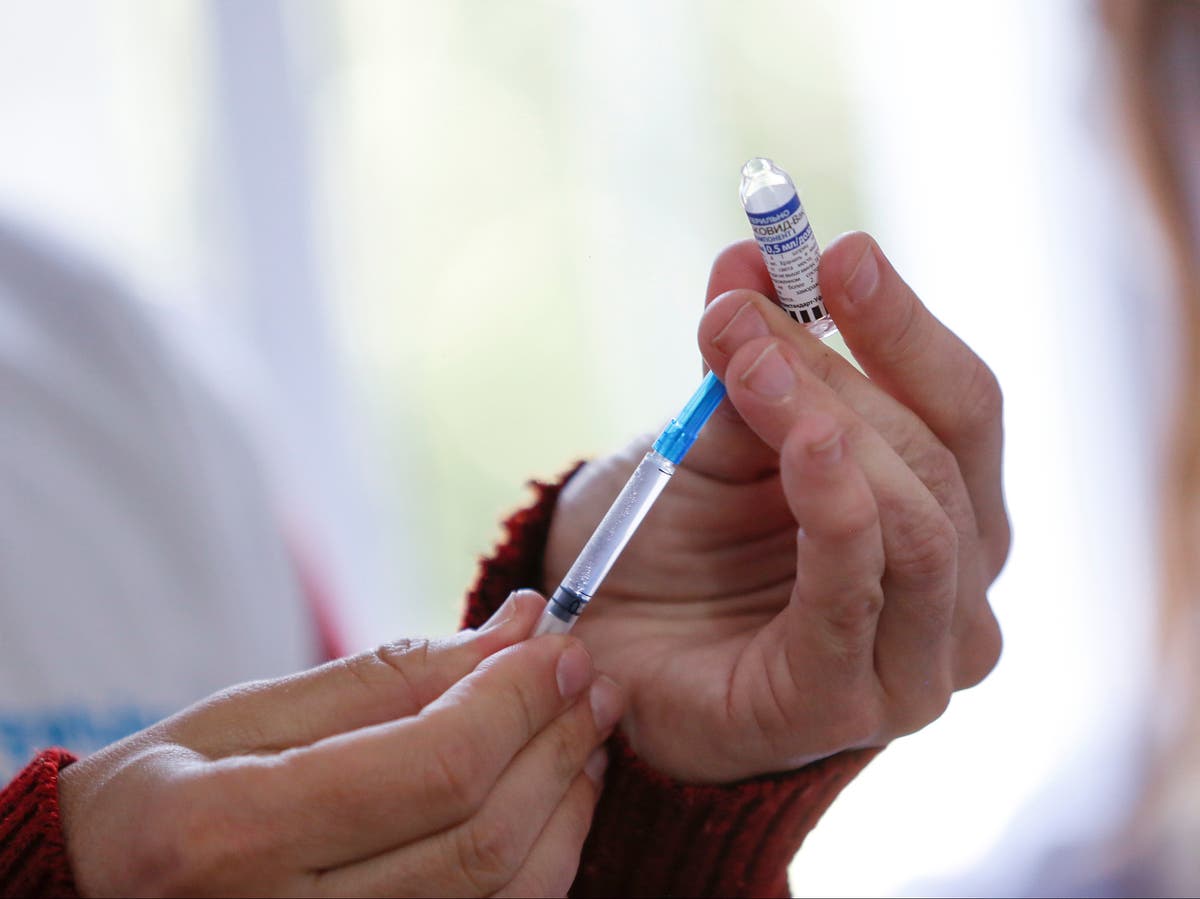 The Delta variant is causing major staff shortages for UK businesses, with up to 20 per cent of workers being told to self-isolate by the NHS coronavirus app, according to a report.
Stephen Phipson, the chief executive of manufacturers' body Make UK, told the Financial Times that the "need to isolate, even without symptoms, is now a serious issue and impacting on production".
Meanwhile, the NHS is to embark on a text message campaign to reschedule people's second vaccine dose for an earlier date. Some 650,000 people will be contacted ahead of Monday's ending of lockdown rules, as the interval between jabs is cut from 12 weeks to eight.
Key Points
Show latest update
1626334713
Up to businesses whether customers must wear masks, government says
Businesses will be able to decide whether customers will have to wear face masks on their premises, according to the government.
Robert Jenrick, the communities secretary, also said this morning that the public should be cautious once lockdown rules are lifted in England on Monday.
He told Sky News: "Although we are in an immeasurably better position thanks to the vaccine programme, we are still very much living with the virus and we are going to be for a long time, so we do need to exercise caution.
"We are asking every member of the public to be cautious, to come to sensible judgments about, for example, the wearing of masks in close contact in indoor spaces and to businesses as well to consider whether they need to apply those restrictions.
"In my experience, having talked to hundreds of businesses over the course of the last year, this is the sort of discretion they want reflecting the fact that businesses are in a very different situation and a one-size-fits-all approach backed by the force of the law isn't sensible when we are moving into a period now where, in all likelihood, we are going to be living with the virus for a long time."
Jon Sharman15 July 2021 08:38
1626333573
People entering Wales from England obliged to put on face mask
People arriving in Wales from England by train will be made to put on a face mask as soon as they cross the border.
Mark Drakeford told BBC Breakfast he hoped people in England would observe Boris Johnson's advice to keep wearing a covering, but that the practice would remain a legal requirement in Wales.
The first minister said: "The people who run the transport system will make sure that people are aware that as they come into Wales different rules apply.
"If you travel into Wales by road now you will see signs that say 'Welsh rules apply'. That will be true on trains and other forms of transport as well.
"I hope people will observe the clear advice of the prime minister in England, that they should continue to wear face coverings on public transport.
"Here in Wales the rule will be clear, it isn't simply advice, it's what the law will require."
You can read more about the rules here:
Jon Sharman15 July 2021 08:19
1626332433
'Triple whammy' of viruses to push NHS to breaking point this winter
Measures to control the coronavirus have left the UK susceptible to a "triple whammy" of infectious viruses this winter that could push the NHS to breaking point, a new report commissioned by the government's chief scientific adviser has warned.
The work by 29 experts for the Academy of Medical Sciences says time is running out to prepare the UK for the winter season, when a combination of Covid-19, influenza and respiratory syncytial virus (RSV) could overwhelm hospitals, writes Shaun Lintern.
The effect of social distancing measures and lockdown means a much larger group of people susceptible to flu and RSV could be exposed in the coming months, leading to a sudden spike in infections.
Jon Sharman15 July 2021 08:00
1626331083
Delta variant driving staff shortages, report says
The Delta variant of coronavirus is causing staff shortages for UK businesses, with up to 20 per cent of workers being "pinged" and told to self-isolate for 10 days by the NHS app, according to a report.
Stephen Phipson, the chief executive of manufacturers' body Make UK, told the Financial Times that the "need to isolate, even without symptoms, is now a serious issue and impacting on production".
The paper reported that more than 700 workers at Nissan's Sunderland factory had had to stay off work, causing a number of shifts to be cancelled entirely.
Jon Sharman15 July 2021 07:38
1626330896
NHS launches text message drive to bring forward second jab for 650,000 people
Text messages will be sent to 650,000 people this week encouraging them to bring forward their second Covid-19 jabs, writes Rory Sullivan.
The drive to speed up the country's vaccine rollout comes shortly ahead of the lifting of coronavirus restrictions on Monday.
So far, more than 29 million people in England have received both doses, while a further 9 million people have had their first shot.
Jon Sharman15 July 2021 07:34
1626328260
Outbreak on South Korean military vessel on anti-piracy patrol
Six service members aboard a South Korean military unit on anti-piracy patrols in the Gulf of Aden have tested positive for Covid-19.
The defense ministry said the members were tested after an officer showed symptoms of pneumonia. The ministry also said it is working to test some 300 people living on the vessel. None of them have been vaccinated yet.
South Korea is struggling to contain the spread of the virus as it reported 1,600 new cases on Thursday.
Akshita Jain15 July 2021 06:51
1626327312
Indian cricketer tests positive for Covid-19 in England
A member of the Indian cricket team which is touring England has tested positive for Covid-19 and is currently isolating at a relative's home, according to reports.
The player, who has not been identified, was tested for the virus after he experienced a sore throat, the Indian Express quoted sources as saying. Other team members and the support staff were kept in isolation for three days.
The player will not be travelling with the team to Durham on Thursday and is likely to join later. In Durham, the team is scheduled to play a tour game against Select County XI from 20 July.
Akshita Jain15 July 2021 06:35
1626324950
'Delta plus unlikely to be more transmissible than Delta variant'
Sub-lineages of the Delta variant of Covid-19, including one known as "Delta plus", are unlikely to be more transmissible, according to India's INSACOG.
INSACOG is a consortium of 28 government laboratories across India involved in genome sequencing of Covid-19.
It said that Delta sub-lineages are "declining globally with near-zero cases in the last week of June in either the UK or US, where they were most frequently seen."
In India, they continue to be below 1 per cent in sequences from June, INSACOG said.
61 cases of Delta plus have been detected in India so far and three deaths due to the variant have been registered, according to the National Centre for Disease Control.
Akshita Jain15 July 2021 05:55
1626322442
Good morning, and welcome to The Independent's coverage of the coronavirus pandemic for Thursday 15 July, 2021.
Akshita Jain15 July 2021 05:14
https://www.independent.co.uk/news/coronavirus-news-live-covid-cases-b1884409.html