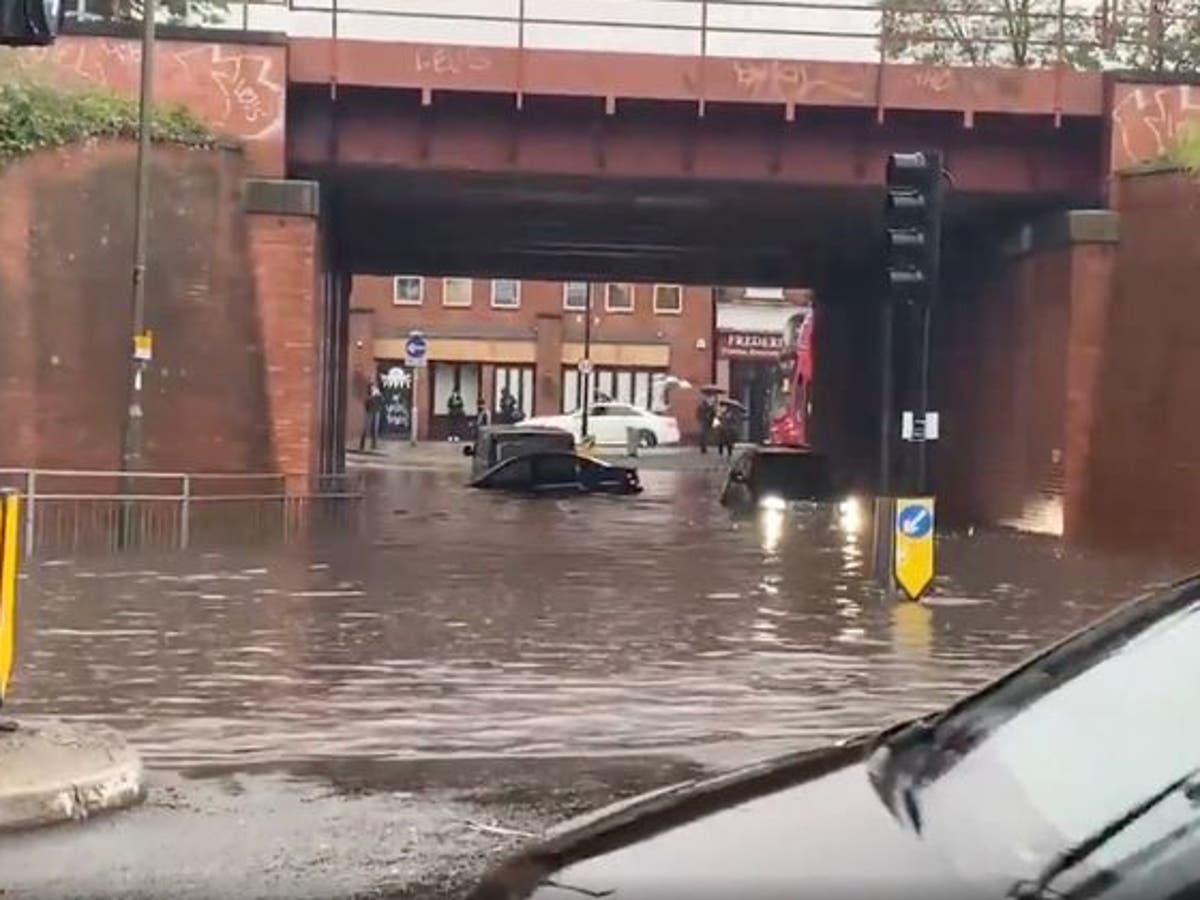 London roads are underwater after torrential rain
Flash flooding and thunderclaps battered parts of London on Monday, causing delays and cancellations on the Underground network after it was calculated that a month's worth of rain fell in parts of the capital.
Kew, in southwest London, experienced 47.8mm of rain, most of it in just one hour. The area's average monthly rainfall in July is 44.5mm. It makes Monday the wettest day in Kew since 6 July 1983 and the third wettest day on record, according to analysis by the BBC.
While eight TfL lines were affected last night, this number had reduced to four by Tuesday with suspensions and delays said to be impacting the Circle, Hammersmith and City, District and Overground lines.
TfL warned on its website other routes may experience "minor" or "severe" delays, but are running nonetheless, while dozens of social media users continued to take to Twitter today, posting videos of streets and waterlogged train tracks.
Elsewhere, there were reports of floods in Preston, northern England, and Dorset in the southwest of the country.
Key points
Show latest update
1626168309
Met Office predicts 'dull and cloudy' Tuesday – but less wet than yesterday
In case you missed it. Here's the Met's forecast for this morning:
Sam Hancock13 July 2021 10:25
1626167589
Brian May blames Kensington and Chelsea council for flooded home
Queen guitarist Brian May said he is "angry" after a number of his belongings – including "treasured" childhood photo albums – were ruined during the flooding of his London home.
May, 73, said in a post on Instagram he came home from a day out to "horror in our house" in Kensington, west London.
He added: "The whole bottom floor had been inundated with a sewage overflow – which has covered our carpets, rugs and all kinds of precious things in a stinking sludge. It's disgusting, and actually quite heartbreaking. It feels like we were have been invaded, desecrated."
May said his wife Anita Dobson had "a lifetime of memorabilia on the floor of our basement – and most of it is sodden and ruined".
In a number of videos showing stained floors and wet belongings, he blamed the "infamous" Royal Borough of Kensington and Chelsea council for the flooding, saying they are "responsible for all the misery that is going on in my neighbourhood tonight".
The council is yet to comment on May's accusations.
Sam Hancock13 July 2021 10:13
1626166556
Consultation launched into strengthening London's flood defences
A public consultation has been launched into a proposed Riverside Strategy in London, which aims to protect the historic Square Mile (SM) against rising sea levels as a result of climate change.
The City of London Corporation (CoLC) made the announcement after flash flooding hit parts of the capital, causing damage to iconic tube stations and streets, though the consultation is not thought to be a result of yesterday's downpours.
It is the first of its kind in the capital, according to CoLC, and sets out how to ensure SM's River Thames flood defences continue to remain fit for the coming century against the risk of increased flooding.
The draft plan identifies how SM's riverside "can be transformed into an outstanding space which meets flood protection requirements and also provides wider benefits for the City's residents, workers and visitors". This includes a continuous Thames Path and plans to increase biodiversity in and around the water.
"We hope our approach can provide a template for other riverside authorities in the capital," Alastair Moss, chair of the Planning and Transportation Committee at the City of London Corporation, said.
The public consultation runs until 16 August.
Sam Hancock13 July 2021 09:55
1626165127
Parts of London saw month of rain in 24 hours on Monday
Flash flooding in London yesterday caused weeks worth of rain to pour in one day.
Kew, in southwest London, experienced 47.8mm of rain on Monday alone, most of it in just one hour. The area's average monthly rainfall in July is 44.5mm.
The rain recorded makes it the wettest day in Kew since 6 July 1983 and the third wettest day on record, according to analysis by the BBC.
Residents were evacuated form their homes and train services cancelled, while cars were submerged in water. The same was true in Kensington and Chelsea, where 120 people were moved to hotels overnight.
London Fire Brigade said it had taken more than 1,000 calls related to flooding.
"We're asking people not to walk through or drive through the floodwater. Floodwater can be contaminated and vehicles can become unstable," a spokesperson for the service said.
Sam Hancock13 July 2021 09:32
1626163017
More than 100 Kensington and Chelsea residents moved to hotels
Some 120 people living in the Royal Borough of Kensington and Chelsea were placed in hotels on Monday night, a spokesman for the area said, following flash flooding in the area.
"Our housing management and hub teams will be calling residents today to check on their welfare, both in the hotels and council residents who might need extra support," he told The Independent.
North Kensington Library and Central Kensington Library are both closed this morning having been hit by floodwater.
"Residents in doubt should keep an eye on our social media channels and website or call our customer service centre for support. Anyone in immediate danger related to flooding should call 999," the spokesman added.
Sam Hancock13 July 2021 08:56
1626161756
Railway bosses admit 'much disruption is likely' after flooding
It's not just the Underground network experiencing delays this morning. South Western Railway and Thameslink also reported disruptions.
A Network Rail spokesperson told the Evening Standard earlier: "Engineers worked through the night to clear flood water and inspect and repair tracks and equipment.
"Main line services are running this morning although a number of trains and crews are out of place so some disruption remains likely."
Network Rail added that the line between Kilburn Junction and Euston remains blocked, which will affect London Overground services throughout the day. "We'd advise everyone to check their journey before they travel," the company said.
Euston did, however, tweet that its services had returned and were "running in and out of [the] station this morning".
Sam Hancock13 July 2021 08:35
1626161135
Kilburn GP forced to close due to 'water damage'
A GP practice in northwest London has announced it will "covert all face to face appointments to telephone calls" due to flooding damage in some of its consulting rooms.
Sam Hancock13 July 2021 08:25
1626160321
TV presenter blames 'wet wipes' for damage caused by flooding
Kirstie Allsopp, best known for co-presenting the Channel 4 property show Location, Location, Location, appears to believe wet wipes are the reason for the "£millions of damage" caused by flash flooding in London.
In a tweet, she advised the government to ban their use "immediately".
It comes after reports suggested drains and sewers burst on Monday night, contributing to roads and train tracks becoming waterlogged in various parts of London – most prominently north and southwest.
Sam Hancock13 July 2021 08:12
1626159542
Breakdown of London Underground disruptions today
Transport for London (TfL) said these are the delays and suspensions to watch out for on the capital's tube network this morning.
There is no service due to flooding on the track at Royal Oak. Underground tickets will be accepted on local bus services via any reasonable route.
District – part suspended and severe delays
Currently no service from Turnham Green, Richmond and Earl's Court to Edgware Road / South Kensington while signalling issues caused by flooding at Gunnersbury are resolved.
Severe delays on the rest of the line, meaning London Underground tickets will be accepted on London Buses, C2C and South Western Railway. "Please use other routes to complete your journey if possible," TfL advised.
Hammersmith and City – part suspended
Again no service, this time between Hammersmith and Edgware Road due to flooding on the track at Royal Oak. But there is good service on the rest of the line.
London Overground – part suspended, severe and minor delays
There is no service from Camden Road to Richmond / Shepherds Bush and Euston to Kilburn High Road while infrastructure damaged by flooding is repaired.
Severe delays are being experienced from Kilburn High Road to Watford Junction and Barking to Gospel Oak.
Meanwhile, there are minor delays from Highbury & Islington to West Croydon / Crystal Palace / Clapham Junction and Clapham Junction to Shepherds Bush.
All other lines have good services, according to TfL.
Sam Hancock13 July 2021 07:59
1626158736
Footage of Sloan Square tube station flooded
Sam Hancock13 July 2021 07:45
https://www.independent.co.uk/news/uk/home-news/london-flooding-live-today-news-b1883004.html