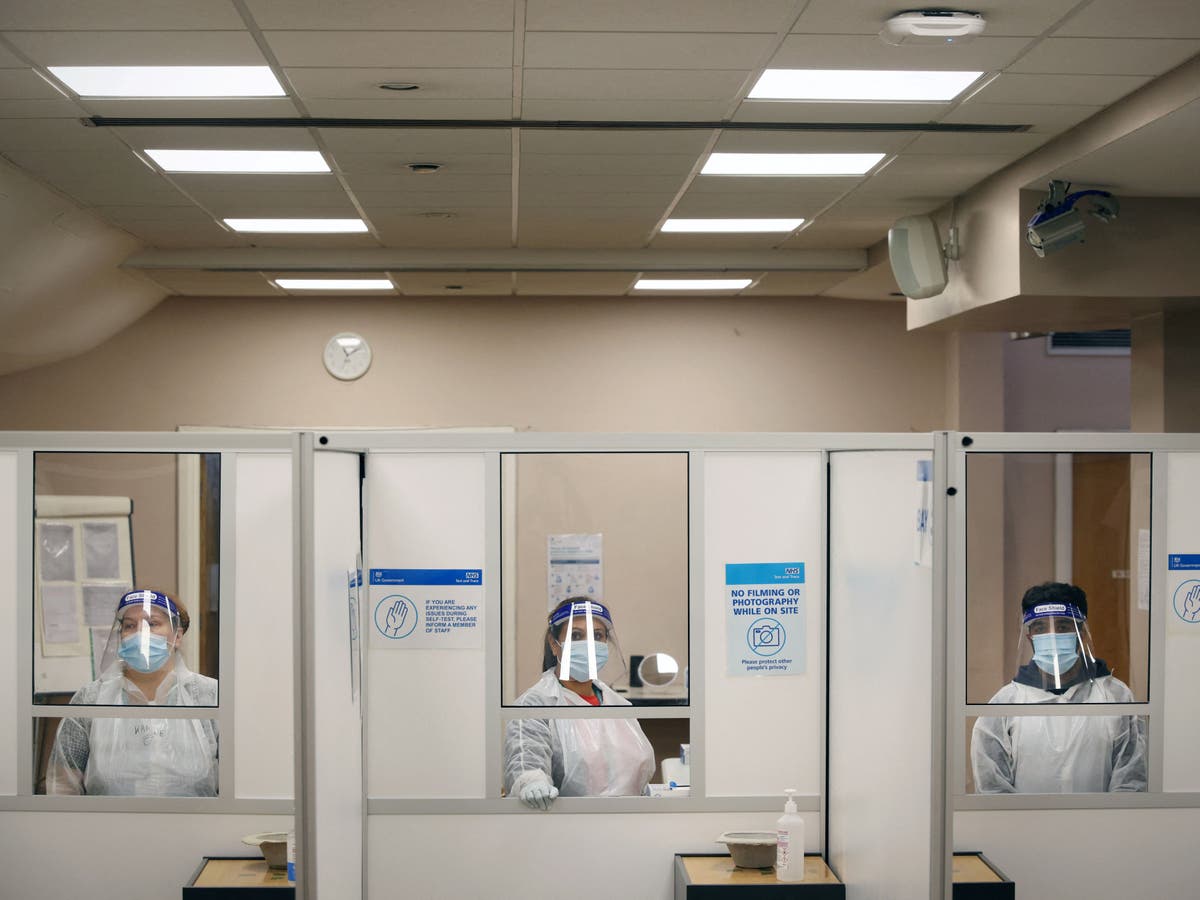 Zahawi says five days of testing could mean no self-isolation
Sajid Javid has confirmed that mandatory social distancing and face coverings will be scrapped in England from 19 July in the final stage of the government's roadmap out of coronavirus lockdown, with the health secretary asking MPs: "If not now, when?"
Having notably dropped claims that such a move is "irreversible", Boris Johnson will reportedly use a press conference on Monday evening to caution that his government's plans "must come with a warning" – as he urges that "caution is absolutely vital, and we must all take responsibility so we don't undo our progress".
Meanwhile, The Independent understands that the test and trace service is "panicking" as it scrambles to fill thousands of vacant contact-tracing positions ahead of a summer wave feared to bring 100,000 cases a day, with private firms Serco and Sitel asked to recruit up to 7,000 new call centre staff with no clinical training and on substantially cheaper rates than those made redundant en masse in May.
It comes as scientists sound the alarm over rising hospital admissions, with Professor Peter Openshaw, who sits on the government's advisory Nervtag committee, warning "we are all very concerned about the very rapid rise" in hospitalisations – now in their hundreds each day and, according to one Public Health England official, at risk of hitting 3,000 per day if cases rise in line with government estimates.
Read more:
Key Points
Show latest update
1626103576
UK reports 34,471 new cases and six more deaths
The UK has reported 34,471 new coronavirus infections on Monday, up from 31,772 a day earlier.
It is the sixth day in a row where the number of recorded cases has exceeded 30,000.
A further six more deaths have been recorded, bringing the total number of deaths since the pandemic began to 128,431.
The data also showed that 45,923,721 people have had a first dose of the vaccine and 34,872,131 have had both doses.
Leonie Chao-Fong12 July 2021 16:26
1626102394
Nightclub revellers likely to need Covid status certification for entry
Revellers could be forced to prove their Covid vaccine status upon entry to nightclubs when they reopen their doors in England from 19 July, it has been revealed.
There will be no legal requirement for venues to operate a Covid passport scheme – but businesses are being strongly advised to implement certification checks on guests.
Guidance will be published in the coming days, and government is promising to work with the industry over the next few weeks to assist in its implementation. But there are no plans for additional financial support to help businesses cope with the burden of checks.
Our political editor Andrew Woodcock has the details here:
Andy Gregory12 July 2021 16:06
1626102177
Final step on England's road out of lockdown confirmed for 19 July
Sajid Javid has announced that rules requiring social distancing and face-coverings are to be lifted in England from 19 July in the final stage of the government's roadmap out of lockdown, our political editor Andrew Woodcock reports.
Andy Gregory12 July 2021 16:02
1626101494
EU misses self-imposed deadline to sign off billions in pandemic aid to Hungary
The EU has missed its own deadline to sign off on billions of euros in economic recovery aid to Hungary, delaying its decision in an attempt to win rule-of-law concessions from Viktor Orban.
The European Commission is using the €7.2bn in EU stimulus funds set aside for Hungary's economic recovery from the pandemic as leverage to push the Hungarian prime minister to address concerns over corruption and the politicisation of its judiciary.
The funds will start flowing once the Brussels-based European Commission accepts national plans on how to spend them to ensure digital and green transition, among others goals.
A spokeswoman for the Commission said today that it was still analysing the plan Budapest submitted and might propose a longer delay should it consider "months rather than days" were still needed to decide on it.
Andy Gregory12 July 2021 15:51
1626100680
Sweden to ease restrictions amid falling infection rates – but ministers urge caution
Sweden's government has announced it will move ahead with a planned easing of coronavirus restrictions this week – but warned that new variants of the virus demand vigilance as it urged people to adhere to social distancing guidance.
Sweden has been something of an outlier in Europe, relying mainly on voluntary measures to curb the pandemic.
After imposing some restrictions to prevent a third wave, the government announced today it would press ahead with easing curbs, while urging caution – a message similar to the one expected from Boris Johnson later this evening.
"Things are steadily moving in the right direction in our country," business and industry minister Ibrahim Baylan told a press conference. "Step by step, we are moving toward a society without restrictions."
After a third wave during the spring, the infection rate has fallen sharply across Sweden, easing pressure on hospitals, in a development attributed primarily to increasing vaccinations and warmer summer weather less conducive to infections.
Andy Gregory12 July 2021 15:38
1626099598
Graphic Australian Covid vaccine advertisement sparks outrage
A new advertisement by the Australian government aimed at boosting the coronavirus vaccination rate in the country has created a stir, reports Namita Singh.
The government released an advertisement on Sunday featuring a young woman in a hospital bed, as she gasped for air. The 30-second ad ended with the message: "Covid-19 can affect anyone. Stay home. Get tested. Book your vaccination."
*As noted below, please be aware that some may find the footage distressing*
Critics have slammed the ad for using scare tactics while urging the young people to get themselves inoculated, despite the fact that those under 40 are not yet eligible for the recommended Pfizer vaccine.
Andy Gregory12 July 2021 15:19
1626098778
Andy Gregory12 July 2021 15:06
1626098235
Scotland and Northern Ireland daily figures published
Scotland has recorded 2,134 coronavirus cases and no new deaths in the past 24 hours, the latest official figures show.
The daily test positivity rate is 11 per cent – far above the five per cent threshold which the World Health Organisation says indicates a virus is out of control.
A total of 469 people were in hospital on Sunday with recently confirmed coronavirus, up 24 on the previous day, with 40 patients in intensive care, no change.
Meanwhile, Northern Ireland reported a further 528 positive cases and no new deaths, the Department of Health said.
Andy Gregory12 July 2021 14:57
1626097749
Expert to look at circumstances surrounding Belly Mujinga's death
An expert is to be employed to help look into the circumstances surrounding the death of a railway worker who died with coronavirus after allegedly being spat at by a man who said he was infected, a court has heard.
Belly Mujinga, 47, died with coronavirus in April last year after she was reportedly coughed on and spat at days earlier by a customer at London's Victoria station.
North London coroner Andrew Walker told a preliminary hearing at Barnet Coroner's Court that "causation" would be a starting point in helping to plot what areas may need to be be covered at the inquest into her death.
He said that an expert would be needed to deal with the possible causes of the Covid infection that led to her death in the first phase of his "step-by-step" approach to setting up the inquest.
The expert, who is to be selected in the next month, could be a specialist in respiratory medicine, public health or an area that straddles both disciplines, the court heard.
Andy Gregory12 July 2021 14:49
1626096248
'Total chaos' at Heathrow as staff forced to self-isolate
There were scenes of "total chaos" this morning at Heathrow airport check-in due to huge numbers of staff being forced to self-isolate, my colleague Cathy Adams reports.
Passengers complained of long queues at check-in at Heathrow Terminal 5, one of the two operating terminals at the London airport, due to a shortage of staff, with social media flooded with images of the disruption.
One passenger said he estimated there were "more than a thousand" people to get through security at one point, while another described it as a "shambles".
Andy Gregory12 July 2021 14:24
https://www.independent.co.uk/news/health/covid-news-live-lockdown-uk-coronavirus-b1882371.html