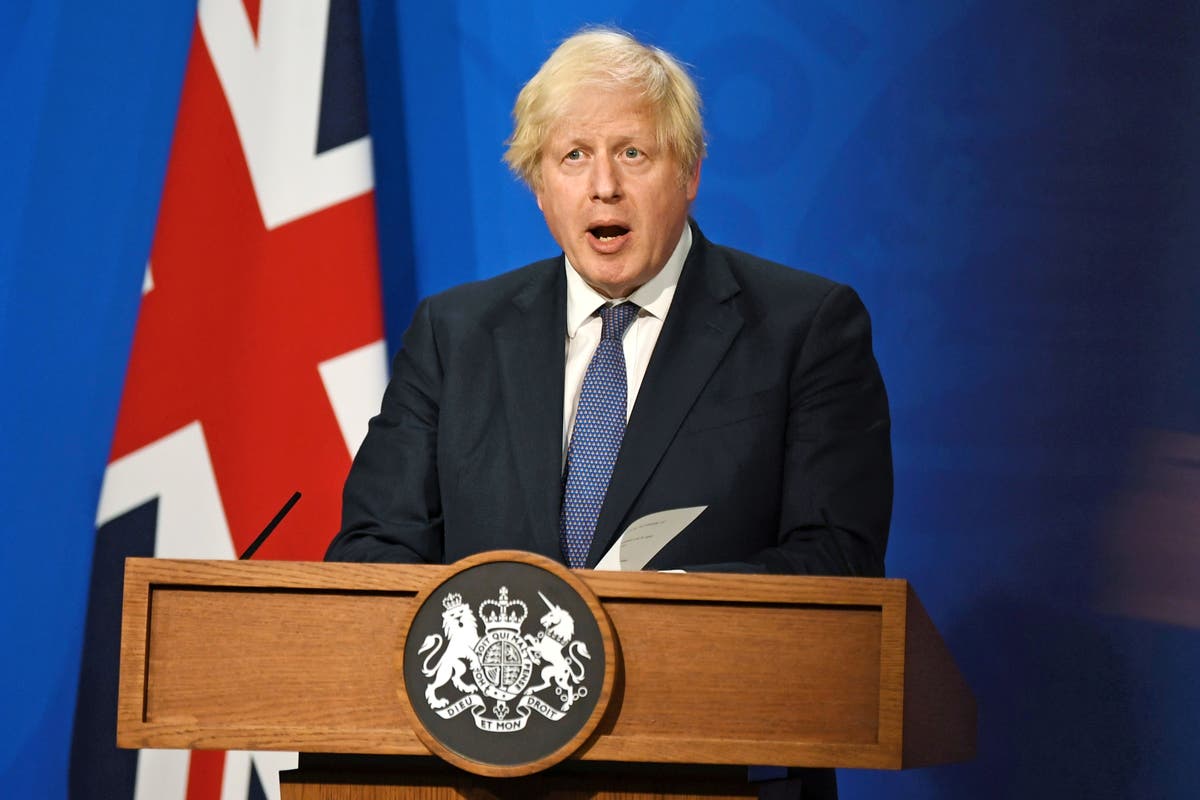 Boris Johnson warns lockdown lifting does not mean life is going back to normal
Boris Johnson has said life cannot go back to normal after restrictions are lifted on 19 July, warning: "This pandemic is not over".
The removal of legal restrictions on social and economic life "should not be taken as an invitation for everybody to have a great jubilee of freedom from any kind of caution or restraint", Mr Johnson said at a Downing Street press conference on Monday.
In an abrupt change in tone from ministerial comments earlier this month, the prime minister urged Britons to be "cautious" in using their new freedoms.
"We cannot simply revert to life as it was before Covid," he said. "This pandemic is not over. This disease continues to carry risks for you and your family."
Quoting deputy chief medical officer Jonathan Van-Tam, Mr Johnson urged English people not to "tear the pants out of it" next week. And he repeated his own advice that people should not be "demob-happy" on 19 July.
Earlier on Monday health secretary Sajid Javid confirmed that mandatory social distancing and face coverings will be scrapped in England from 19 July in the final stage of the government's roadmap out of coronavirus lockdown, with the health secretary asking MPs: "If not now, when?"
Meanwhile, The Independent understands that the test and trace service is "panicking" as it scrambles to fill thousands of vacant contact-tracing positions ahead of a summer wave feared to bring 100,000 cases a day, with private firms Serco and Sitel asked to recruit up to 7,000 new call centre staff with no clinical training and on substantially cheaper rates than those made redundant en masse in May.
It comes as scientists sound the alarm over rising hospital admissions, with Professor Peter Openshaw, who sits on the government's advisory Nervtag committee, warning "we are all very concerned about the very rapid rise" in hospitalisations – now in their hundreds each day and, according to one Public Health England official, at risk of hitting 3,000 per day if cases rise in line with government estimates.
Read more:
Key Points
Show latest update
1626073734
Good morning, and welcome to The Independent's live coverage of the pandemic. You can follow here for rolling updates on the latest news from the UK and overseas.
Andy Gregory12 July 2021 08:08
1626074055
'Caution is absolutely vital,' Boris Johnson says ahead of press conference
Boris Johnson is set to sound a note of caution as he confirms his decision to abandon nearly all coronavirus restrictions on 19 July at a press conference later today.
"We are tantalisingly close to the final milestone in our road map out of lockdown, but the plan to restore our freedoms must come with a warning," the prime minister said.
"While the phenomenal vaccine rollout has offered every adult some protection against the virus, and the crucial link between cases, hospitalisations and deaths is weakened, the global pandemic is not over yet.
"Cases will rise as we unlock, so as we confirm our plans today, our message will be clear. Caution is absolutely vital, and we must all take responsibility so we don't undo our progress, ensuring we continue to protect our NHS."
Andy Gregory12 July 2021 08:14
1626074528
Our political correspondent Ashley Cowburn has more details on Boris Johnson's press conference later today.
He reports that vaccines minister Nadhim Zahawi said on Sunday that he was "confident" the government could press ahead with stage four of the roadmap – despite conceding it is possible that daily hospital admissions could peak in their thousands.
Mr Zahawi had also signalled a stark shift in tone as he said that new guidance would be published today, with the public "expected" to wear face coverings in indoor enclosed places, such as public transport.
Andy Gregory12 July 2021 08:22
1626075482
Summer wave could bring 3,000 daily hospitalisations, PHE official says
No one can "ringingly endorse" Boris Johnson's decision to lift all coronavirus restrictions and the country should be braced for them to return at short notice if hospital admissions rise too sharply, a Public Health England epidemiologist has reportedly said.
According to The Times, Susan Hopkins said it was "possible" that the scenario of 100,000 daily cases referenced by the health secretary last week could result in 3,000 hospital admissions a day soon afterwards.
"But really it will depend on the behaviour that we as individuals and the population overall, do," Ms Hopkins said, adding that January's peak of 4,000 admissions a day was "three doubling times away from where we are now, and that it was six to eight weeks potentially, unless things change, and unless we keep the transmission rate down".
Andy Gregory12 July 2021 08:38
1626076636
Scientists 'very concerned' about rising hospitalisations, government adviser says
Peter Openshaw, a member of the government's advisory Nervtag group, has told BBC Radio 4's Today programme: "We are all very concerned indeed about the very rapid rise in case numbers and it's not only the case numbers, it's also now beginning to feed through into a quite concerning doubling in the rate of hospital admissions.
"If we look at hospital admissions, they're up nearly 60 per cent in a week. And the number of deaths, although it's still relatively small, is up 66 per cent compared to the week before.
"We know there's a time lag built into the epidemiology, built into all the observations that we have, but I think we are all very concerned about where this is going over the next month or so."
While the situation has "obviously changed" as a result of vaccines, Mr Openshaw said, he added: "But it's shifting now into a virus which is predominantly circulating in people between the ages of say 10 and 30, and so we are seeing proportionally a greater number of younger people being admitted and fewer of the older population.
"And with the change in transmissibility it looks like it's extending further down the age range and behaving rather differently from the way that it behaved at first."
Andy Gregory12 July 2021 08:57
1626077270
Health minister defends hundreds of new daily hospitalisations
A health minister has cited figures showing hundreds of new hospitalisations every day to insist that vaccines have "really severely weakened" the link between infection with Covid-19 and serious illness.
"If you look at hospital admissions, and forgive me if my figures are a little bit out, but the seven-day rolling average of hospital admissions for now, when we're seeing this level of infection rate, is roughly between 350 and 400 a day," Edward Argar told the Today programme.
"Back in January, with an equivalent infection rate, we were seeing 1,800 to 2,000.
"So you can see how that vaccine programme may not have broken it by 100 per cent because the vaccine isn't 100 per cent effective, but it has really severely weakened that link and therefore the numbers we are going to see in hospital are going to be much smaller."
Our health correspondent describes the minister's comments as "maddening":
Andy Gregory12 July 2021 09:07
1626078607
Exclusive: 'Panic' as Test and Trace recruits thousands ahead of summer wave
The government's test and trace service is "panicking" in a rush to fill thousands of vacant contact tracing positions, our health correspondent Shaun Lintern reports.
The up to 7,000 new recruits will have no clinical training and be paid at substantially cheaper rates than the nurses and other clinical staff who were made redundant en masse in May. Another 8,000 contact-tracing staff were also let go with just one week's notice in March.
One test and trace source told The Independent: "They are panicking because the modelling shows numbers escalating rapidly and they don't think there is capacity in the trace system now."
Andy Gregory12 July 2021 09:30
1626079380
Simple blood test could detect long Covid 'within six months'
A simple blood test to detect patients with long Covid could be available within six months, BBC Panorama has been told, after early research from a pilot study at Imperial College London identified autoantibodies common among people with symptoms of the illness.
While antibodies are responsible for fighting off disease and targeting foreign substances in the body, autoantibodies are antibodies that mistakenly target the body's own tissues or organs causing inflammation, damage or disfunction, often resulting in fatigue and other symptoms.
My colleague Celine Wadhera has the full story here:
Andy Gregory12 July 2021 09:43
1626079967
Health minister denies face mask guidance could cause 'confusion'
A health minister has denied allegations that the government's stance on mask wearing could cause confusion after legal restrictions have been lifted.
Former Tory leader Iain Duncan Smith is among those to suggest new guidance advising people to wear masks could lead to confusion, while the British Chambers of Commerce has warned that business leaders "cannot be expected to know how best to operate when confusing and sometimes contradictory information is coming from official sources".
Edward Argar told BBC Radio 4's Today programme he is likely to continue to wear a face covering when on a train or in a lift with other people, but not necessarily when outside with few people nearby.
The health minister said: "Train companies may well look at, as conditions of carriage, whether they want to impose additional guidance or additional restrictions.
"But at a governmental level, what we have set out, what we will be looking to do is see the legal requirements fall away but for guidance – strong guidance and cautious guidance – to be in place for people to exercise their common sense."
He added: "I don't think that the British people will struggle to look at the guidance and form their own common-sense judgment – I don't think it will introduce confusion. I think people will look at it, they will form a sensible judgment based on the guidance."
Andy Gregory12 July 2021 09:52
1626081019
More than 500 people admitted to intensive care every day, expert says
There is still "considerable pressure" in intensive care units around the country, an intensive care consultant in Blackburn and board member of the UK's Faculty of Intensive Care Medicine, has told Times Radio.
Dr Sarah Clarke said there had been a 60 per cent increase in admissions to intensive care over the last week, with "over 500 patients being admitted per day into intensive cares".
She added: "That's not sustainable if we all decide to take our masks off and think that the vaccine programme no longer applies."
Andy Gregory12 July 2021 10:10
https://independent.co.uk/news/coronavirus-news-live-covid-variant-b1857966.html