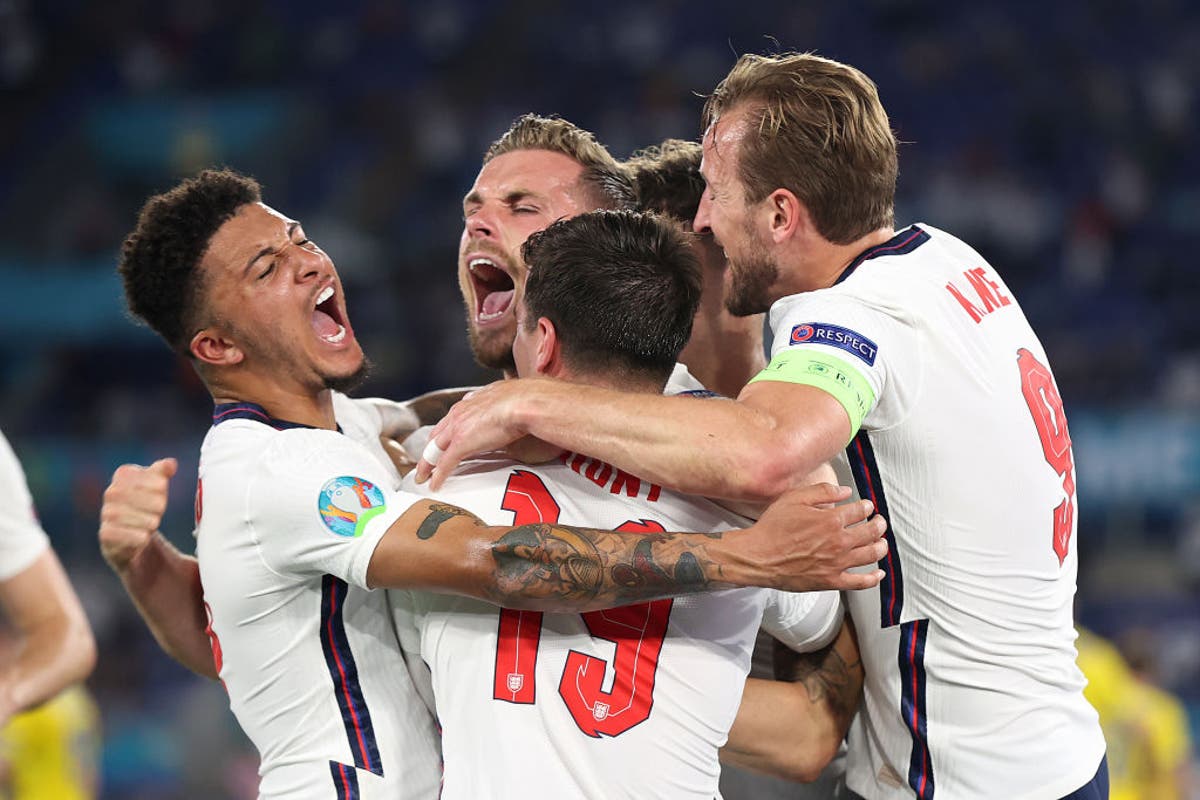 Euro 2020: England fans climb Shaftesbury memorial fountain after Ukraine victory
The final four at Euro 2020 are set, with England making their way through to the semis courtesy of a 4-0 thrashing of Ukraine on Saturday night.
Gareth Southgate's side return to Wembley for their next game – and for the final, should they make it there – after winning this game in Rome, their first fixture of the tournament outside of London. They will meet Denmark in the semi-finals, after the storied Scandinavians won their own encounter with Czech Republic 2-1 in Baku just hours before the Three Lions triumphed.
On the other side of the draw, much-fancied Italy will play Spain, with the Azzurri seeing off Belgium in impressive fashion and La Roja just sneaking through past Switzerland on penalties.
Just three games remain after a thrilling and absorbing summer of action spread across the Continent, with the semi-finals taking place across Tuesday and Wednesday nights. Dreams of success have quickly become concrete optimism for four national teams and their fans, but work remains to be done to reach the final. Follow all the build-up to the two semi-finals at Euro 2020 live here:
England reach Euro 2020 semi-finals
Show latest update
1625400427
Jadon Sancho happy to help England through to Euro 2020 semis
Having agreed a move from Dortmund to Man United earlier in the week, Jadon Sancho topped off a big few days by playing the full 90 minutes for England against Ukraine in the 4-0 Euro 2020 quarter-final win.
He has had to bide his time, but Sancho is delighted to have played his part now.
"It's definitely one of my happiest moments," he said.
"My family will be proud of me and I'm just happy that all the coaching staff gave me the opportunity to play tonight. It's always frustrating not to be in starting XI but I knew that my chance would come so in training I've just given it everything, 110 per cent.
"I'm just happy that I got the opportunity tonight and showed the fans what I can do."
Karl Matchett4 July 2021 13:07
1625399932
Italy the favourites for Euro 2020?
The odds still make England just about favourites, but part of that is Italy having a semi-final which is perceived as tougher – Spain better than Denmark, basically.
In reality, any team who can stop this Azzurri side has not yet been found – and head coach Roberto Mancini is utterly determined that his team not rest on their laurels.
Karl Matchett4 July 2021 12:58
1625399156
England vs Denmark: Last time out
For all the talk of England receiving a favourable draw at Euro 2020, the Three Lions have actually failed to beat their upcoming semi-final opponents in their last two meetings.
After a 0-0 draw in Copenhagen in September, England's last meeting with Denmark was a 1-0 defeat at Wembley in the Nations League in October – on a night where Harry Maguire was sent off and Christian Eriksen scored the only goal of the game from the penalty spot.
The Danes will be without Eriksen this time around, of course, and now play in a different way as a result. Over their run to the Euro 2020 semi-finals Denmark have shown they are a notable team in their own right and will test England through their tactical flexibility and organisation at Wembley.
(Getty Images)
Jamie Braidwood4 July 2021 12:45
1625398256
Shaw praises England defence after latest clean sheet
As well as his attacking performance, Shaw also impressed as part of an England defence which is yet to concede a goal at Euro 2020. The left-back was full of praise for goalkeeper Jordan Pickford, who extended his run of clean sheets to seven games, and who Shaw says has been "unbelievable" during that spell.
"The foundation of our team is keeping clean sheets and as defenders it makes us very proud to hear stats like that," Shaw said when asked about England's record-breaking start to Euro 2020. "But we don't want to lose concentration now. I think the concentration in the defence has been unbelievable and of course that starts with Pickers.
"Pickers has been outstanding, for me. He's been unbelievable, one of our best players this tournament. Like I said, it starts with him. I'm really happy for him. He's been unbelievable."
Jamie Braidwood4 July 2021 12:30
1625397356
Luke Shaw thanks Gareth Southgate for trusting him
With two assists, Luke Shaw was one of England's standout performers against Ukraine as the Manchester United left-back continued his fine tournament at Euro 2020. If the tournament was held last summer as originally planned, it is unlikely Shaw would have made manager Gareth Southgate's squad – but his fine club form saw the defender receive a recall to the international fold in October, and he hasn't looked back since.
"My main objective is to help the team as much as possible, attacking and defensively," Shaw said. "Of course I could go through a lot of people to thank but I think the most important one is obviously Gareth for trusting me and putting me in the squad and picking me and playing me.
"Maybe even myself, because a lot of people maybe will have doubted me to be in the squad and to play maybe. But I've kept my head down, kept working hard and hopefully I can keep this responsibility up for the manager."
Jamie Braidwood4 July 2021 12:15
1625396456
Harry Kane tipped to make the difference against Denmark
Harry Kane was flowing with confidence following his two goals against Ukraine, and was stunning save from goalkeeper Heorhiy Bushchan from scoring a sensational hat-trick with a remarkable left-foot volley.
It certainly looks like the Three Lions captain has put his struggles in front of goal during the group stages behind him, and former England international has tipped the striker to once again make the difference when England meet Ukraine in the semi-finals.
"I think England will create chances. England are very strong at set-pieces, but saying that, Denmark are. It's a good match-up," Waddle said. "There's never a lot between England and Denmark. They're both strong, physical, willing runners, defenders are big, strong, again set-pieces.
"When you look at the teams and you match them up, the difference may be – and he's hit form now, for me – the difference on the night could be Harry Kane."
Jamie Braidwood4 July 2021 12:00
1625395416
England fans 'go bonkers' as Euro fever takes hold
As jubilant England fans celebrated quickfire goals against Ukraine in Trafalgar Square, there was a warning that their feed would be cut unless the Three Lions supporters returned to their tables of six. It was reflective of the frenzied mood as pints were thrown and shirtless bodies embraced as England's thumping win over Ukraine left fans in London euphoric, while later on thousands flooded the streets to join in with the celebrations.
Hundreds climbed the Shaftesbury memorial fountain in Piccadilly Circus, waving the St George flag, as they did earlier this week following England's win against Germany on Tuesday night.
Cars driving past Piccadilly Circus – and throughout the capital – could be heard honking and beeping, celebrating the win, while in some areas fireworks were let off in scenes of widespread jubilation.
(Getty Images)
(Getty Images)
(Getty Images)
(AFP via Getty Images)
Jamie Braidwood4 July 2021 11:43
1625394687
Southgate praises the 'spirit' of England squad
Gareth Southgate took time to recognise the collective efforts of his 26-man squad after England advanced to the semi-finals of Euro 2020. Players such as Ben White and Conor Coady have yet to play a part in England's campaign, while forwards like Bukayo Saka and Phil Foden have been left out of his matchday group at times, but the England manager said everyone has contributed to the Three Lions' run in some way.
"We gave a fantastic performance [tonight], not only the players that started, but the players who came on kept the momentum going," Southgate said after England beat Ukraine. "I am actually thinking more about the players who I left out of the squad and who didn't get on the pitch.
"They have been such a massive part of what we are doing. It is so difficult to keep a group of this size involved, happy, feeling valued. And yet those guys have been phenomenal in how they have sacrificed themselves for the group.
"We are in the semi-finals because of that spirit. Of course the quality of our play is important, but I have seen lots of nations go of out tournaments because they don't have the spirit of these boys, and its something very special that they have to recognise."
Jamie Braidwood4 July 2021 11:31
1625393954
England's defence makes history
Gareth Southgate's back-line has helped drive the Three Lions to the semi-finals of Euro 2020, while Jordan Pickford has made history by becoming the first England goalkeeper to keep seven consecutive clean sheets for the team.
England's run of five clean sheets to start the tournament has never been achieved before in the history of the European Championships, and it has been a team effort from Southgate's side that has contributed to their strong defensive statistics.
You have to go back to the World Cup qualifier against Poland in March for the last time England conceded a goal, which was eight matches ago.
Jamie Braidwood4 July 2021 11:19
1625393292
England vs Ukraine audience tops 20 million
England's win over Ukraine attracted a peak audience of 20.9 million on BBC One, with a further 5.2 million streams across the BBC iPlayer, making the quarter-final the most-watched live TV event of the year.
The total eclipsed the peak audience that tuned in for England's win over Germany in the last 16, and the combined viewing figures of TV plus online streams would put the Ukraine match in the top 10 most watched broadcasts ever in the United Kingdom.
Jamie Braidwood4 July 2021 11:08
https://www.independent.co.uk/sport/football/euro-2020-live-england-denmark-semi-final-b1877830.html