Plans for 51 new homes for lease on the gateway to the redevelopment of Earls Court in west London have been approved by Kensington & Chelsea council.
The low carbon scheme from the Earls Court Development Company, a three way partnership between Delancey and Transport for London, will embrace 23 reasonably priced homes, with all premises heated with out counting on gasoline boilers.
The scheme on the Old Brompton Road, which rises to 9 storeys, has been designed by architect Pilbrow & Partners, and approved by Kensington and Chelsea's planning committee late final month.
The approval comes because the Earls Court Development Company is within the means of drawing up its wider masterplan for the regeneration of the Zone 1 website.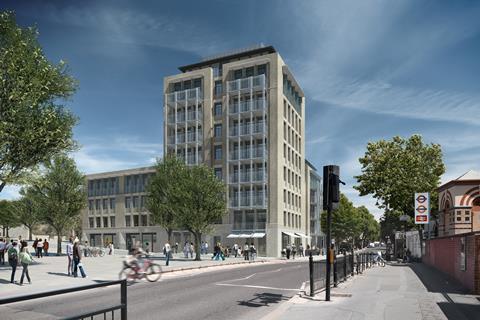 The agency is drawing up new plans for the realm after the earlier proprietor, CapCo, offered it the location in 2019 for £425m after dealing with huge native opposition to its redevelopment plans, which had included two native social housing estates.
The Earls Court Development Company has handed management of the West Kensington and Gibbs Green estates again to Hammersmith & Fulham council, and is as an alternative pursuing a a lot smaller scheme. Last yr it appointed architects HawkinsBrown and Studio Egret West to between them draw up a mixed-use proposal to redevelop the location, badged as probably the most important remaining regeneration alternative in Zone 1.
The growth firm mentioned the approved Brompton Road scheme will likely be heated by air supply warmth pumps, resulting in a 57% discount in emissions in comparison with present constructing laws.